Configuring your Charts
List of Charts

Single Series Charts
Stacked Charts
Combination Charts
XY Plot Charts
Gauges
Other Charts

API
Other References
The multi-series combination 2D dual y-axis chart is used to plot data that belongs to multiple categories and uses different units. The chart is rendered as a combination of the column, line, and area charts and a dual y-axis. The dual y-axis in this chart adds the flexibility to use an additional variable with an axis of its own. An icon legend is rendered to map data plots to their corresponding data categories; the icons can be clicked to show/hide data plots. This chart can be used to plot data like the targeted revenue, the actual revenue, and the profit percent on the same chart.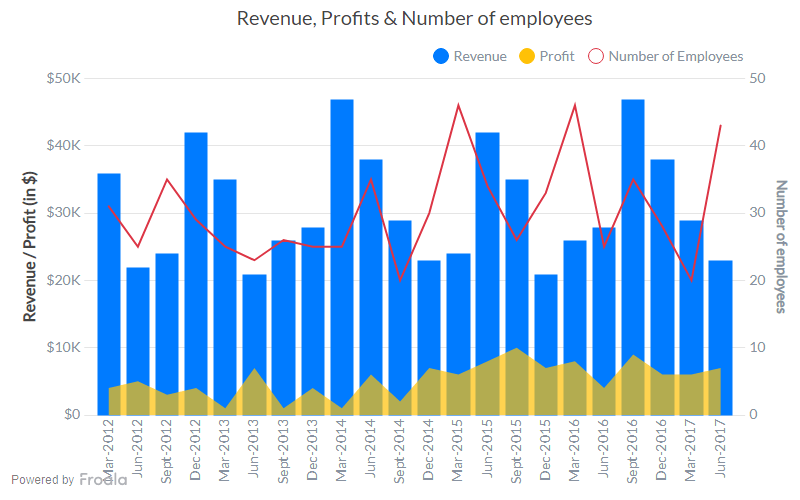 CHART
FroalaCharts will render here
JSON
{
  

"chart"

: {
    

"caption"

: 

"Revenue, Profits & Number of employees"

,
    

"drawcrossline"

: 

"1"

,
    

"yaxisname"

: 

"Revenue / Profit (in $)"

,
    

"syaxisname"

: 

"Number of employees"

,
    

"showvalues"

: 

"0"

,
    

"showanchors"

: 

"0"

,
    

"numberprefix"

: 

"$"

,
    

"plothighlighteffect"

: 

"fadeout"

,
    

"theme"

: 

"froala"


  },
  

"categories"

: [
    {
      

"category"

: [
        {
          

"label"

: 

"Mar-2012"


        },
        {
          

"label"

: 

"Jun-2012"


        },
        {
          

"label"

: 

"Sept-2012"


        },
        {
          

"label"

: 

"Dec-2012"


        },
        {
          

"label"

: 

"Mar-2013"


        },
        {
          

"label"

: 

"Jun-2013"


        },
        {
          

"label"

: 

"Sept-2013"


        },
        {
          

"label"

: 

"Dec-2013"


        },
        {
          

"label"

: 

"Mar-2014"


        },
        {
          

"label"

: 

"Jun-2014"


        },
        {
          

"label"

: 

"Sept-2014"


        },
        {
          

"label"

: 

"Dec-2014"


        },
        {
          

"label"

: 

"Mar-2015"


        },
        {
          

"label"

: 

"Jun-2015"


        },
        {
          

"label"

: 

"Sept-2015"


        },
        {
          

"label"

: 

"Dec-2015"


        },
        {
          

"label"

: 

"Mar-2016"


        },
        {
          

"label"

: 

"Jun-2016"


        },
        {
          

"label"

: 

"Sept-2016"


        },
        {
          

"label"

: 

"Dec-2016"


        },
        {
          

"label"

: 

"Mar-2017"


        },
        {
          

"label"

: 

"Jun-2017"


        }
      ]
    }
  ],
  

"dataset"

: [
    {
      

"seriesname"

: 

"Revenue"

,
      

"plottooltext"

: 

"Revenue in $label : <b>$dataValue</b>"

,
      

"data"

: [
        {
          

"value"

: 

"36000"


        },
        {
          

"value"

: 

"22000"


        },
        {
          

"value"

: 

"24000"


        },
        {
          

"value"

: 

"42000"


        },
        {
          

"value"

: 

"35000"


        },
        {
          

"value"

: 

"21000"


        },
        {
          

"value"

: 

"26000"


        },
        {
          

"value"

: 

"28000"


        },
        {
          

"value"

: 

"47000"


        },
        {
          

"value"

: 

"38000"


        },
        {
          

"value"

: 

"29000"


        },
        {
          

"value"

: 

"23000"


        },
        {
          

"value"

: 

"24000"


        },
        {
          

"value"

: 

"42000"


        },
        {
          

"value"

: 

"35000"


        },
        {
          

"value"

: 

"21000"


        },
        {
          

"value"

: 

"26000"


        },
        {
          

"value"

: 

"28000"


        },
        {
          

"value"

: 

"47000"


        },
        {
          

"value"

: 

"38000"


        },
        {
          

"value"

: 

"29000"


        },
        {
          

"value"

: 

"23000"


        }
      ]
    },
    {
      

"seriesname"

: 

"Profit"

,
      

"plottooltext"

: 

"Profit in $label : <b>$dataValue</b>"

,
      

"renderas"

: 

"area"

,
      

"showvalues"

: 

"0"

,
      

"data"

: [
        {
          

"value"

: 

"4000"


        },
        {
          

"value"

: 

"5000"


        },
        {
          

"value"

: 

"3000"


        },
        {
          

"value"

: 

"4000"


        },
        {
          

"value"

: 

"1000"


        },
        {
          

"value"

: 

"7000"


        },
        {
          

"value"

: 

"1000"


        },
        {
          

"value"

: 

"4000"


        },
        {
          

"value"

: 

"1000"


        },
        {
          

"value"

: 

"6000"


        },
        {
          

"value"

: 

"2000"


        },
        {
          

"value"

: 

"7000"


        },
        {
          

"value"

: 

"6000"


        },
        {
          

"value"

: 

"8000"


        },
        {
          

"value"

: 

"10000"


        },
        {
          

"value"

: 

"7000"


        },
        {
          

"value"

: 

"8000"


        },
        {
          

"value"

: 

"4000"


        },
        {
          

"value"

: 

"9000"


        },
        {
          

"value"

: 

"6000"


        },
        {
          

"value"

: 

"6000"


        },
        {
          

"value"

: 

"7000"


        }
      ]
    },
    {
      

"seriesname"

: 

"Number of Employees"

,
      

"parentyaxis"

: 

"S"

,
      

"renderas"

: 

"line"

,
      

"showvalues"

: 

"0"

,
      

"plottooltext"

: 

"$value employees"

,
      

"data"

: [
        {
          

"value"

: 

"31"


        },
        {
          

"value"

: 

"25"


        },
        {
          

"value"

: 

"35"


        },
        {
          

"value"

: 

"29"


        },
        {
          

"value"

: 

"25"


        },
        {
          

"value"

: 

"23"


        },
        {
          

"value"

: 

"26"


        },
        {
          

"value"

: 

"25"


        },
        {
          

"value"

: 

"25"


        },
        {
          

"value"

: 

"35"


        },
        {
          

"value"

: 

"20"


        },
        {
          

"value"

: 

"30"


        },
        {
          

"value"

: 

"46"


        },
        {
          

"value"

: 

"34"


        },
        {
          

"value"

: 

"26"


        },
        {
          

"value"

: 

"33"


        },
        {
          

"value"

: 

"46"


        },
        {
          

"value"

: 

"25"


        },
        {
          

"value"

: 

"35"


        },
        {
          

"value"

: 

"28"


        },
        {
          

"value"

: 

"20"


        },
        {
          

"value"

: 

"43"


        }
      ]
    }
  ]
}
HTML
<

html

>

<

head

>
      <

title

>My first chart using FroalaCharts</

title

>
     
  <

script

 

src

=https://unpkg.com/[email protected]/froalacharts.js></

script

>
  <

script

 

src

="https://unpkg.com/[email protected]/themes/froalacharts.theme.froala.js"></

script

> 

  <

script

 

type

=

"text/javascript"

>   
       

var

 data = {  
        chart: {
    caption: 

"Revenue, Profits & Number of employees"

,
    drawcrossline: 

"1"

,
    yaxisname: 

"Revenue / Profit (in $)"

,
    syaxisname: 

"Number of employees"

,
    showvalues: 

"0"

,
    showanchors: 

"0"

,
    numberprefix: 

"$"

,
    plothighlighteffect: 

"fadeout"

,
    theme: 

"froala"


  },
  categories: [
    {
      category: [
        {
          label: 

"Mar-2012"


        },
        {
          label: 

"Jun-2012"


        },
        {
          label: 

"Sept-2012"


        },
        {
          label: 

"Dec-2012"


        },
        {
          label: 

"Mar-2013"


        },
        {
          label: 

"Jun-2013"


        },
        {
          label: 

"Sept-2013"


        },
        {
          label: 

"Dec-2013"


        },
        {
          label: 

"Mar-2014"


        },
        {
          label: 

"Jun-2014"


        },
        {
          label: 

"Sept-2014"


        },
        {
          label: 

"Dec-2014"


        },
        {
          label: 

"Mar-2015"


        },
        {
          label: 

"Jun-2015"


        },
        {
          label: 

"Sept-2015"


        },
        {
          label: 

"Dec-2015"


        },
        {
          label: 

"Mar-2016"


        },
        {
          label: 

"Jun-2016"


        },
        {
          label: 

"Sept-2016"


        },
        {
          label: 

"Dec-2016"


        },
        {
          label: 

"Mar-2017"


        },
        {
          label: 

"Jun-2017"


        }
      ]
    }
  ],
  dataset: [
    {
      seriesname: 

"Revenue"

,
      plottooltext: "Revenue in $label : $dataValue",
      data: [
        {
          value: 

"36000"


        },
        {
          value: 

"22000"


        },
        {
          value: 

"24000"


        },
        {
          value: 

"42000"


        },
        {
          value: 

"35000"


        },
        {
          value: 

"21000"


        },
        {
          value: 

"26000"


        },
        {
          value: 

"28000"


        },
        {
          value: 

"47000"


        },
        {
          value: 

"38000"


        },
        {
          value: 

"29000"


        },
        {
          value: 

"23000"


        },
        {
          value: 

"24000"


        },
        {
          value: 

"42000"


        },
        {
          value: 

"35000"


        },
        {
          value: 

"21000"


        },
        {
          value: 

"26000"


        },
        {
          value: 

"28000"


        },
        {
          value: 

"47000"


        },
        {
          value: 

"38000"


        },
        {
          value: 

"29000"


        },
        {
          value: 

"23000"


        }
      ]
    },
    {
      seriesname: 

"Profit"

,
      plottooltext: "Profit in $label : $dataValue",
      renderas: 

"area"

,
      showvalues: 

"0"

,
      data: [
        {
          value: 

"4000"


        },
        {
          value: 

"5000"


        },
        {
          value: 

"3000"


        },
        {
          value: 

"4000"


        },
        {
          value: 

"1000"


        },
        {
          value: 

"7000"


        },
        {
          value: 

"1000"


        },
        {
          value: 

"4000"


        },
        {
          value: 

"1000"


        },
        {
          value: 

"6000"


        },
        {
          value: 

"2000"


        },
        {
          value: 

"7000"


        },
        {
          value: 

"6000"


        },
        {
          value: 

"8000"


        },
        {
          value: 

"10000"


        },
        {
          value: 

"7000"


        },
        {
          value: 

"8000"


        },
        {
          value: 

"4000"


        },
        {
          value: 

"9000"


        },
        {
          value: 

"6000"


        },
        {
          value: 

"6000"


        },
        {
          value: 

"7000"


        }
      ]
    },
    {
      seriesname: 

"Number of Employees"

,
      parentyaxis: 

"S"

,
      renderas: 

"line"

,
      showvalues: 

"0"

,
      plottooltext: 

"$value employees"

,
      data: [
        {
          value: 

"31"


        },
        {
          value: 

"25"


        },
        {
          value: 

"35"


        },
        {
          value: 

"29"


        },
        {
          value: 

"25"


        },
        {
          value: 

"23"


        },
        {
          value: 

"26"


        },
        {
          value: 

"25"


        },
        {
          value: 

"25"


        },
        {
          value: 

"35"


        },
        {
          value: 

"20"


        },
        {
          value: 

"30"


        },
        {
          value: 

"46"


        },
        {
          value: 

"34"


        },
        {
          value: 

"26"


        },
        {
          value: 

"33"


        },
        {
          value: 

"46"


        },
        {
          value: 

"25"


        },
        {
          value: 

"35"


        },
        {
          value: 

"28"


        },
        {
          value: 

"20"


        },
        {
          value: 

"43"


        }
      ]
    }
  ]
};

FroalaCharts.ready(

function

 () {
            froalacharts = 

new

 FroalaCharts({
                id: 

"chart_1"

,
                type: 

'combination'

,
                renderAt: 

'ft'

,
                width: 

'800'

,
                height: 

'500'

,
                dataSource: data
            });
            froalacharts.render();
        });
    </

script

>
    
</

head

>


<

div

 

id

=

"msg"

 

class

=

"mb-20"

> Chart data in the selected format will be displayed here.</

div

>

<

body

>
    <

div

 

id

=

"ft"

>FroalaCharts will render here</

div

>
</

body

>

</

html

>