Configuring your Charts
List of Charts

Single Series Charts
Stacked Charts
Combination Charts
XY Plot Charts
Gauges
Other Charts

API
Other References
Timeseries is a JavaScript library that helps you visualize and explore time-series data interactively. It supports data with atomicity ranging from milliseconds to years.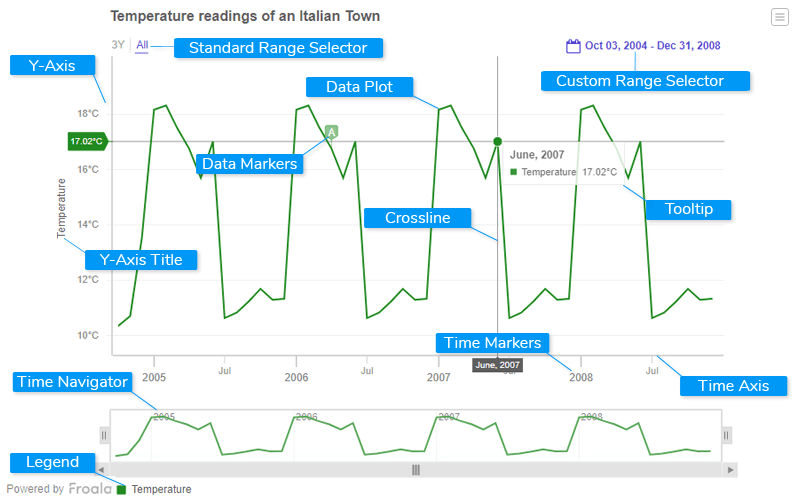 Data Plot
Data plot refers to the columns of the Timeseries chart.
Time Axis
Time Axis refers to a line on a chart that runs horizontally (left to right).
Time Markers
Time markers are the names of the data points that are displayed on the time axis of a chart.
Data Markers
Data markers are the names of the data points that are displayed on the chart plot.
Y-Axis
Y-Axis refers to a line on a chart that runs vertically (up-down) through zero.
Y-Axis Title
It refers to the title of the y-axis. You can customize it using Style Definition.
Standard Range Selector
It refers to the selector for standard time periods.
Custom Range Selector
It refers to the selector for custom time periods.
Crossline
Cross line is a vertical line/area used as a quick reference for data plots.
Time Navigator
It lets you narrow the focus to a specific time period without losing context of the entire data.
Legend
A legend is a chart element used to display the series name for each dataset. Legends are used to correlate a data plot to its series name using its color.
Tooltip
tooltip is displayed when the mouse cursor hovers over a particular data point. It provides context-sensitive information about the data point.
Export Menu
Export menu that appears on top-right of the chart, it offers different options to export a chart.
You can enable or disable chart export using attribute
exportEnabled
. Refer to
Exporting Charts
to learn more.
Difference between Timeseries and other charts
While charts can help you visualize data in different ways, Timeseries works exclusively with time series data. Unlike other varieties of charts, which only accept data in JSON, Timeseries accepts data in rows and columns as a
Datatable
. You can then apply different data operations (filter, grouping, etc.) on the DataTable to optimize your data as per the requirement.
Timeseries Data Layer
Timeseries data layer is comprised of a DataStore and a DataTable. So, how do you create the DataTable? The Timeseries data layer comes with a DataStore which accepts data in JSON/2D array format. The data fed in the DataStore is converted to a root DataTable. This root DataTable contains the source data in a tabular format.
Once the root data table is available, one can either use it to render the chart or apply data operations on it, to create a new DataTable with modified data. Data operations are chain operations which can be applied on any data table. Once we decide on the data table for a particular Timeseries chart, we can instantiate the chart using the particular derived data table.
The DataStore also contains a set of data operators (filter, grouping, etc.) which can be applied to any DataTable. Any operation applied on a DataTable to optimize data generates a new child DataTable. Likewise, any number of data tables can be generated from either the master or other child data tables. You can then provide any one of them to render the chart.
CHART
HTML
<

html

 

lang

=

"en"

>

<

head

>
  <

meta

 

charset

=

"UTF-8"

>
  <

meta

 

name

=

"viewport"

 

content

=

"width=device-width, initial-scale=1.0"

>
  <

meta

 

http-equiv

=

"X-UA-Compatible"

 

content

=

"ie=edge"

>
  <

title

>FusionTime - Plotting combination of line and column chart in single time axis</

title

>
</

head

>

<

body

>
  <

div

 

id

=

"container"

></

div

>
  
 <

script

 

src

="https://unpkg.com/[email protected]/froalacharts.js"></

script

>
 <

script

 

src

="https://unpkg.com/[email protected]/themes/froalacharts.theme.froala.js"></

script

>
 <

script

>
  
    

var

 data = [
    [
      

"3/10/2004"

,
      

2.6

,
      

150

,
      

11.9

,
      

113

,
      

13.6


    ],
    [
      

"4/10/2004"

,
      

2

,
      

112

,
      

9.4

,
      

92

,
      

13.3


    ],
    [
      

"5/10/2004"

,
      

2.2

,
      

88

,
      

9

,
      

114

,
      

11.9


    ],
    [
      

"6/10/2004"

,
      

2.2

,
      

80

,
      

9.2

,
      

122

,
      

11


    ],
    [
      

"7/10/2004"

,
      

1.6

,
      

51

,
      

6.5

,
      

116

,
      

11.2


    ],
    [
      

"8/10/2004"

,
      

1.2

,
      

38

,
      

4.7

,
      

96

,
      

11.2


    ],
    [
      

"9/10/2004"

,
      

1.2

,
      

31

,
      

3.6

,
      

77

,
      

11.3


    ],
    [
      

"10/10/2004"

,
      

1

,
      

31

,
      

3.3

,
      

76

,
      

10.7


    ],
    [
      

"11/10/2004"

,
      

0.9

,
      

24

,
      

2.3

,
      

60

,
      

10.7


    ],
    [
      

"12/10/2004"

,
      

0.6

,                                              
      

19

,
      

1.7

,
      

45

,
      

10.3


    ],
    [
      

"13/10/2004"

,
      

2

,
      

14

,
      

1.3

,
      

34

,
      

10.1


    ],
    [
      

"14/10/2004"

,
      

0.7

,
      

8

,
      

1.1

,
      

28

,
      

11


    ],
    [
      

"15/10/2004"

,
      

0.7

,
      

16

,
      

1.6

,
      

48

,
      

10.5


    ],
    [
      

"16/10/2004"

,
      

1.1

,
      

29

,
      

3.2

,
      

82

,
      

10.2


    ],
    [
      

"17/10/2004"

,
      

2

,
      

64

,
      

8

,
      

112

,
      

10.8


    ],
    [
      

"18/10/2004"

,
      

2.2

,
      

87

,
      

9.5

,
      

101

,
      

10.5


    ],
    [
      

"19/10/2004"

,
      

1.7

,
      

77

,
      

6.3

,
      

98

,
      

10.8


    ],
    [
      

"20/10/2004"

,
      

1.5

,
      

43

,
      

5

,
      

92

,
      

10.5


    ],
    [
      

"21/10/2004"

,
      

1.6

,
      

61

,
      

5.2

,
      

95

,
      

9.5


    ],
    [
      

"22/10/2004"

,
      

1.9

,
      

63

,
      

7.3

,
      

112

,
      

8.3


    ],
    [
      

"23/10/2004"

,
      

2.9

,
      

164

,
      

11.5

,
      

128

,
      

8


    ],
    [
      

"24/10/2004"

,
      

2.2

,
      

79

,
      

8.8

,
      

126

,
      

8.3


    ],
    [
      

"25/10/2004"

,
      

2.2

,
      

95

,
      

8.3

,
      

131

,
      

9.7


    ],
    [
      

"26/10/2004"

,
      

2.9

,
      

150

,
      

11.2

,
      

135

,
      

9.8


    ],
    [
      

"27/10/2004"

,
      

4.8

,
      

307

,
      

20.8

,
      

151

,
      

10.3


    ],
    [
      

"28/10/2004"

,
      

6.9

,
      

461

,
      

27.4

,
      

172

,
      

9.7


    ],
    [
      

"29/10/2004"

,
      

6.1

,
      

401

,
      

24

,
      

165

,
      

9.6


    ],
    [
      

"30/10/2004"

,
      

3.9

,
      

197

,
      

12.8

,
      

136

,
      

9.1


    ],
    [
      

"31/10/2004"

,
      

1.5

,
      

61

,
      

4.7

,
      

85

,
      

8.2


    ],
    [
      

"1/11/2004"

,
      

1

,
      

26

,
      

2.6

,
      

53

,
      

8.2


    ],
    [
      

"2/11/2004"

,
      

1.7

,
      

55

,
      

5.9

,
      

97

,
      

8.3


    ],
    [
      

"3/11/2004"

,
      

1.9

,
      

53

,
      

6.4

,
      

110

,
      

7.7


    ],
    [
      

"4/11/2004"

,
      

1.4

,
      

40

,
      

4.1

,
      

91

,
      

7.1


    ],
    [
      

"5/11/2004"

,
      

0.8

,
      

21

,
      

1.9

,
      

70

,
      

7


    ],
    [
      

"6/11/2004"

,
      

5

,
      

10

,
      

1.1

,
      

32

,
      

6.1


    ],
    [
      

"7/11/2004"

,
      

0.6

,
      

7

,
      

1

,
      

44

,
      

6.3


    ],
    [
      

"8/11/2004"

,
      

0.8

,
      

17

,
      

1.8

,
      

71

,
      

6.8


    ],
    [
      

"9/11/2004"

,
      

1.4

,
      

33

,
      

4.4

,
      

104

,
      

6.4


    ],
    [
      

"10/11/2004"

,
      

4.4

,
      

202

,
      

17.9

,
      

141

,
      

7.3


    ],
    [
      

"11/11/2004"

,
      

1

,
      

142

,
      

22.1

,
      

130

,
      

9.2


    ],
    [
      

"12/11/2004"

,
      

3.1

,
      

208

,
      

14

,
      

122

,
      

13.2


    ],
    [
      

"13/11/2004"

,
      

2.7

,
      

166

,
      

11.6

,
      

143

,
      

14.3


    ],
    [
      

"14/11/2004"

,
      

2.1

,
      

114

,
      

10.2

,
      

113

,
      

15


    ],
    [
      

"15/11/2004"

,
      

2.5

,
      

140

,
      

11

,
      

116

,
      

16.1


    ],
    [
      

"16/11/2004"

,
      

2.7

,
      

169

,
      

12.8

,
      

123

,
      

16.3


    ],
    [
      

"17/11/2004"

,
      

2.9

,
      

185

,
      

14.2

,
      

126

,
      

15.8


    ],
    [
      

"18/11/2004"

,
      

2.8

,
      

165

,
      

12.7

,
      

120

,
      

15.9


    ],
    [
      

"19/11/2004"

,
      

2.4

,
      

133

,
      

11.7

,
      

119

,
      

16.9


    ],
    [
      

"20/11/2004"

,
      

3.9

,
      

233

,
      

19.3

,
      

149

,
      

15.1


    ],
    [
      

"21/11/2004"

,
      

3.7

,
      

242

,
      

18.2

,
      

145

,
      

14.4


    ],
    [
      

"22/11/2004"

,
      

6.6

,
      

488

,
      

32.6

,
      

170

,
      

12.9


    ],
    [
      

"23/11/2004"

,
      

4.4

,
      

333

,
      

20.1

,
      

149

,
      

12.1


    ],
    [
      

"24/11/2004"

,
      

3.5

,
      

215

,
      

14.3

,
      

139

,
      

11


    ],
    [
      

"25/11/2004"

,
      

5.4

,
      

367

,
      

21.8

,
      

134

,
      

9.7


    ],
    [
      

"26/11/2004"

,
      

2.7

,
      

122

,
      

9.6

,
      

113

,
      

9.5


    ],
    [
      

"27/11/2004"

,
      

1.9

,
      

67

,
      

7.4

,
      

97

,
      

9.1


    ],
    [
      

"28/11/2004"

,
      

1.6

,
      

43

,
      

5.4

,
      

82

,
      

8.8


    ],
    [
      

"29/11/2004"

,
      

1.7

,
      

46

,
      

5.4

,
      

83

,
      

7.8


    ],
    [
      

"30/11/2004"

,
      

5

,
      

56

,
      

6.2

,
      

83

,
      

7


    ],
    [
      

"1/12/2004"

,
      

1

,
      

30

,
      

2.6

,
      

65

,
      

8.3


    ],
    [
      

"2/12/2004"

,
      

1.2

,
      

27

,
      

2.9

,
      

60

,
      

7.2


    ],
    [
      

"3/12/2004"

,
      

1.5

,
      

47

,
      

5.1

,
      

77

,
      

6.3


    ],
    [
      

"4/12/2004"

,
      

2.7

,
      

132

,
      

11.8

,
      

96

,
      

6.5


    ],
    [
      

"5/12/2004"

,
      

3.7

,
      

239

,
      

15.1

,
      

119

,
      

9.6


    ],
    [
      

"6/12/2004"

,
      

3.2

,
      

160

,
      

12.9

,
      

126

,
      

12.4


    ],
    [
      

"7/12/2004"

,
      

4.1

,
      

283

,
      

16.1

,
      

158

,
      

15.6


    ],
    [
      

"8/12/2004"

,
      

3.6

,
      

210

,
      

14

,
      

161

,
      

18.4


    ],
    [
      

"9/12/2004"

,
      

2.8

,
      

154

,
      

12.3

,
      

124

,
      

19.4


    ],
    [
      

"10/12/2004"

,
      

2

,
      

112

,
      

8.6

,
      

102

,
      

18


    ],
    [
      

"11/12/2004"

,
      

2

,
      

108

,
      

9.2

,
      

116

,
      

18.4


    ],
    [
      

"12/12/2004"

,
      

2.5

,
      

111

,
      

10.2

,
      

124

,
      

17.6


    ],
    [
      

"13/12/2004"

,
      

2.3

,
      

97

,
      

10.6

,
      

125

,
      

16.7


    ],
    [
      

"14/12/2004"

,
      

3.2

,
      

191

,
      

15.5

,
      

148

,
      

16.1


    ],
    [
      

"15/12/2004"

,
      

4.2

,
      

258

,
      

19.6

,
      

165

,
      

15.8


    ],
    [
      

"16/12/2004"

,
      

4.2

,
      

284

,
      

19.2

,
      

161

,
      

15.7


    ],
    [
      

"17/12/2004"

,
      

4.2

,
      

269

,
      

18.3

,
      

159

,
      

15.3


    ],
    [
      

"18/12/2004"

,
      

3.1

,
      

180

,
      

13.1

,
      

143

,
      

14.6


    ],
    [
      

"19/12/2004"

,
      

2.6

,
      

116

,
      

10.9

,
      

130

,
      

14.7


    ],
    [
      

"20/12/2004"

,
      

2.9

,
      

93

,
      

11

,
      

129

,
      

13.9


    ],
    [
      

"21/12/2004"

,
      

2.8

,
      

131

,
      

11.9

,
      

119

,
      

14.6


    ],
    [
      

"22/12/2004"

,
      

2.5

,
      

92

,
      

8.6

,
      

104

,
      

12.5


    ],
    [
      

"23/12/2004"

,
      

2.4

,
      

132

,
      

9.7

,
      

97

,
      

11.6


    ],
    [
      

"24/12/2004"

,
      

3

,
      

56

,
      

5.2

,
      

82

,
      

12.1


    ],
    [
      

"25/12/2004"

,
      

1.2

,
      

32

,
      

3.7

,
      

70

,
      

11.5


    ],
    [
      

"26/12/2004"

,
      

1

,
      

29

,
      

2.5

,
      

63

,
      

11.6


    ],
    [
      

"27/12/2004"

,
      

0.9

,
      

27

,
      

2.4

,
      

67

,
      

10.4


    ],
    [
      

"28/12/2004"

,
      

1.4

,
      

36

,
      

4.2

,
      

84

,
      

11.6


    ],
    [
      

"29/12/2004"

,
      

1.6

,
      

57

,
      

6.4

,
      

83

,
      

12.4


    ],
    [
      

"30/12/2004"

,
      

2.2

,
      

129

,
      

8.6

,
      

98

,
      

14.5


    ],
    [
      

"31/12/2004"

,
      

2.8

,
      

148

,
      

10.9

,
      

114

,
      

16.9


    ],
    [
      

"1/1/2005"

,
      

2.8

,
      

145

,
      

10.7

,
      

119

,
      

19.3


    ],
    [
      

"2/1/2005"

,
      

2

,
      

93

,
      

7.5

,
      

104

,
      

21.2


    ],
    [
      

"3/1/2005"

,
      

1.8

,
      

84

,
      

7.5

,
      

102

,
      

21.4


    ],
    [
      

"4/1/2005"

,
      

1.9

,
      

99

,
      

8.2

,
      

107

,
      

21.9


    ],
    [
      

"5/1/2005"

,
      

3

,
      

150

,
      

11.9

,
      

129

,
      

22.2


    ],
    [
      

"6/1/2005"

,
      

2.9

,
      

156

,
      

12

,
      

128

,
      

21.3


    ],
    [
      

"7/1/2005"

,
      

2.5

,
      

122

,
      

12.2

,
      

121

,
      

19.7


    ],
    [
      

"8/1/2005"

,
      

4.6

,
      

262

,
      

20.6

,
      

157

,
      

18.4


    ],
    [
      

"9/1/2005"

,
      

5.9

,
      

341

,
      

23.1

,
      

173

,
      

17.6


    ],
    [
      

"10/1/2005"

,
      

3.4

,
      

214

,
      

14.7

,
      

146

,
      

16.7


    ],
    [
      

"11/1/2005"

,
      

2.1

,
      

100

,
      

9

,
      

121

,
      

16.3


    ],
    [
      

"11/1/2005"

,
      

2.2

,
      

79

,
      

8.8

,
      

119

,
      

14.7


    ],
    [
      

"12/1/2005"

,
      

1.8

,
      

66

,
      

7.4

,
      

99

,
      

14.8


    ],
    [
      

"13/1/2005"

,
      

1.8

,
      

73

,
      

6.9

,
      

93

,
      

14


    ],
    [
      

"14/1/2005"

,
      

1.8

,
      

66

,
      

7

,
      

88

,
      

13.4


    ],
    [
      

"15/1/2005"

,
      

1.1

,
      

44

,
      

4.4

,
      

80

,
      

12.6


    ],
    [
      

"16/1/2005"

,
      

9

,
      

44

,
      

4

,
      

71

,
      

12.3


    ],
    [
      

"17/1/2005"

,
      

1

,
      

39

,
      

3.9

,
      

74

,
      

11.9


    ],
    [
      

"18/1/2005"

,
      

1.4

,
      

51

,
      

6.4

,
      

80

,
      

11.4


    ],
    [
      

"19/1/2005"

,
      

2.2

,
      

107

,
      

9.7

,
      

89

,
      

11.3


    ],
    [
      

"20/1/2005"

,
      

5.5

,
      

336

,
      

25.9

,
      

114

,
      

12.4


    ],
    [      
    

"21/1/2005"

,
      

8.1

,
      

618

,
      

36.7

,
      

149

,
      

14.8


    ],
    [
      

"22/1/2005"

,
       

5.8

,
      

438

,
      

26.6

,
      

157

,
      

17.4


    ],
    [     
      

"23/1/2005"

,
      

4.2

,
      

334

,
      

20.1

,
      

155

,
      

19.8


    ],
    [
    

"24/1/2005"

,
      

3.1

,
      

221

,
      

14.1

,
      

134

,
      

22


    ],
    [
    

"25/1/2005"

,
      

2.9

,
      

207

,
      

14.9

,
      

119

,
      

23.3


    ],
    [
    

"26/1/2005"

,
      

2.9

,
      

191

,
      

15.4

,
      

111

,
      

23.9


    ],
    [
    

"27/1/2005"

,
      

2.5

,
      

185

,
      

12.1

,
      

104

,
      

24.4


    ],
    [

"28/1/2005"

,
      

2.3

,
      

141

,
      

11.5

,
      

99

,
      

24.4


    ],
    [

"29/1/2005"

,
      

2.8

,
      

214

,
      

14.8

,
      

110

,
      

23.8


    ],
    [

"30/1/2005"

,
      

6.1

,
      

471

,
      

32.1

,
      

162

,
      

22.5


    ],
    [

"31/1/2005"

,
      

8

,
      

685

,
      

39.2

,
      

187

,
      

20.4


    ],
    [

"1/2/2005"

,
      

6.5

,
      

538

,
      

31

,
      

165

,
      

18.3


    ],
    [

"2/2/2005"

,
      

4.2

,
      

319

,
      

19.9

,
      

145

,
      

16.7


    ],
    [

"3/2/2005"

,
      

3.2

,
      

224

,
      

15.3

,
      

125

,
      

15.7


    ],
    [

"4/2/2005"

,
      

1.4

,
      

67

,
      

6.9

,
      

101

,
      

15.3


    ],
    [

"5/2/2005"

,
      

2.1

,
      

155

,
      

11.1

,
      

103

,
      

14.1


    ],
    [

"6/2/2005"

,
      

1.2

,
      

49

,
      

5.4

,
      

88

,
      

14.8


    ],
    [

"7/2/2005"

,
      

0.8

,
      

29

,
      

2.8

,
      

61

,
      

14.8


    ],
    [

"8/2/2005"

,
      

0.7

,
      

25

,
      

2.3

,
      

60

,
      

13.6


    ],
    [

"9/2/2005"

,
      

10

,
      

25

,
      

2.6

,
      

59

,
      

12.3


    ],
    [

"10/2/2005"

,
      

0.6

,
      

17

,
      

2

,
      

52

,
      

12.8


    ],
    [

"11/2/2005"

,
      

0.9

,
      

27

,
      

3.5

,
      

64

,
      

11.2


    ],
    [

"12/2/2005"

,
      

1.3

,
      

50

,
      

5.1

,
      

70

,
      

11


    ],
    [

"13/2/2005"

,
      

3.4

,
      

218

,
      

16.2

,
      

97

,
      

11.7


    ],
    [

"14/2/2005"

,
      

3.7

,
      

285

,
      

19.7

,
      

95

,
      

13.6


    ],
    [

"15/2/2005"

,
      

5.3

,
      

437

,
      

25.1

,
      

150

,
      

17.8


    ],
    [

"16/2/2005"

,
      

4.1

,
      

327

,
      

20

,
      

162

,
      

21.4


    ],
    [

"17/2/2005"

,
      

3.3

,
      

283

,
      

18.3

,
      

154

,
      

24.4


    ],
    [

"18/2/2005"

,
      

4

,
      

366

,
      

22.3

,
      

161

,
      

25.3


    ],
    [

"19/2/2005"

,
      

3.8

,
      

318

,
      

20.4

,
      

161

,
      

25.8


    ],
    [

"20/2/2005"

,
      

2.8

,
      

228

,
      

14.6

,
      

128

,
      

27


    ],
    [ 
      

"21/2/2005"

,     
      

2.9

,
      

201

,
      

16.6

,
      

129

,
      

28.2


    ],
    [
      

"22/2/2005"

,
      

2.9

,
      

199

,
      

15.8

,
      

133

,
      

28


    ],
    [
      

"23/2/2005"

,
      

3.4

,
      

237

,
      

17.8

,
      

139

,
      

23.9


    ],
    [
      

"24/2/2005"

,
      

3.9

,
      

261

,
      

19.1

,
      

137

,
      

21.3


    ],
    [
      

"25/2/2005"

,
      

3.2

,
      

230

,
      

15.8

,
      

143

,
      

20.4


    ],
    [
      

"26/2/2005"

,
      

5.1

,
      

349

,
      

24.9

,
      

177

,
      

19


    ],
    [
      

"27/2/2005"

,
      

2.6

,
      

183

,
      

13.5

,
      

138

,
      

17.9


    ],
    [
      

"28/2/2005"

,
      

1.7

,
      

88

,
      

9.1

,
      

117

,
      

16.7


    ],
    [
      

"1/3/2005"

,
      

1.7

,
      

85

,
      

8.6

,
      

107

,
      

15.5


    ],
    [
      

"2/3/2005"

,
      

1.2

,
      

47

,
      

5.4

,
      

90

,
      

15.5


    ],
    [
      

"3/3/2005"

,
      

0.9

,
      

34

,
      

4.1

,
      

79

,
      

14.1


    ],
    [
      

"4/3/2005"

,
      

0.7

,
      

26

,
      

2.6

,
      

74

,
      

13.1


    ],
    [
      

"5/3/2005"

,
      

10

,
      

17

,
      

1.9

,
      

60

,
      

12.7


    ],
    [
      

"6/3/2005"

,
      

0.5

,
      

11

,
      

1.6

,
      

40

,
      

11.8


    ],
    [
      

"7/3/2005"

,
      

0.5

,
      

18

,
      

1.9

,
      

53

,
      

11.9


    ],
    [
      

"8/3/2005"

,
      

1.6

,
      

84

,
      

7.5

,
      

84

,
      

9.9


    ],
    [
      

"9/3/2005"

,
      

4.1

,
      

260

,
      

21.4

,
      

108

,
      

11.1


    ],
    [
      

"10/3/2005"

,
      

6.6

,
      

534

,
      

36.4

,
      

127

,
      

14.1


    ],
    [
      

"11/3/2005"

,
      

4.3

,
      

368

,
      

21.3

,
      

134

,
      

17.7


    ],
    [
      

"12/3/2005"

,
      

2.9

,
      

200

,
      

15.4

,
      

135

,
      

21.1


    ],
    [
      

"13/3/2005"

,
      

2.5

,
      

145

,
      

12.5

,
      

142

,
      

24.3


    ],
    [
      

"14/3/2005"

,
      

2.8

,
      

188

,
      

15.1

,
      

153

,
      

25.6


    ],
    [
      

"15/3/2005"

,
      

2.6

,
      

152

,
      

13.7

,
      

123

,
      

25.9


    ],
    [
      

"16/3/2005"

,
      

2

,
      

103

,
      

10.4

,
      

104

,
      

26.8


    ],
    [
      

"17/3/2005"

,
      

2.9

,
      

193

,
      

15.2

,
      

129

,
      

29.3


    ],
    [
      

"18/3/2005"

,
      

2.5

,
      

134

,
      

12.3

,
      

114

,
      

28.5


    ],
    [
      

"19/3/2005"

,
      

5

,
      

386

,
      

27

,
      

158

,
      

25.9


    ],
    [
      

"20/3/2005"

,
      

7.6

,
      

577

,
      

38.4

,
      

194

,
      

23.1


    ],
    [
      

"21/3/2005"

,
      

6.7

,
      

523

,
      

35.1

,
      

182

,
      

20.5


    ],
    [
      

"22/3/2005"

,
      

5.7

,
      

472

,
      

27.2

,
      

180

,
      

19.1


    ],
    [
      

"23/3/2005"

,
      

2.8

,
      

206

,
      

15

,
      

136

,
      

17.2


    ],
    [
      

"24/3/2005"

,
      

2.6

,
      

216

,
      

15.7

,
      

127

,
      

16


    ],
    [
      

"25/3/2005"

,
      

2.3

,
      

159

,
      

13

,
      

116

,
      

14.8


    ],
    [
      

"26/3/2005"

,
      

1.4

,
      

70

,
      

8.1

,
      

107

,
      

14.3


    ],
    [
      

"27/3/2005"

,
      

1

,
      

44

,
      

5.5

,
      

88

,
      

14.8


    ],
    [
      

"28/3/2005"

,
      

0.7

,
      

42

,
      

3.6

,
      

80

,
      

13.9


    ],
    [
      

"29/3/2005"

,
      

9

,
      

28

,
      

2.9

,
      

78

,
      

11.6


    ],
    [
      

"30/3/2005"

,
      

0.6

,
      

20

,
      

2.5

,
      

57

,
      

12


    ],
    [
      

"31/3/2005"

,
      

0.7

,
      

26

,
      

3

,
      

71

,
      

10.9


    ],
    [
      

"1/4/2005"

,
      

1.5

,
      

78

,
      

7.7

,
      

85

,
      

10.6


    ],
    [
      

"2/4/2005"

,
      

4.7

,
      

319

,
      

23.3

,
      

124

,
      

11.5


    ],
    [
      

"3/4/2005"

,
      

6.6

,
      

506

,
      

35.8

,
      

151

,
      

14.3


    ],
    [
      

"4/4/2005"

,
      

4.5

,
      

167

,
      

21.3

,
      

150

,
      

17.8


    ],
    [
      

"5/4/2005"

,
      

2.8

,
      

175

,
      

14.3

,
      

152

,
      

20.8


    ],
    [
      

"6/4/2005"

,
      

2.2

,
      

54

,
      

12.5

,
      

139

,
      

23.8


    ],
    [
      

"7/4/2005"

,
      

2.2

,
      

439

,
      

12.2

,
      

133

,
      

24.2


    ],
    [
      

"8/4/2005"

,
      

2.3

,
      

163

,
      

13.1

,
      

126

,
      

25.2


    ],
    [
      

"9/4/2005"

,
      

2.2

,
      

240

,
      

14.4

,
      

128

,
      

27


    ],
    [
      

"10/4/2005"

,
      

2.8

,
      

699

,
      

16.8

,
      

169

,
      

27.1


    ],
    [
      

"11/4/2005"

,
      

2.7

,
      

135

,
      

14.5

,
      

149

,
      

25.8


    ],
    [
      

"12/4/2005"

,
      

3.7

,
      

209

,
      

21.5

,
      

156

,
      

23


    ],
    [
      

"13/4/2005"

,
      

5.1

,
      

209

,
      

26.4

,
      

168

,
      

20.7


    ],
    [
      

"14/4/2005"

,
      

5.1

,
      

383

,
      

26

,
      

176

,
      

18.6


    ],
    [
      

"15/4/2005"

,
      

3.2

,
      

123

,
      

14.1

,
      

135

,
      

16


    ],
    [
      

"16/4/2005"

,
      

2.1

,
      

711

,
      

10.3

,
      

121

,
      

14.5


    ],
    [
      

"17/4/2005"

,
      

1.7

,
      

309

,
      

8.3

,
      

99

,
      

13.1


    ],
    [
      

"18/4/2005"

,
      

2

,
      

327

,
      

8.9

,
      

106

,
      

12


    ],
    [
      

"19/4/2005"

,
      

1.6

,
      

285

,
      

6.6

,
      

96

,
      

11.9


    ],
    [
      

"20/4/2005"

,
      

0.9

,
      

641

,
      

3.6

,
      

63

,
      

12.5


    ],
    [
      

"21/4/2005"

,
      

0.7

,
      

353

,
      

2.5

,
      

49

,
      

12.5


    ],
    [
      

"22/4/2005"

,
      

1

,
      

443

,
      

1.8

,
      

32

,
      

12.3


    ],
    [
      

"23/4/2005"

,
      

0.5

,
      

476

,
      

1.3

,
      

28

,
      

12.5


    ],
    [
      

"24/4/2005"

,
      

0.7

,
      

213

,
      

2.3

,
      

61

,
      

12.3


    ],
    [
      

"25/4/2005"

,
      

1.5

,
      

452

,
      

6.7

,
      

99

,
      

12.4


    ],
    [
      

"26/4/2005"

,
      

4.8

,
      

660

,
      

22.8

,
      

157

,
      

13


    ],
    [
      

"27/4/2005"

,
      

6.2

,
      

63

,
      

31.3

,
      

166

,
      

13.6


    ],
    [
      

"28/4/2005"

,
      

4

,
      

447

,
      

19.2

,
      

149

,
      

13.9


    ],
    [
      

"29/4/2005"

,
      

3.3

,
      

188

,
      

16.4

,
      

135

,
      

14.5


    ],
    [
      

"30/4/2005"

,
      

2.8

,
      

302

,
      

14

,
      

127

,
      

15.5


    ],
    [
      

"1/5/2005"

,
      

3

,
      

321

,
      

15.3

,
      

122

,
      

16.1


    ],
    [
      

"2/5/2005"

,
      

3.3

,
      

444

,
      

16.7

,
      

135

,
      

16.3


    ],
    [
      

"3/5/2005"

,
      

3.5

,
      

487

,
      

19

,
      

139

,
      

16.4


    ],
    [
      

"4/5/2005"

,
      

4

,
      

607

,
      

19.4

,
      

147

,
      

16.1


    ],
    [
      

"5/5/2005"

,
      

4.6

,
      

345

,
      

20.9

,
      

158

,
      

16


    ],
    [
      

"6/5/2005"

,
      

4.1

,
      

401

,
      

20.2

,
      

146

,
      

15.8


    ],
    [
      

"7/5/2005"

,
      

4.5

,
      

327

,
      

21.7

,
      

144

,
      

15.5


    ],
    [
      

"8/5/2005"

,
      

3.9

,
      

311

,
      

19.8

,
      

138

,
      

15.4


    ],
    [
      

"9/5/2005"

,
      

4

,
      

637

,
      

16.7

,
      

143

,
      

15.2


    ],
    [
      

"10/5/2005"

,
      

2.2

,
      

613

,
      

9.1

,
      

116

,
      

14.7


    ],
    [
      

"11/5/2005"

,
      

2.1

,
      

675

,
      

8.3

,
      

109

,
      

14.2


    ],
    [
      

"12/5/2005"

,
      

1.7

,
      

133

,
      

5.8

,
      

92

,
      

13.8


    ],
    [
      

"13/5/2005"

,
      

1.6

,
      

635

,
      

5.2

,
      

83

,
      

13.9


    ],
    [
      

"14/5/2005"

,
      

1.3

,
      

364

,
      

4.1

,
      

81

,
      

13.9


    ],
    [
      

"15/5/2005"

,
      

1.3

,
      

531

,
      

3.4

,
      

68

,
      

13.8


    ],
    [
      

"16/5/2005"

,
      

3

,
      

199

,
      

2.9

,
      

55

,
      

13.8


    ],
    [
      

"17/5/2005"

,
      

0.8

,
      

449

,
      

3.1

,
      

53

,
      

13.6


    ],
    [
      

"18/5/2005"

,
      

0.8

,
      

477

,
      

2.5

,
      

67

,
      

13.6


    ],
    [
      

"19/5/2005"

,
      

1.1

,
      

350

,
      

4.3

,
      

91

,
      

13.5


    ],
    [
      

"20/5/2005"

,
      

2.1

,
      

287

,
      

8.9

,
      

113

,
      

13.8


    ],
    [
      

"21/5/2005"

,
      

2.4

,
      

288

,
      

10.5

,
      

102

,
      

14.6


    ],
    [
      

"22/5/2005"

,
      

2.6

,
      

416

,
      

12.5

,
      

107

,
      

15


    ],
    [
      

"23/5/2005"

,
      

2.8

,
      

77

,
      

12.3

,
      

113

,
      

15.4


    ],
    [
      

"24/5/2005"

,
      

2.6

,
      

259

,
      

11.7

,
      

108

,
      

16.3


    ],
    [
      

"25/5/2005"

,
      

2.6

,
      

414

,
      

11.7

,
      

105

,
      

17.1


    ],
    [
      

"26/5/2005"

,
      

2.1

,
      

106

,
      

9.3

,
      

93

,
      

19


    ],
    [
      

"27/5/2005"

,
      

1.7

,
      

677

,
      

7.6

,
      

87

,
      

19.5


    ],
    [
      

"28/5/2005"

,
      

1.6

,
      

644

,
      

6.7

,
      

76

,
      

19.5


    ],
    [
      

"29/5/2005"

,
      

2.1

,
      

617

,
      

9.7

,
      

94

,
      

19.1


    ],
    [
      

"30/5/2005"

,
      

2.3

,
      

687

,
      

12.4

,
      

110

,
      

18.5


    ],
    [
      

"31/5/2005"

,
      

3.5

,
      

728

,
      

16.6

,
      

136

,
      

17.4


    ],
    [
      

"1/6/2005"

,
      

3.9

,
      

379

,
      

16.4

,
      

139

,
      

17.1


    ],
    [
      

"2/6/2005"

,
      

3.3

,
      

226

,
      

13.7

,
      

125

,
      

16.4


    ],
    [
      

"3/6/2005"

,
      

2.3

,
      

290

,
      

9.9

,
      

111

,
      

16.2


    ],
    [
      

"4/6/2005"

,
      

2.1

,
      

648

,
      

8.9

,
      

97

,
      

15.9


    ],
    [
      

"5/6/2005"

,
      

2.8

,
      

59

,
      

10.6

,
      

107

,
      

15.7


    ],
    [
      

"6/6/2005"

,
      

2.1

,
      

691

,
      

7.4

,
      

90

,
      

15.1


    ],
    [
      

"7/6/2005"

,
      

1.6

,
      

458

,
      

6.2

,
      

84

,
      

15.6


    ],
    [
      

"8/6/2005"

,
      

1.6

,
      

429

,
      

6.5

,
      

83

,
      

15.2


    ],
    [
      

"9/6/2005"

,
      

10

,
      

235

,
      

5.8

,
      

87

,
      

15.4


    ],
    [
      

"10/6/2005"

,
      

1.1

,
      

364

,
      

4

,
      

66

,
      

14.9


    ],
    [
      

"11/6/2005"

,
      

0.7

,
      

601

,
      

2.1

,
      

36

,
      

14.5


    ],
    [
      

"12/6/2005"

,
      

0.8

,
      

399

,
      

3.6

,
      

62

,
      

14.2


    ],
    [
      

"13/6/2005"

,
      

1.2

,
      

324

,
      

4.4

,
      

91

,
      

14.5


    ],
    [
      

"14/6/2005"

,
      

1.4

,
      

643

,
      

5.4

,
      

89

,
      

15.3


    ],
    [
      

"15/6/2005"

,
      

1.7

,
      

724

,
      

7.1

,
      

93

,
      

16.3


    ],
    [
      

"16/6/2005"

,
      

1.8

,
      

683

,
      

7.3

,
      

81

,
      

18.9


    ],
    [
      

"17/6/2005"

,
      

1.8

,
      

354

,
      

7.6

,
      

82

,
      

19.4


    ],
    [
      

"18/6/2005"

,
      

1.9

,
      

618

,
      

6.8

,
      

80

,
      

20.8


    ],
    [
      

"19/6/2005"

,
      

1.3

,
      

174

,
      

4.6

,
      

48

,
      

21.4


    ],
    [
      

"20/6/2005"

,
      

1.6

,
      

385

,
      

8.4

,
      

61

,
      

21.2


    ],
    [
      

"21/6/2005"

,
      

1.9

,
      

703

,
      

6.9

,
      

89

,
      

20.3


    ],
    [
      

"22/6/2005"

,
      

2.3

,
      

214

,
      

9

,
      

105

,
      

19.4


    ],
    [
      

"23/6/2005"

,
      

3.8

,
      

151

,
      

15.1

,
      

116

,
      

18.5


    ],
    [
      

"24/6/2005"

,
      

3.5

,
      

133

,
      

12.6

,
      

119

,
      

17.8


    ],
    [
      

"25/6/2005"

,
      

4.3

,
      

541

,
      

15.1

,
      

144

,
      

17.9


    ],
    [
      

"26/6/2005"

,
      

2.8

,
      

633

,
      

9.9

,
      

123

,
      

17.4


    ],
    [
      

"27/6/2005"

,
      

1.9

,
      

590

,
      

8

,
      

105

,
      

17


    ],
    [
      

"28/6/2005"

,
      

1.9

,
      

379

,
      

7.9

,
      

93

,
      

16.4


    ],
    [
      

"29/6/2005"

,
      

1.7

,
      

187

,
      

6.1

,
      

86

,
      

16.1


    ],
    [
      

"30/6/2005"

,
      

1.5

,
      

576

,
      

5.1

,
      

76

,
      

15.8


    ],[
      

"1/7/2005"

,
      

1

,
      

26

,
      

2.6

,
      

53

,
      

8.2


    ],
    [
      

"2/7/2005"

,
      

1.7

,
      

55

,
      

5.9

,
      

97

,
      

8.3


    ],
    [
      

"3/7/2005"

,
      

1.9

,
      

53

,
      

6.4

,
      

70

,
      

7.7


    ],
    [
      

"4/7/2005"

,
      

1.4

,
      

40

,
      

4.1

,
      

91

,
      

7.1


    ],
    [
      

"5/7/2005"

,
      

0.8

,
      

21

,
      

1.9

,
      

70

,
      

7


    ],
    [
      

"6/7/2005"

,
      

5

,
      

10

,
      

1.1

,
      

32

,
      

6.1


    ],
    [
      

"7/7/2005"

,
      

0.6

,
      

7

,
      

1

,
      

44

,
      

6.3


    ],
    [
      

"8/7/2005"

,
      

0.8

,
      

17

,
      

1.8

,
      

71

,
      

6.8


    ],
    [
      

"9/7/2005"

,
      

1.4

,
      

33

,
      

4.4

,
      

104

,
      

6.4


    ],
    [
      

"10/7/2005"

,
      

4.4

,
      

202

,
      

17.9

,
      

141

,
      

7.3


    ],
    [
      

"7/7/2005"

,
      

1

,
      

142

,
      

22.1

,
      

130

,
      

9.2


    ],
    [
      

"12/7/2005"

,
      

3.1

,
      

208

,
      

14

,
      

122

,
      

13.2


    ],
    [
      

"13/7/2005"

,
      

2.7

,
      

166

,
      

7.6

,
      

143

,
      

14.3


    ],
    [
      

"14/7/2005"

,
      

2.1

,
      

74

,
      

10.2

,
      

113

,
      

15


    ],
    [
      

"15/7/2005"

,
      

2.5

,
      

140

,
      

11

,
      

116

,
      

16.1


    ],
    [
      

"16/7/2005"

,
      

2.7

,
      

169

,
      

12.8

,
      

123

,
      

16.3


    ],
    [
      

"17/7/2005"

,
      

2.9

,
      

185

,
      

14.2

,
      

126

,
      

15.8


    ],
    [
      

"18/7/2005"

,
      

2.8

,
      

165

,
      

12.7

,
      

120

,
      

15.9


    ],
    [
      

"19/7/2005"

,
      

2.4

,
      

133

,
      

11.7

,
      

119

,
      

16.9


    ],
    [
      

"20/7/2005"

,
      

3.9

,
      

233

,
      

19.3

,
      

149

,
      

15.1


    ],
    [
      

"21/7/2005"

,
      

3.7

,
      

242

,
      

18.2

,
      

145

,
      

14.4


    ],
    [
      

"22/7/2005"

,
      

6.6

,
      

488

,
      

32.6

,
      

170

,
      

12.9


    ],
    [
      

"23/7/2005"

,
      

4.4

,
      

333

,
      

20.1

,
      

149

,
      

12.1


    ],
    [
      

"24/7/2005"

,
      

3.5

,
      

215

,
      

14.3

,
      

139

,
      

11


    ],
    [
      

"25/7/2005"

,
      

5.4

,
      

367

,
      

21.8

,
      

134

,
      

9.7


    ],
    [
      

"26/7/2005"

,
      

2.7

,
      

122

,
      

9.6

,
      

113

,
      

9.5


    ],
    [
      

"27/7/2005"

,
      

1.9

,
      

67

,
      

7.4

,
      

97

,
      

9.1


    ],
    [
      

"28/7/2005"

,
      

1.6

,
      

43

,
      

5.4

,
      

82

,
      

8.8


    ],
    [
      

"29/7/2005"

,
      

1.7

,
      

46

,
      

5.4

,
      

83

,
      

7.8


    ],
    [
      

"30/7/2005"

,
      

5

,
      

56

,
      

6.2

,
      

83

,
      

7


    ],
    [
      

"31/7/2005"

,
      

1

,
      

30

,
      

2.6

,
      

65

,
      

8.3


    ],[
      

"1/8/2005"

,
      

1

,
      

26

,
      

2.6

,
      

53

,
      

8.2


    ],
    [
      

"2/8/2005"

,
      

1.8

,
      

55

,
      

5.9

,
      

98

,
      

8.3


    ],
    [
      

"3/8/2005"

,
      

1.9

,
      

53

,
      

6.4

,
      

80

,
      

8.8


    ],
    [
      

"4/8/2005"

,
      

1.4

,
      

40

,
      

4.1

,
      

91

,
      

8.1


    ],
    [
      

"5/8/2005"

,
      

0.8

,
      

21

,
      

1.9

,
      

80

,
      

8


    ],
    [
      

"6/8/2005"

,
      

5

,
      

10

,
      

1.1

,
      

32

,
      

6.1


    ],
    [
      

"7/8/2005"

,
      

0.6

,
      

8

,
      

1

,
      

44

,
      

6.3


    ],
    [
      

"8/8/2005"

,
      

0.8

,
      

18

,
      

1.8

,
      

81

,
      

6.8


    ],
    [
      

"9/8/2005"

,
      

1.4

,
      

33

,
      

4.4

,
      

104

,
      

6.4


    ],
    [
      

"10/8/2005"

,
      

4.4

,
      

202

,
      

18.9

,
      

141

,
      

8.3


    ],
    [
      

"8/8/2005"

,
      

1

,
      

142

,
      

22.1

,
      

130

,
      

9.2


    ],
    [
      

"12/8/2005"

,
      

3.1

,
      

208

,
      

14

,
      

122

,
      

13.2


    ],
    [
      

"13/8/2005"

,
      

2.8

,
      

166

,
      

8.6

,
      

143

,
      

14.3


    ],
    [
      

"14/8/2005"

,
      

2.1

,
      

84

,
      

10.2

,
      

113

,
      

15


    ],
    [
      

"15/8/2005"

,
      

2.5

,
      

140

,
      

11

,
      

116

,
      

16.1


    ],
    [
      

"16/8/2005"

,
      

2.8

,
      

169

,
      

12.8

,
      

123

,
      

16.3


    ],
    [
      

"17/8/2005"

,
      

2.9

,
      

185

,
      

14.2

,
      

126

,
      

15.8


    ],
    [
      

"18/8/2005"

,
      

2.8

,
      

165

,
      

12.8

,
      

120

,
      

15.9


    ],
    [
      

"19/8/2005"

,
      

2.4

,
      

133

,
      

11.8

,
      

119

,
      

16.9


    ],
    [
      

"20/8/2005"

,
      

3.9

,
      

233

,
      

19.3

,
      

149

,
      

15.1


    ],
    [
      

"21/8/2005"

,
      

3.8

,
      

242

,
      

18.2

,
      

145

,
      

14.4


    ],
    [
      

"22/8/2005"

,
      

6.6

,
      

488

,
      

32.6

,
      

180

,
      

12.9


    ],
    [
      

"23/8/2005"

,
      

4.4

,
      

333

,
      

20.1

,
      

149

,
      

12.1


    ],
    [
      

"24/8/2005"

,
      

3.5

,
      

215

,
      

14.3

,
      

139

,
      

11


    ],
    [
      

"25/8/2005"

,
      

5.4

,
      

368

,
      

21.8

,
      

134

,
      

9.8


    ],
    [
      

"26/8/2005"

,
      

2.8

,
      

122

,
      

9.6

,
      

113

,
      

9.5


    ],
    [
      

"27/8/2005"

,
      

1.9

,
      

68

,
      

8.4

,
      

98

,
      

9.1


    ],
    [
      

"28/8/2005"

,
      

1.6

,
      

43

,
      

5.4

,
      

82

,
      

8.8


    ],
    [
      

"29/8/2005"

,
      

1.8

,
      

46

,
      

5.4

,
      

83

,
      

8.8


    ],
    [
      

"30/8/2005"

,
      

5

,
      

56

,
      

6.2

,
      

83

,
      

8


    ],
    [
      

"31/8/2005"

,
      

1

,
      

30

,
      

2.6

,
      

65

,
      

8.3


    ],[
      

"1/9/2005"

,
      

1

,
      

26

,
      

2.6

,
      

53

,
      

9.2


    ],
    [
      

"2/9/2005"

,
      

1.9

,
      

55

,
      

5.9

,
      

99

,
      

9.3


    ],
    [
      

"3/9/2005"

,
      

1.9

,
      

53

,
      

6.4

,
      

90

,
      

9.9


    ],
    [
      

"4/9/2005"

,
      

1.4

,
      

40

,
      

4.1

,
      

91

,
      

9.1


    ],
    [
      

"5/9/2005"

,
      

0.9

,
      

21

,
      

1.9

,
      

90

,
      

9


    ],
    [
      

"6/9/2005"

,
      

5

,
      

10

,
      

1.1

,
      

32

,
      

6.1


    ],
    [
      

"7/9/2005"

,
      

0.6

,
      

9

,
      

1

,
      

44

,
      

6.3


    ],
    [
      

"8/9/2005"

,
      

0.9

,
      

19

,
      

1.9

,
      

91

,
      

6.9


    ],
    [
      

"9/9/2005"

,
      

1.4

,
      

33

,
      

4.4

,
      

104

,
      

6.4


    ],
    [
      

"10/9/2005"

,
      

4.4

,
      

202

,
      

19.9

,
      

141

,
      

9.3


    ],
    [
      

"9/9/2005"

,
      

1

,
      

142

,
      

22.1

,
      

130

,
      

9.2


    ],
    [
      

"12/9/2005"

,
      

3.1

,
      

209

,
      

14

,
      

122

,
      

13.2


    ],
    [
      

"13/9/2005"

,
      

2.9

,
      

166

,
      

9.6

,
      

143

,
      

14.3


    ],
    [
      

"14/9/2005"

,
      

2.1

,
      

94

,
      

10.2

,
      

113

,
      

15


    ],
    [
      

"15/9/2005"

,
      

2.5

,
      

140

,
      

11

,
      

116

,
      

16.1


    ],
    [
      

"16/9/2005"

,
      

2.9

,
      

169

,
      

12.9

,
      

123

,
      

16.3


    ],
    [
      

"17/9/2005"

,
      

2.9

,
      

195

,
      

14.2

,
      

126

,
      

15.9


    ],
    [
      

"18/9/2005"

,
      

2.9

,
      

165

,
      

12.9

,
      

120

,
      

15.9


    ],
    [
      

"19/9/2005"

,
      

2.4

,
      

133

,
      

11.9

,
      

119

,
      

16.9


    ],
    [
      

"20/9/2005"

,
      

3.9

,
      

233

,
      

19.3

,
      

149

,
      

15.1


    ],
    [
      

"21/9/2005"

,
      

3.9

,
      

242

,
      

19.2

,
      

145

,
      

14.4


    ],
    [
      

"22/9/2005"

,
      

6.6

,
      

499

,
      

32.6

,
      

190

,
      

12.9


    ],
    [
      

"23/9/2005"

,
      

4.4

,
      

333

,
      

20.1

,
      

149

,
      

12.1


    ],
    [
      

"24/9/2005"

,
      

3.5

,
      

215

,
      

14.3

,
      

139

,
      

11


    ],
    [
      

"25/9/2005"

,
      

5.4

,
      

369

,
      

21.9

,
      

134

,
      

9.9


    ],
    [
      

"26/9/2005"

,
      

2.9

,
      

122

,
      

9.6

,
      

113

,
      

9.5


    ],
    [
      

"27/9/2005"

,
      

1.9

,
      

69

,
      

9.4

,
      

99

,
      

9.1


    ],
    [
      

"28/9/2005"

,
      

1.6

,
      

43

,
      

5.4

,
      

92

,
      

9.9


    ],
    [
      

"29/9/2005"

,
      

1.9

,
      

46

,
      

5.4

,
      

93

,
      

9.9


    ],
    [
      

"30/9/2005"

,
      

5

,
      

56

,
      

6.2

,
      

93

,
      

9


    ],
    [
      

"1/10/2005"

,
      

1

,
      

26

,
      

2.6

,
      

53

,
      

10.2


    ],
    [
      

"2/10/2005"

,
      

1.10

,
      

55

,
      

5.10

,
      

1010

,
      

10.3


    ],
    [
      

"3/10/2005"

,
      

1.10

,
      

53

,
      

6.4

,
      

100

,
      

10.10


    ],
    [
      

"4/10/2005"

,
      

1.4

,
      

40

,
      

4.1

,
      

101

,
      

10.1


    ],
    [
      

"5/10/2005"

,
      

0.10

,
      

21

,
      

1.10

,
      

100

,
      

10


    ],
    [
      

"6/10/2005"

,
      

5

,
      

10

,
      

1.1

,
      

32

,
      

6.1


    ],
    [
      

"7/10/2005"

,
      

0.6

,
      

10

,
      

1

,
      

44

,
      

6.3


    ],
    [
      

"8/10/2005"

,
      

0.10

,
      

110

,
      

1.10

,
      

101

,
      

6.10


    ],
    [
      

"9/10/2005"

,
      

1.4

,
      

33

,
      

4.4

,
      

104

,
      

6.4


    ],
    [
      

"10/10/2005"

,
      

4.4

,
      

202

,
      

110.10

,
      

141

,
      

10.3


    ],
    [
      

"11/10/2005"

,
      

1

,
      

142

,
      

22.1

,
      

130

,
      

10.2


    ],
    [
      

"12/10/2005"

,
      

3.1

,
      

2010

,
      

14

,
      

122

,
      

13.2


    ],
    [
      

"13/10/2005"

,
      

2.10

,
      

166

,
      

10.6

,
      

143

,
      

14.3


    ],
    [
      

"14/10/2005"

,
      

2.1

,
      

104

,
      

10.2

,
      

113

,
      

15


    ],
    [
      

"15/10/2005"

,
      

2.5

,
      

140

,
      

11

,
      

116

,
      

16.1


    ],
    [
      

"16/10/2005"

,
      

2.10

,
      

1610

,
      

12.10

,
      

123

,
      

16.3


    ],
    [
      

"17/10/2005"

,
      

2.10

,
      

1105

,
      

14.2

,
      

126

,
      

15.10


    ],
    [
      

"18/10/2005"

,
      

2.10

,
      

165

,
      

12.10

,
      

120

,
      

15.10


    ],
    [
      

"19/10/2005"

,
      

2.4

,
      

133

,
      

11.10

,
      

1110

,
      

16.10


    ],
    [
      

"20/10/2005"

,
      

3.10

,
      

233

,
      

110.3

,
      

1410

,
      

15.1


    ],
    [
      

"21/10/2005"

,
      

3.10

,
      

242

,
      

110.2

,
      

145

,
      

14.4


    ],
    [
      

"22/10/2005"

,
      

6.6

,
      

41010

,
      

32.6

,
      

1100

,
      

12.10


    ],
    [
      

"23/10/2005"

,
      

4.4

,
      

333

,
      

20.1

,
      

1410

,
      

12.1


    ],
    [
      

"24/10/2005"

,
      

3.5

,
      

215

,
      

14.3

,
      

1310

,
      

11


    ],
    [
      

"25/10/2005"

,
      

5.4

,
      

3610

,
      

21.10

,
      

134

,
      

10.10


    ],
    [
      

"26/10/2005"

,
      

2.10

,
      

122

,
      

10.6

,
      

113

,
      

10.5


    ],
    [
      

"27/10/2005"

,
      

1.10

,
      

610

,
      

10.4

,
      

1010

,
      

10.1


    ],
    [
      

"28/10/2005"

,
      

1.6

,
      

43

,
      

5.4

,
      

102

,
      

10.10


    ],
    [
      

"29/10/2005"

,
      

1.10

,
      

46

,
      

5.4

,
      

103

,
      

10.10


    ],
    [
      

"30/10/2005"

,
      

5

,
      

56

,
      

6.2

,
      

103

,
      

10


    ],
    [
      

"31/10/2005"

,
      

1

,
      

30

,
      

2.6

,
      

65

,
      

10.3


    ],[
      

"1/11/2005"

,
      

1

,
      

26

,
      

2.6

,
      

53

,
      

11.2


    ],
    [
      

"2/11/2005"

,
      

1.11

,
      

55

,
      

5.11

,
      

99

,
      

10.3


    ],
    [
      

"3/11/2005"

,
      

1.10

,
      

53

,
      

6.4

,
      

100

,
      

10.10


    ],
    [
      

"4/11/2005"

,
      

1.4

,
      

40

,
      

4.1

,
      

101

,
      

10.1


    ],
    [
      

"5/11/2005"

,
      

0.10

,
      

21

,
      

1.10

,
      

100

,
      

10


    ],
    [
      

"6/11/2005"

,
      

5

,
      

10

,
      

1.1

,
      

32

,
      

6.1


    ],
    [
      

"7/11/2005"

,
      

0.6

,
      

10

,
      

1

,
      

44

,
      

6.3


    ],
    [
      

"8/11/2005"

,
      

0.10

,
      

110

,
      

1.10

,
      

101

,
      

6.10


    ],
    [
      

"9/11/2005"

,
      

1.4

,
      

33

,
      

4.4

,
      

104

,
      

6.4


    ],
    [
      

"10/11/2005"

,
      

4.4

,
      

202

,
      

110.10

,
      

141

,
      

10.3


    ],
    [
      

"11/11/2005"

,
      

1

,
      

142

,
      

22.1

,
      

130

,
      

10.2


    ],
    [
      

"12/11/2005"

,
      

3.1

,
      

2010

,
      

14

,
      

122

,
      

13.2


    ],
    [
      

"13/11/2005"

,
      

2.10

,
      

166

,
      

10.6

,
      

143

,
      

14.3


    ],
    [
      

"14/11/2005"

,
      

2.1

,
      

104

,
      

10.2

,
      

113

,
      

15


    ],
    [
      

"15/11/2005"

,
      

2.5

,
      

140

,
      

11

,
      

116

,
      

16.1


    ],
    [
      

"16/10/2005"

,
      

2.10

,
      

1610

,
      

12.10

,
      

123

,
      

16.3


    ],
    [
      

"17/11/2005"

,
      

2.10

,
      

1105

,
      

14.2

,
      

126

,
      

15.10


    ],
    [
      

"18/11/2005"

,
      

2.10

,
      

165

,
      

12.10

,
      

120

,
      

15.10


    ],
    [
      

"19/11/2005"

,
      

2.4

,
      

133

,
      

11.10

,
      

1110

,
      

16.10


    ],
    [
      

"20/11/2005"

,
      

3.10

,
      

233

,
      

110.3

,
      

1410

,
      

15.1


    ],
    [
      

"21/11/2005"

,
      

3.10

,
      

242

,
      

12.2

,
      

145

,
      

14.4


    ],
    [
      

"22/11/2005"

,
      

6.6

,
      

412

,
      

32.6

,
      

130

,
      

12.10


    ],
    [
      

"23/11/2005"

,
      

4.4

,
      

333

,
      

20.1

,
      

1410

,
      

12.1


    ],
    [
      

"24/11/2005"

,
      

3.5

,
      

215

,
      

14.3

,
      

1310

,
      

11


    ],
    [
      

"25/11/2005"

,
      

5.4

,
      

3610

,
      

21.10

,
      

134

,
      

10.10


    ],
    [
      

"26/11/2005"

,
      

2.10

,
      

122

,
      

10.6

,
      

113

,
      

10.5


    ],
    [
      

"27/11/2005"

,
      

1.10

,
      

610

,
      

10.4

,
      

1010

,
      

10.1


    ],
    [
      

"28/11/2005"

,
      

1.6

,
      

43

,
      

5.4

,
      

102

,
      

10.10


    ],
    [
      

"29/11/2005"

,
      

1.10

,
      

46

,
      

5.4

,
      

103

,
      

10.10


    ],
    [
      

"30/11/2005"

,
      

5

,
      

56

,
      

6.2

,
      

103

,
      

10


    ],
    [
      

"1/12/2005"

,
      

1

,
      

26

,
      

2.6

,
      

53

,
      

12.2


    ],
    [
      

"2/12/2005"

,
      

1.12

,
      

55

,
      

5.12

,
      

99

,
      

10.3


    ],
    [
      

"3/12/2005"

,
      

1.10

,
      

53

,
      

6.4

,
      

100

,
      

10.10


    ],
    [
      

"4/12/2005"

,
      

1.4

,
      

40

,
      

4.1

,
      

101

,
      

10.1


    ],
    [
      

"5/12/2005"

,
      

0.10

,
      

21

,
      

1.10

,
      

100

,
      

10


    ],
    [
      

"6/12/2005"

,
      

5

,
      

10

,
      

1.1

,
      

32

,
      

6.1


    ],
    [
      

"7/12/2005"

,
      

0.6

,
      

10

,
      

1

,
      

44

,
      

6.3


    ],
    [
      

"8/12/2005"

,
      

0.10

,
      

110

,
      

1.10

,
      

101

,
      

6.10


    ],
    [
      

"9/12/2005"

,
      

1.4

,
      

33

,
      

4.4

,
      

104

,
      

6.4


    ],
    [
      

"10/12/2005"

,
      

4.4

,
      

202

,
      

110.10

,
      

141

,
      

10.3


    ],
    [
      

"11/12/2005"

,
      

1

,
      

142

,
      

22.1

,
      

130

,
      

10.2


    ],
    [
      

"12/12/2005"

,
      

3.1

,
      

2010

,
      

14

,
      

122

,
      

13.2


    ],
    [
      

"13/12/2005"

,
      

2.10

,
      

166

,
      

10.6

,
      

143

,
      

14.3


    ],
    [
      

"14/12/2005"

,
      

2.1

,
      

104

,
      

10.2

,
      

113

,
      

15


    ],
    [
      

"15/12/2005"

,
      

2.5

,
      

140

,
      

11

,
      

126

,
      

16.1


    ],
    [
      

"16/10/2005"

,
      

2.10

,
      

1610

,
      

12.10

,
      

123

,
      

16.3


    ],
    [
      

"17/12/2005"

,
      

2.10

,
      

1105

,
      

14.2

,
      

126

,
      

15.10


    ],
    [
      

"18/12/2005"

,
      

2.10

,
      

165

,
      

12.10

,
      

120

,
      

15.10


    ],
    [
      

"19/12/2005"

,
      

2.4

,
      

133

,
      

12.10

,
      

1210

,
      

16.10


    ],
    [
      

"20/12/2005"

,
      

3.10

,
      

233

,
      

120.3

,
      

1410

,
      

15.1


    ],
    [
      

"21/12/2005"

,
      

3.10

,
      

242

,
      

12.2

,
      

145

,
      

14.4


    ],
    [
      

"22/12/2005"

,
      

6.6

,
      

412

,
      

32.6

,
      

130

,
      

12.10


    ],
    [
      

"23/12/2005"

,
      

4.4

,
      

333

,
      

20.1

,
      

1410

,
      

12.1


    ],
    [
      

"24/12/2005"

,
      

3.5

,
      

215

,
      

14.3

,
      

1310

,
      

12


    ],
    [
      

"25/12/2005"

,
      

5.4

,
      

3610

,
      

21.10

,
      

134

,
      

10.10


    ],
    [
      

"26/12/2005"

,
      

2.10

,
      

122

,
      

10.6

,
      

123

,
      

10.5


    ],
    [
      

"27/12/2005"

,
      

1.10

,
      

610

,
      

10.4

,
      

1010

,
      

10.1


    ],
    [
      

"28/12/2005"

,
      

1.6

,
      

43

,
      

5.4

,
      

102

,
      

10.10


    ],
    [
      

"29/12/2005"

,
      

1.10

,
      

46

,
      

5.4

,
      

103

,
      

10.10


    ],
    [
      

"30/12/2005"

,
      

5

,
      

56

,
      

6.2

,
      

103

,
      

10


    ],
    [
      

"31/12/2005"

,
      

1

,
      

30

,
      

2.6

,
      

65

,
      

10.3


    ], [
      

"1/1/2006"

,
      

2.8

,
      

145

,
      

10.7

,
      

119

,
      

19.3


    ],
    [
      

"2/1/2006"

,
      

2

,
      

93

,
      

7.5

,
      

104

,
      

21.2


    ],
    [
      

"3/1/2006"

,
      

1.8

,
      

84

,
      

7.5

,
      

102

,
      

21.4


    ],
    [
      

"4/1/2006"

,
      

1.9

,
      

99

,
      

8.2

,
      

107

,
      

21.9


    ],
    [
      

"5/1/2006"

,
      

3

,
      

150

,
      

11.9

,
      

129

,
      

22.2


    ],
    [
      

"6/1/2006"

,
      

2.9

,
      

156

,
      

12

,
      

128

,
      

21.3


    ],
    [
      

"7/1/2006"

,
      

2.5

,
      

122

,
      

12.2

,
      

121

,
      

19.7


    ],
    [
      

"8/1/2006"

,
      

4.6

,
      

262

,
      

20.6

,
      

157

,
      

18.4


    ],
    [
      

"9/1/2006"

,
      

5.9

,
      

341

,
      

23.1

,
      

173

,
      

17.6


    ],
    [
      

"10/1/2006"

,
      

3.4

,
      

214

,
      

14.7

,
      

146

,
      

16.7


    ],
    [
      

"11/1/2006"

,
      

2.1

,
      

100

,
      

9

,
      

121

,
      

16.3


    ],
    [
      

"11/1/2006"

,
      

2.2

,
      

79

,
      

8.8

,
      

119

,
      

14.7


    ],
    [
      

"12/1/2006"

,
      

1.8

,
      

66

,
      

7.4

,
      

99

,
      

14.8


    ],
    [
      

"13/1/2006"

,
      

1.8

,
      

73

,
      

6.9

,
      

93

,
      

14


    ],
    [
      

"14/1/2006"

,
      

1.8

,
      

66

,
      

7

,
      

88

,
      

13.4


    ],
    [
      

"15/1/2006"

,
      

1.1

,
      

44

,
      

4.4

,
      

80

,
      

12.6


    ],
    [
      

"16/1/2006"

,
      

9

,
      

44

,
      

4

,
      

71

,
      

12.3


    ],
    [
      

"17/1/2006"

,
      

1

,
      

39

,
      

3.9

,
      

74

,
      

11.9


    ],
    [
      

"18/1/2006"

,
      

1.4

,
      

51

,
      

6.4

,
      

80

,
      

11.4


    ],
    [
      

"19/1/2006"

,
      

2.2

,
      

107

,
      

9.7

,
      

89

,
      

11.3


    ],
    [
      

"20/1/2006"

,
      

5.5

,
      

336

,
      

25.9

,
      

114

,
      

12.4


    ],
    [      
    

"21/1/2006"

,
      

8.1

,
      

618

,
      

36.7

,
      

149

,
      

14.8


    ],
    [
      

"22/1/2006"

,
       

5.8

,
      

438

,
      

26.6

,
      

157

,
      

17.4


    ],
    [     
      

"23/1/2006"

,
      

4.2

,
      

334

,
      

20.1

,
      

155

,
      

19.8


    ],
    [
    

"24/1/2006"

,
      

3.1

,
      

221

,
      

14.1

,
      

134

,
      

22


    ],
    [
    

"25/1/2006"

,
      

2.9

,
      

207

,
      

14.9

,
      

119

,
      

23.3


    ],
    [
    

"26/1/2006"

,
      

2.9

,
      

191

,
      

15.4

,
      

111

,
      

23.9


    ],
    [
    

"27/1/2006"

,
      

2.5

,
      

185

,
      

12.1

,
      

104

,
      

24.4


    ],
    [

"28/1/2006"

,
      

2.3

,
      

141

,
      

11.5

,
      

99

,
      

24.4


    ],
    [

"29/1/2006"

,
      

2.8

,
      

214

,
      

14.8

,
      

110

,
      

23.8


    ],
    [

"30/1/2006"

,
      

6.1

,
      

471

,
      

32.1

,
      

162

,
      

22.5


    ],
    [

"31/1/2006"

,
      

8

,
      

685

,
      

39.2

,
      

187

,
      

20.4


    ],
    [

"1/2/2006"

,
      

6.5

,
      

538

,
      

31

,
      

165

,
      

18.3


    ],
    [

"2/2/2006"

,
      

4.2

,
      

319

,
      

19.9

,
      

145

,
      

16.7


    ],
    [

"3/2/2006"

,
      

3.2

,
      

224

,
      

15.3

,
      

125

,
      

15.7


    ],
    [

"4/2/2006"

,
      

1.4

,
      

67

,
      

6.9

,
      

101

,
      

15.3


    ],
    [

"5/2/2006"

,
      

2.1

,
      

155

,
      

11.1

,
      

103

,
      

14.1


    ],
    [

"6/2/2006"

,
      

1.2

,
      

49

,
      

5.4

,
      

88

,
      

14.8


    ],
    [

"7/2/2006"

,
      

0.8

,
      

29

,
      

2.8

,
      

61

,
      

14.8


    ],
    [

"8/2/2006"

,
      

0.7

,
      

25

,
      

2.3

,
      

60

,
      

13.6


    ],
    [

"9/2/2006"

,
      

10

,
      

25

,
      

2.6

,
      

59

,
      

12.3


    ],
    [

"10/2/2006"

,
      

0.6

,
      

17

,
      

2

,
      

52

,
      

12.8


    ],
    [

"11/2/2006"

,
      

0.9

,
      

27

,
      

3.5

,
      

64

,
      

11.2


    ],
    [

"12/2/2006"

,
      

1.3

,
      

50

,
      

5.1

,
      

70

,
      

11


    ],
    [

"13/2/2006"

,
      

3.4

,
      

218

,
      

16.2

,
      

97

,
      

11.7


    ],
    [

"14/2/2006"

,
      

3.7

,
      

285

,
      

19.7

,
      

95

,
      

13.6


    ],
    [

"15/2/2006"

,
      

5.3

,
      

437

,
      

25.1

,
      

150

,
      

17.8


    ],
    [

"16/2/2006"

,
      

4.1

,
      

327

,
      

20

,
      

162

,
      

21.4


    ],
    [

"17/2/2006"

,
      

3.3

,
      

283

,
      

18.3

,
      

154

,
      

24.4


    ],
    [

"18/2/2006"

,
      

4

,
      

366

,
      

22.3

,
      

161

,
      

25.3


    ],
    [

"19/2/2006"

,
      

3.8

,
      

318

,
      

20.4

,
      

161

,
      

25.8


    ],
    [

"20/2/2006"

,
      

2.8

,
      

228

,
      

14.6

,
      

128

,
      

27


    ],
    [ 
      

"21/2/2006"

,     
      

2.9

,
      

201

,
      

16.6

,
      

129

,
      

28.2


    ],
    [
      

"22/2/2006"

,
      

2.9

,
      

199

,
      

15.8

,
      

133

,
      

28


    ],
    [
      

"23/2/2006"

,
      

3.4

,
      

237

,
      

17.8

,
      

139

,
      

23.9


    ],
    [
      

"24/2/2006"

,
      

3.9

,
      

261

,
      

19.1

,
      

137

,
      

21.3


    ],
    [
      

"25/2/2006"

,
      

3.2

,
      

230

,
      

15.8

,
      

143

,
      

20.4


    ],
    [
      

"26/2/2006"

,
      

5.1

,
      

349

,
      

24.9

,
      

177

,
      

19


    ],
    [
      

"27/2/2006"

,
      

2.6

,
      

183

,
      

13.5

,
      

138

,
      

17.9


    ],
    [
      

"28/2/2006"

,
      

1.7

,
      

88

,
      

9.1

,
      

117

,
      

16.7


    ],
    [
      

"1/3/2006"

,
      

1.7

,
      

85

,
      

8.6

,
      

107

,
      

15.5


    ],
    [
      

"2/3/2006"

,
      

1.2

,
      

47

,
      

5.4

,
      

90

,
      

15.5


    ],
    [
      

"3/3/2006"

,
      

0.9

,
      

34

,
      

4.1

,
      

79

,
      

14.1


    ],
    [
      

"4/3/2006"

,
      

0.7

,
      

26

,
      

2.6

,
      

74

,
      

13.1


    ],
    [
      

"5/3/2006"

,
      

10

,
      

17

,
      

1.9

,
      

60

,
      

12.7


    ],
    [
      

"6/3/2006"

,
      

0.5

,
      

11

,
      

1.6

,
      

40

,
      

11.8


    ],
    [
      

"7/3/2006"

,
      

0.5

,
      

18

,
      

1.9

,
      

53

,
      

11.9


    ],
    [
      

"8/3/2006"

,
      

1.6

,
      

84

,
      

7.5

,
      

84

,
      

9.9


    ],
    [
      

"9/3/2006"

,
      

4.1

,
      

260

,
      

21.4

,
      

108

,
      

11.1


    ],
    [
      

"10/3/2006"

,
      

6.6

,
      

534

,
      

36.4

,
      

127

,
      

14.1


    ],
    [
      

"11/3/2006"

,
      

4.3

,
      

368

,
      

21.3

,
      

134

,
      

17.7


    ],
    [
      

"12/3/2006"

,
      

2.9

,
      

200

,
      

15.4

,
      

135

,
      

21.1


    ],
    [
      

"13/3/2006"

,
      

2.5

,
      

145

,
      

12.5

,
      

142

,
      

24.3


    ],
    [
      

"14/3/2006"

,
      

2.8

,
      

188

,
      

15.1

,
      

153

,
      

25.6


    ],
    [
      

"15/3/2006"

,
      

2.6

,
      

152

,
      

13.7

,
      

123

,
      

25.9


    ],
    [
      

"16/3/2006"

,
      

2

,
      

103

,
      

10.4

,
      

104

,
      

26.8


    ],
    [
      

"17/3/2006"

,
      

2.9

,
      

193

,
      

15.2

,
      

129

,
      

29.3


    ],
    [
      

"18/3/2006"

,
      

2.5

,
      

134

,
      

12.3

,
      

114

,
      

28.5


    ],
    [
      

"19/3/2006"

,
      

5

,
      

386

,
      

27

,
      

158

,
      

25.9


    ],
    [
      

"20/3/2006"

,
      

7.6

,
      

577

,
      

38.4

,
      

194

,
      

23.1


    ],
    [
      

"21/3/2006"

,
      

6.7

,
      

523

,
      

35.1

,
      

182

,
      

20.5


    ],
    [
      

"22/3/2006"

,
      

5.7

,
      

472

,
      

27.2

,
      

180

,
      

19.1


    ],
    [
      

"23/3/2006"

,
      

2.8

,
      

206

,
      

15

,
      

136

,
      

17.2


    ],
    [
      

"24/3/2006"

,
      

2.6

,
      

216

,
      

15.7

,
      

127

,
      

16


    ],
    [
      

"25/3/2006"

,
      

2.3

,
      

159

,
      

13

,
      

116

,
      

14.8


    ],
    [
      

"26/3/2006"

,
      

1.4

,
      

70

,
      

8.1

,
      

107

,
      

14.3


    ],
    [
      

"27/3/2006"

,
      

1

,
      

44

,
      

5.5

,
      

88

,
      

14.8


    ],
    [
      

"28/3/2006"

,
      

0.7

,
      

42

,
      

3.6

,
      

80

,
      

13.9


    ],
    [
      

"29/3/2006"

,
      

9

,
      

28

,
      

2.9

,
      

78

,
      

11.6


    ],
    [
      

"30/3/2006"

,
      

0.6

,
      

20

,
      

2.5

,
      

57

,
      

12


    ],
    [
      

"31/3/2006"

,
      

0.7

,
      

26

,
      

3

,
      

71

,
      

10.9


    ],
    [
      

"1/4/2006"

,
      

1.5

,
      

78

,
      

7.7

,
      

85

,
      

10.6


    ],
    [
      

"2/4/2006"

,
      

4.7

,
      

319

,
      

23.3

,
      

124

,
      

11.5


    ],
    [
      

"3/4/2006"

,
      

6.6

,
      

506

,
      

35.8

,
      

151

,
      

14.3


    ],
    [
      

"4/4/2006"

,
      

4.5

,
      

167

,
      

21.3

,
      

150

,
      

17.8


    ],
    [
      

"5/4/2006"

,
      

2.8

,
      

175

,
      

14.3

,
      

152

,
      

20.8


    ],
    [
      

"6/4/2006"

,
      

2.2

,
      

54

,
      

12.5

,
      

139

,
      

23.8


    ],
    [
      

"7/4/2006"

,
      

2.2

,
      

439

,
      

12.2

,
      

133

,
      

24.2


    ],
    [
      

"8/4/2006"

,
      

2.3

,
      

163

,
      

13.1

,
      

126

,
      

25.2


    ],
    [
      

"9/4/2006"

,
      

2.2

,
      

240

,
      

14.4

,
      

128

,
      

27


    ],
    [
      

"10/4/2006"

,
      

2.8

,
      

699

,
      

16.8

,
      

169

,
      

27.1


    ],
    [
      

"11/4/2006"

,
      

2.7

,
      

135

,
      

14.5

,
      

149

,
      

25.8


    ],
    [
      

"12/4/2006"

,
      

3.7

,
      

209

,
      

21.5

,
      

156

,
      

23


    ],
    [
      

"13/4/2006"

,
      

5.1

,
      

209

,
      

26.4

,
      

168

,
      

20.7


    ],
    [
      

"14/4/2006"

,
      

5.1

,
      

383

,
      

26

,
      

176

,
      

18.6


    ],
    [
      

"15/4/2006"

,
      

3.2

,
      

123

,
      

14.1

,
      

135

,
      

16


    ],
    [
      

"16/4/2006"

,
      

2.1

,
      

711

,
      

10.3

,
      

121

,
      

14.5


    ],
    [
      

"17/4/2006"

,
      

1.7

,
      

309

,
      

8.3

,
      

99

,
      

13.1


    ],
    [
      

"18/4/2006"

,
      

2

,
      

327

,
      

8.9

,
      

106

,
      

12


    ],
    [
      

"19/4/2006"

,
      

1.6

,
      

285

,
      

6.6

,
      

96

,
      

11.9


    ],
    [
      

"20/4/2006"

,
      

0.9

,
      

641

,
      

3.6

,
      

63

,
      

12.5


    ],
    [
      

"21/4/2006"

,
      

0.7

,
      

353

,
      

2.5

,
      

49

,
      

12.5


    ],
    [
      

"22/4/2006"

,
      

1

,
      

443

,
      

1.8

,
      

32

,
      

12.3


    ],
    [
      

"23/4/2006"

,
      

0.5

,
      

476

,
      

1.3

,
      

28

,
      

12.5


    ],
    [
      

"24/4/2006"

,
      

0.7

,
      

213

,
      

2.3

,
      

61

,
      

12.3


    ],
    [
      

"25/4/2006"

,
      

1.5

,
      

452

,
      

6.7

,
      

99

,
      

12.4


    ],
    [
      

"26/4/2006"

,
      

4.8

,
      

660

,
      

22.8

,
      

157

,
      

13


    ],
    [
      

"27/4/2006"

,
      

6.2

,
      

63

,
      

31.3

,
      

166

,
      

13.6


    ],
    [
      

"28/4/2006"

,
      

4

,
      

447

,
      

19.2

,
      

149

,
      

13.9


    ],
    [
      

"29/4/2006"

,
      

3.3

,
      

188

,
      

16.4

,
      

135

,
      

14.5


    ],
    [
      

"30/4/2006"

,
      

2.8

,
      

302

,
      

14

,
      

127

,
      

15.5


    ],
    [
      

"1/5/2006"

,
      

3

,
      

321

,
      

15.3

,
      

122

,
      

16.1


    ],
    [
      

"2/5/2006"

,
      

3.3

,
      

444

,
      

16.7

,
      

135

,
      

16.3


    ],
    [
      

"3/5/2006"

,
      

3.5

,
      

487

,
      

19

,
      

139

,
      

16.4


    ],
    [
      

"4/5/2006"

,
      

4

,
      

607

,
      

19.4

,
      

147

,
      

16.1


    ],
    [
      

"5/5/2006"

,
      

4.6

,
      

345

,
      

20.9

,
      

158

,
      

16


    ],
    [
      

"6/5/2006"

,
      

4.1

,
      

401

,
      

20.2

,
      

146

,
      

15.8


    ],
    [
      

"7/5/2006"

,
      

4.5

,
      

327

,
      

21.7

,
      

144

,
      

15.5


    ],
    [
      

"8/5/2006"

,
      

3.9

,
      

311

,
      

19.8

,
      

138

,
      

15.4


    ],
    [
      

"9/5/2006"

,
      

4

,
      

637

,
      

16.7

,
      

143

,
      

15.2


    ],
    [
      

"10/5/2006"

,
      

2.2

,
      

613

,
      

9.1

,
      

116

,
      

14.7


    ],
    [
      

"11/5/2006"

,
      

2.1

,
      

675

,
      

8.3

,
      

109

,
      

14.2


    ],
    [
      

"12/5/2006"

,
      

1.7

,
      

133

,
      

5.8

,
      

92

,
      

13.8


    ],
    [
      

"13/5/2006"

,
      

1.6

,
      

635

,
      

5.2

,
      

83

,
      

13.9


    ],
    [
      

"14/5/2006"

,
      

1.3

,
      

364

,
      

4.1

,
      

81

,
      

13.9


    ],
    [
      

"15/5/2006"

,
      

1.3

,
      

531

,
      

3.4

,
      

68

,
      

13.8


    ],
    [
      

"16/5/2006"

,
      

3

,
      

199

,
      

2.9

,
      

55

,
      

13.8


    ],
    [
      

"17/5/2006"

,
      

0.8

,
      

449

,
      

3.1

,
      

53

,
      

13.6


    ],
    [
      

"18/5/2006"

,
      

0.8

,
      

477

,
      

2.5

,
      

67

,
      

13.6


    ],
    [
      

"19/5/2006"

,
      

1.1

,
      

350

,
      

4.3

,
      

91

,
      

13.5


    ],
    [
      

"20/5/2006"

,
      

2.1

,
      

287

,
      

8.9

,
      

113

,
      

13.8


    ],
    [
      

"21/5/2006"

,
      

2.4

,
      

288

,
      

10.5

,
      

102

,
      

14.6


    ],
    [
      

"22/5/2006"

,
      

2.6

,
      

416

,
      

12.5

,
      

107

,
      

15


    ],
    [
      

"23/5/2006"

,
      

2.8

,
      

77

,
      

12.3

,
      

113

,
      

15.4


    ],
    [
      

"24/5/2006"

,
      

2.6

,
      

259

,
      

11.7

,
      

108

,
      

16.3


    ],
    [
      

"25/5/2006"

,
      

2.6

,
      

414

,
      

11.7

,
      

105

,
      

17.1


    ],
    [
      

"26/5/2006"

,
      

2.1

,
      

106

,
      

9.3

,
      

93

,
      

19


    ],
    [
      

"27/5/2006"

,
      

1.7

,
      

677

,
      

7.6

,
      

87

,
      

19.5


    ],
    [
      

"28/5/2006"

,
      

1.6

,
      

644

,
      

6.7

,
      

76

,
      

19.5


    ],
    [
      

"29/5/2006"

,
      

2.1

,
      

617

,
      

9.7

,
      

94

,
      

19.1


    ],
    [
      

"30/5/2006"

,
      

2.3

,
      

687

,
      

12.4

,
      

110

,
      

18.5


    ],
    [
      

"31/5/2006"

,
      

3.5

,
      

728

,
      

16.6

,
      

136

,
      

17.4


    ],
    [
      

"1/6/2006"

,
      

3.9

,
      

379

,
      

16.4

,
      

139

,
      

17.1


    ],
    [
      

"2/6/2006"

,
      

3.3

,
      

226

,
      

13.7

,
      

125

,
      

16.4


    ],
    [
      

"3/6/2006"

,
      

2.3

,
      

290

,
      

9.9

,
      

111

,
      

16.2


    ],
    [
      

"4/6/2006"

,
      

2.1

,
      

648

,
      

8.9

,
      

97

,
      

15.9


    ],
    [
      

"5/6/2006"

,
      

2.8

,
      

59

,
      

10.6

,
      

107

,
      

15.7


    ],
    [
      

"6/6/2006"

,
      

2.1

,
      

691

,
      

7.4

,
      

90

,
      

15.1


    ],
    [
      

"7/6/2006"

,
      

1.6

,
      

458

,
      

6.2

,
      

84

,
      

15.6


    ],
    [
      

"8/6/2006"

,
      

1.6

,
      

429

,
      

6.5

,
      

83

,
      

15.2


    ],
    [
      

"9/6/2006"

,
      

10

,
      

235

,
      

5.8

,
      

87

,
      

15.4


    ],
    [
      

"10/6/2006"

,
      

1.1

,
      

364

,
      

4

,
      

66

,
      

14.9


    ],
    [
      

"11/6/2006"

,
      

0.7

,
      

601

,
      

2.1

,
      

36

,
      

14.5


    ],
    [
      

"12/6/2006"

,
      

0.8

,
      

399

,
      

3.6

,
      

62

,
      

14.2


    ],
    [
      

"13/6/2006"

,
      

1.2

,
      

324

,
      

4.4

,
      

91

,
      

14.5


    ],
    [
      

"14/6/2006"

,
      

1.4

,
      

643

,
      

5.4

,
      

89

,
      

15.3


    ],
    [
      

"15/6/2006"

,
      

1.7

,
      

724

,
      

7.1

,
      

93

,
      

16.3


    ],
    [
      

"16/6/2006"

,
      

1.8

,
      

683

,
      

7.3

,
      

81

,
      

18.9


    ],
    [
      

"17/6/2006"

,
      

1.8

,
      

354

,
      

7.6

,
      

82

,
      

19.4


    ],
    [
      

"18/6/2006"

,
      

1.9

,
      

618

,
      

6.8

,
      

80

,
      

20.8


    ],
    [
      

"19/6/2006"

,
      

1.3

,
      

174

,
      

4.6

,
      

48

,
      

21.4


    ],
    [
      

"20/6/2006"

,
      

1.6

,
      

385

,
      

8.4

,
      

61

,
      

21.2


    ],
    [
      

"21/6/2006"

,
      

1.9

,
      

703

,
      

6.9

,
      

89

,
      

20.3


    ],
    [
      

"22/6/2006"

,
      

2.3

,
      

214

,
      

9

,
      

105

,
      

19.4


    ],
    [
      

"23/6/2006"

,
      

3.8

,
      

151

,
      

15.1

,
      

116

,
      

18.5


    ],
    [
      

"24/6/2006"

,
      

3.5

,
      

133

,
      

12.6

,
      

119

,
      

17.8


    ],
    [
      

"25/6/2006"

,
      

4.3

,
      

541

,
      

15.1

,
      

144

,
      

17.9


    ],
    [
      

"26/6/2006"

,
      

2.8

,
      

633

,
      

9.9

,
      

123

,
      

17.4


    ],
    [
      

"27/6/2006"

,
      

1.9

,
      

590

,
      

8

,
      

105

,
      

17


    ],
    [
      

"28/6/2006"

,
      

1.9

,
      

379

,
      

7.9

,
      

93

,
      

16.4


    ],
    [
      

"29/6/2006"

,
      

1.7

,
      

187

,
      

6.1

,
      

86

,
      

16.1


    ],
    [
      

"30/6/2006"

,
      

1.5

,
      

576

,
      

5.1

,
      

76

,
      

15.8


    ],[
      

"1/7/2006"

,
      

1

,
      

26

,
      

2.6

,
      

53

,
      

8.2


    ],
    [
      

"2/7/2006"

,
      

1.7

,
      

55

,
      

5.9

,
      

97

,
      

8.3


    ],
    [
      

"3/7/2006"

,
      

1.9

,
      

53

,
      

6.4

,
      

70

,
      

7.7


    ],
    [
      

"4/7/2006"

,
      

1.4

,
      

40

,
      

4.1

,
      

91

,
      

7.1


    ],
    [
      

"5/7/2006"

,
      

0.8

,
      

21

,
      

1.9

,
      

70

,
      

7


    ],
    [
      

"6/7/2006"

,
      

5

,
      

10

,
      

1.1

,
      

32

,
      

6.1


    ],
    [
      

"7/7/2006"

,
      

0.6

,
      

7

,
      

1

,
      

44

,
      

6.3


    ],
    [
      

"8/7/2006"

,
      

0.8

,
      

17

,
      

1.8

,
      

71

,
      

6.8


    ],
    [
      

"9/7/2006"

,
      

1.4

,
      

33

,
      

4.4

,
      

104

,
      

6.4


    ],
    [
      

"10/7/2006"

,
      

4.4

,
      

202

,
      

17.9

,
      

141

,
      

7.3


    ],
    [
      

"7/7/2006"

,
      

1

,
      

142

,
      

22.1

,
      

130

,
      

9.2


    ],
    [
      

"12/7/2006"

,
      

3.1

,
      

208

,
      

14

,
      

122

,
      

13.2


    ],
    [
      

"13/7/2006"

,
      

2.7

,
      

166

,
      

7.6

,
      

143

,
      

14.3


    ],
    [
      

"14/7/2006"

,
      

2.1

,
      

74

,
      

10.2

,
      

113

,
      

15


    ],
    [
      

"15/7/2006"

,
      

2.5

,
      

140

,
      

11

,
      

116

,
      

16.1


    ],
    [
      

"16/7/2006"

,
      

2.7

,
      

169

,
      

12.8

,
      

123

,
      

16.3


    ],
    [
      

"17/7/2006"

,
      

2.9

,
      

185

,
      

14.2

,
      

126

,
      

15.8


    ],
    [
      

"18/7/2006"

,
      

2.8

,
      

165

,
      

12.7

,
      

120

,
      

15.9


    ],
    [
      

"19/7/2006"

,
      

2.4

,
      

133

,
      

11.7

,
      

119

,
      

16.9


    ],
    [
      

"20/7/2006"

,
      

3.9

,
      

233

,
      

19.3

,
      

149

,
      

15.1


    ],
    [
      

"21/7/2006"

,
      

3.7

,
      

242

,
      

18.2

,
      

145

,
      

14.4


    ],
    [
      

"22/7/2006"

,
      

6.6

,
      

488

,
      

32.6

,
      

170

,
      

12.9


    ],
    [
      

"23/7/2006"

,
      

4.4

,
      

333

,
      

20.1

,
      

149

,
      

12.1


    ],
    [
      

"24/7/2006"

,
      

3.5

,
      

215

,
      

14.3

,
      

139

,
      

11


    ],
    [
      

"25/7/2006"

,
      

5.4

,
      

367

,
      

21.8

,
      

134

,
      

9.7


    ],
    [
      

"26/7/2006"

,
      

2.7

,
      

122

,
      

9.6

,
      

113

,
      

9.5


    ],
    [
      

"27/7/2006"

,
      

1.9

,
      

67

,
      

7.4

,
      

97

,
      

9.1


    ],
    [
      

"28/7/2006"

,
      

1.6

,
      

43

,
      

5.4

,
      

82

,
      

8.8


    ],
    [
      

"29/7/2006"

,
      

1.7

,
      

46

,
      

5.4

,
      

83

,
      

7.8


    ],
    [
      

"30/7/2006"

,
      

5

,
      

56

,
      

6.2

,
      

83

,
      

7


    ],
    [
      

"31/7/2006"

,
      

1

,
      

30

,
      

2.6

,
      

65

,
      

8.3


    ],[
      

"1/8/2006"

,
      

1

,
      

26

,
      

2.6

,
      

53

,
      

8.2


    ],
    [
      

"2/8/2006"

,
      

1.8

,
      

55

,
      

5.9

,
      

98

,
      

8.3


    ],
    [
      

"3/8/2006"

,
      

1.9

,
      

53

,
      

6.4

,
      

80

,
      

8.8


    ],
    [
      

"4/8/2006"

,
      

1.4

,
      

40

,
      

4.1

,
      

91

,
      

8.1


    ],
    [
      

"5/8/2006"

,
      

0.8

,
      

21

,
      

1.9

,
      

80

,
      

8


    ],
    [
      

"6/8/2006"

,
      

5

,
      

10

,
      

1.1

,
      

32

,
      

6.1


    ],
    [
      

"7/8/2006"

,
      

0.6

,
      

8

,
      

1

,
      

44

,
      

6.3


    ],
    [
      

"8/8/2006"

,
      

0.8

,
      

18

,
      

1.8

,
      

81

,
      

6.8


    ],
    [
      

"9/8/2006"

,
      

1.4

,
      

33

,
      

4.4

,
      

104

,
      

6.4


    ],
    [
      

"10/8/2006"

,
      

4.4

,
      

202

,
      

18.9

,
      

141

,
      

8.3


    ],
    [
      

"8/8/2006"

,
      

1

,
      

142

,
      

22.1

,
      

130

,
      

9.2


    ],
    [
      

"12/8/2006"

,
      

3.1

,
      

208

,
      

14

,
      

122

,
      

13.2


    ],
    [
      

"13/8/2006"

,
      

2.8

,
      

166

,
      

8.6

,
      

143

,
      

14.3


    ],
    [
      

"14/8/2006"

,
      

2.1

,
      

84

,
      

10.2

,
      

113

,
      

15


    ],
    [
      

"15/8/2006"

,
      

2.5

,
      

140

,
      

11

,
      

116

,
      

16.1


    ],
    [
      

"16/8/2006"

,
      

2.8

,
      

169

,
      

12.8

,
      

123

,
      

16.3


    ],
    [
      

"17/8/2006"

,
      

2.9

,
      

185

,
      

14.2

,
      

126

,
      

15.8


    ],
    [
      

"18/8/2006"

,
      

2.8

,
      

165

,
      

12.8

,
      

120

,
      

15.9


    ],
    [
      

"19/8/2006"

,
      

2.4

,
      

133

,
      

11.8

,
      

119

,
      

16.9


    ],
    [
      

"20/8/2006"

,
      

3.9

,
      

233

,
      

19.3

,
      

149

,
      

15.1


    ],
    [
      

"21/8/2006"

,
      

3.8

,
      

242

,
      

18.2

,
      

145

,
      

14.4


    ],
    [
      

"22/8/2006"

,
      

6.6

,
      

488

,
      

32.6

,
      

180

,
      

12.9


    ],
    [
      

"23/8/2006"

,
      

4.4

,
      

333

,
      

20.1

,
      

149

,
      

12.1


    ],
    [
      

"24/8/2006"

,
      

3.5

,
      

215

,
      

14.3

,
      

139

,
      

11


    ],
    [
      

"25/8/2006"

,
      

5.4

,
      

368

,
      

21.8

,
      

134

,
      

9.8


    ],
    [
      

"26/8/2006"

,
      

2.8

,
      

122

,
      

9.6

,
      

113

,
      

9.5


    ],
    [
      

"27/8/2006"

,
      

1.9

,
      

68

,
      

8.4

,
      

98

,
      

9.1


    ],
    [
      

"28/8/2006"

,
      

1.6

,
      

43

,
      

5.4

,
      

82

,
      

8.8


    ],
    [
      

"29/8/2006"

,
      

1.8

,
      

46

,
      

5.4

,
      

83

,
      

8.8


    ],
    [
      

"30/8/2006"

,
      

5

,
      

56

,
      

6.2

,
      

83

,
      

8


    ],
    [
      

"31/8/2006"

,
      

1

,
      

30

,
      

2.6

,
      

65

,
      

8.3


    ],[
      

"1/9/2006"

,
      

1

,
      

26

,
      

2.6

,
      

53

,
      

9.2


    ],
    [
      

"2/9/2006"

,
      

1.9

,
      

55

,
      

5.9

,
      

99

,
      

9.3


    ],
    [
      

"3/9/2006"

,
      

1.9

,
      

53

,
      

6.4

,
      

90

,
      

9.9


    ],
    [
      

"4/9/2006"

,
      

1.4

,
      

40

,
      

4.1

,
      

91

,
      

9.1


    ],
    [
      

"5/9/2006"

,
      

0.9

,
      

21

,
      

1.9

,
      

90

,
      

9


    ],
    [
      

"6/9/2006"

,
      

5

,
      

10

,
      

1.1

,
      

32

,
      

6.1


    ],
    [
      

"7/9/2006"

,
      

0.6

,
      

9

,
      

1

,
      

44

,
      

6.3


    ],
    [
      

"8/9/2006"

,
      

0.9

,
      

19

,
      

1.9

,
      

91

,
      

6.9


    ],
    [
      

"9/9/2006"

,
      

1.4

,
      

33

,
      

4.4

,
      

104

,
      

6.4


    ],
    [
      

"10/9/2006"

,
      

4.4

,
      

202

,
      

19.9

,
      

141

,
      

9.3


    ],
    [
      

"9/9/2006"

,
      

1

,
      

142

,
      

22.1

,
      

130

,
      

9.2


    ],
    [
      

"12/9/2006"

,
      

3.1

,
      

209

,
      

14

,
      

122

,
      

13.2


    ],
    [
      

"13/9/2006"

,
      

2.9

,
      

166

,
      

9.6

,
      

143

,
      

14.3


    ],
    [
      

"14/9/2006"

,
      

2.1

,
      

94

,
      

10.2

,
      

113

,
      

15


    ],
    [
      

"15/9/2006"

,
      

2.5

,
      

140

,
      

11

,
      

116

,
      

16.1


    ],
    [
      

"16/9/2006"

,
      

2.9

,
      

169

,
      

12.9

,
      

123

,
      

16.3


    ],
    [
      

"17/9/2006"

,
      

2.9

,
      

195

,
      

14.2

,
      

126

,
      

15.9


    ],
    [
      

"18/9/2006"

,
      

2.9

,
      

165

,
      

12.9

,
      

120

,
      

15.9


    ],
    [
      

"19/9/2006"

,
      

2.4

,
      

133

,
      

11.9

,
      

119

,
      

16.9


    ],
    [
      

"20/9/2006"

,
      

3.9

,
      

233

,
      

19.3

,
      

149

,
      

15.1


    ],
    [
      

"21/9/2006"

,
      

3.9

,
      

242

,
      

19.2

,
      

145

,
      

14.4


    ],
    [
      

"22/9/2006"

,
      

6.6

,
      

499

,
      

32.6

,
      

190

,
      

12.9


    ],
    [
      

"23/9/2006"

,
      

4.4

,
      

333

,
      

20.1

,
      

149

,
      

12.1


    ],
    [
      

"24/9/2006"

,
      

3.5

,
      

215

,
      

14.3

,
      

139

,
      

11


    ],
    [
      

"25/9/2006"

,
      

5.4

,
      

369

,
      

21.9

,
      

134

,
      

9.9


    ],
    [
      

"26/9/2006"

,
      

2.9

,
      

122

,
      

9.6

,
      

113

,
      

9.5


    ],
    [
      

"27/9/2006"

,
      

1.9

,
      

69

,
      

9.4

,
      

99

,
      

9.1


    ],
    [
      

"28/9/2006"

,
      

1.6

,
      

43

,
      

5.4

,
      

92

,
      

9.9


    ],
    [
      

"29/9/2006"

,
      

1.9

,
      

46

,
      

5.4

,
      

93

,
      

9.9


    ],
    [
      

"30/9/2006"

,
      

5

,
      

56

,
      

6.2

,
      

93

,
      

9


    ],
    [
      

"1/10/2006"

,
      

1

,
      

26

,
      

2.6

,
      

53

,
      

10.2


    ],
    [
      

"2/10/2006"

,
      

1.10

,
      

55

,
      

5.10

,
      

1010

,
      

10.3


    ],
    [
      

"3/10/2006"

,
      

1.10

,
      

53

,
      

6.4

,
      

100

,
      

10.10


    ],
    [
      

"4/10/2006"

,
      

1.4

,
      

40

,
      

4.1

,
      

101

,
      

10.1


    ],
    [
      

"5/10/2006"

,
      

0.10

,
      

21

,
      

1.10

,
      

100

,
      

10


    ],
    [
      

"6/10/2006"

,
      

5

,
      

10

,
      

1.1

,
      

32

,
      

6.1


    ],
    [
      

"7/10/2006"

,
      

0.6

,
      

10

,
      

1

,
      

44

,
      

6.3


    ],
    [
      

"8/10/2006"

,
      

0.10

,
      

110

,
      

1.10

,
      

101

,
      

6.10


    ],
    [
      

"9/10/2006"

,
      

1.4

,
      

33

,
      

4.4

,
      

104

,
      

6.4


    ],
    [
      

"10/10/2006"

,
      

4.4

,
      

202

,
      

110.10

,
      

141

,
      

10.3


    ],
    [
      

"11/10/2006"

,
      

1

,
      

142

,
      

22.1

,
      

130

,
      

10.2


    ],
    [
      

"12/10/2006"

,
      

3.1

,
      

2010

,
      

14

,
      

122

,
      

13.2


    ],
    [
      

"13/10/2006"

,
      

2.10

,
      

166

,
      

10.6

,
      

143

,
      

14.3


    ],
    [
      

"14/10/2006"

,
      

2.1

,
      

104

,
      

10.2

,
      

113

,
      

15


    ],
    [
      

"15/10/2006"

,
      

2.5

,
      

140

,
      

11

,
      

116

,
      

16.1


    ],
    [
      

"16/10/2006"

,
      

2.10

,
      

1610

,
      

12.10

,
      

123

,
      

16.3


    ],
    [
      

"17/10/2006"

,
      

2.10

,
      

1105

,
      

14.2

,
      

126

,
      

15.10


    ],
    [
      

"18/10/2006"

,
      

2.10

,
      

165

,
      

12.10

,
      

120

,
      

15.10


    ],
    [
      

"19/10/2006"

,
      

2.4

,
      

133

,
      

11.10

,
      

1110

,
      

16.10


    ],
    [
      

"20/10/2006"

,
      

3.10

,
      

233

,
      

110.3

,
      

1410

,
      

15.1


    ],
    [
      

"21/10/2006"

,
      

3.10

,
      

242

,
      

110.2

,
      

145

,
      

14.4


    ],
    [
      

"22/10/2006"

,
      

6.6

,
      

41010

,
      

32.6

,
      

1100

,
      

12.10


    ],
    [
      

"23/10/2006"

,
      

4.4

,
      

333

,
      

20.1

,
      

1410

,
      

12.1


    ],
    [
      

"24/10/2006"

,
      

3.5

,
      

215

,
      

14.3

,
      

1310

,
      

11


    ],
    [
      

"25/10/2006"

,
      

5.4

,
      

3610

,
      

21.10

,
      

134

,
      

10.10


    ],
    [
      

"26/10/2006"

,
      

2.10

,
      

122

,
      

10.6

,
      

113

,
      

10.5


    ],
    [
      

"27/10/2006"

,
      

1.10

,
      

610

,
      

10.4

,
      

1010

,
      

10.1


    ],
    [
      

"28/10/2006"

,
      

1.6

,
      

43

,
      

5.4

,
      

102

,
      

10.10


    ],
    [
      

"29/10/2006"

,
      

1.10

,
      

46

,
      

5.4

,
      

103

,
      

10.10


    ],
    [
      

"30/10/2006"

,
      

5

,
      

56

,
      

6.2

,
      

103

,
      

10


    ],
    [
      

"31/10/2006"

,
      

1

,
      

30

,
      

2.6

,
      

65

,
      

10.3


    ],[
      

"1/11/2006"

,
      

1

,
      

26

,
      

2.6

,
      

53

,
      

11.2


    ],
    [
      

"2/11/2006"

,
      

1.11

,
      

55

,
      

5.11

,
      

99

,
      

10.3


    ],
    [
      

"3/11/2006"

,
      

1.10

,
      

53

,
      

6.4

,
      

100

,
      

10.10


    ],
    [
      

"4/11/2006"

,
      

1.4

,
      

40

,
      

4.1

,
      

101

,
      

10.1


    ],
    [
      

"5/11/2006"

,
      

0.10

,
      

21

,
      

1.10

,
      

100

,
      

10


    ],
    [
      

"6/11/2006"

,
      

5

,
      

10

,
      

1.1

,
      

32

,
      

6.1


    ],
    [
      

"7/11/2006"

,
      

0.6

,
      

10

,
      

1

,
      

44

,
      

6.3


    ],
    [
      

"8/11/2006"

,
      

0.10

,
      

110

,
      

1.10

,
      

101

,
      

6.10


    ],
    [
      

"9/11/2006"

,
      

1.4

,
      

33

,
      

4.4

,
      

104

,
      

6.4


    ],
    [
      

"10/11/2006"

,
      

4.4

,
      

202

,
      

110.10

,
      

141

,
      

10.3


    ],
    [
      

"11/11/2006"

,
      

1

,
      

142

,
      

22.1

,
      

130

,
      

10.2


    ],
    [
      

"12/11/2006"

,
      

3.1

,
      

2010

,
      

14

,
      

122

,
      

13.2


    ],
    [
      

"13/11/2006"

,
      

2.10

,
      

166

,
      

10.6

,
      

143

,
      

14.3


    ],
    [
      

"14/11/2006"

,
      

2.1

,
      

104

,
      

10.2

,
      

113

,
      

15


    ],
    [
      

"15/11/2006"

,
      

2.5

,
      

140

,
      

11

,
      

116

,
      

16.1


    ],
    [
      

"16/10/2006"

,
      

2.10

,
      

1610

,
      

12.10

,
      

123

,
      

16.3


    ],
    [
      

"17/11/2006"

,
      

2.10

,
      

1105

,
      

14.2

,
      

126

,
      

15.10


    ],
    [
      

"18/11/2006"

,
      

2.10

,
      

165

,
      

12.10

,
      

120

,
      

15.10


    ],
    [
      

"19/11/2006"

,
      

2.4

,
      

133

,
      

11.10

,
      

1110

,
      

16.10


    ],
    [
      

"20/11/2006"

,
      

3.10

,
      

233

,
      

110.3

,
      

1410

,
      

15.1


    ],
    [
      

"21/11/2006"

,
      

3.10

,
      

242

,
      

12.2

,
      

145

,
      

14.4


    ],
    [
      

"22/11/2006"

,
      

6.6

,
      

412

,
      

32.6

,
      

130

,
      

12.10


    ],
    [
      

"23/11/2006"

,
      

4.4

,
      

333

,
      

20.1

,
      

1410

,
      

12.1


    ],
    [
      

"24/11/2006"

,
      

3.5

,
      

215

,
      

14.3

,
      

1310

,
      

11


    ],
    [
      

"25/11/2006"

,
      

5.4

,
      

3610

,
      

21.10

,
      

134

,
      

10.10


    ],
    [
      

"26/11/2006"

,
      

2.10

,
      

122

,
      

10.6

,
      

113

,
      

10.5


    ],
    [
      

"27/11/2006"

,
      

1.10

,
      

610

,
      

10.4

,
      

1010

,
      

10.1


    ],
    [
      

"28/11/2006"

,
      

1.6

,
      

43

,
      

5.4

,
      

102

,
      

10.10


    ],
    [
      

"29/11/2006"

,
      

1.10

,
      

46

,
      

5.4

,
      

103

,
      

10.10


    ],
    [
      

"30/11/2006"

,
      

5

,
      

56

,
      

6.2

,
      

103

,
      

10


    ],
    [
      

"1/12/2006"

,
      

1

,
      

26

,
      

2.6

,
      

53

,
      

12.2


    ],
    [
      

"2/12/2006"

,
      

1.12

,
      

55

,
      

5.12

,
      

99

,
      

10.3


    ],
    [
      

"3/12/2006"

,
      

1.10

,
      

53

,
      

6.4

,
      

100

,
      

10.10


    ],
    [
      

"4/12/2006"

,
      

1.4

,
      

40

,
      

4.1

,
      

101

,
      

10.1


    ],
    [
      

"5/12/2006"

,
      

0.10

,
      

21

,
      

1.10

,
      

100

,
      

10


    ],
    [
      

"6/12/2006"

,
      

5

,
      

10

,
      

1.1

,
      

32

,
      

6.1


    ],
    [
      

"7/12/2006"

,
      

0.6

,
      

10

,
      

1

,
      

44

,
      

6.3


    ],
    [
      

"8/12/2006"

,
      

0.10

,
      

110

,
      

1.10

,
      

101

,
      

6.10


    ],
    [
      

"9/12/2006"

,
      

1.4

,
      

33

,
      

4.4

,
      

104

,
      

6.4


    ],
    [
      

"10/12/2006"

,
      

4.4

,
      

202

,
      

110.10

,
      

141

,
      

10.3


    ],
    [
      

"11/12/2006"

,
      

1

,
      

142

,
      

22.1

,
      

130

,
      

10.2


    ],
    [
      

"12/12/2006"

,
      

3.1

,
      

2010

,
      

14

,
      

122

,
      

13.2


    ],
    [
      

"13/12/2006"

,
      

2.10

,
      

166

,
      

10.6

,
      

143

,
      

14.3


    ],
    [
      

"14/12/2006"

,
      

2.1

,
      

104

,
      

10.2

,
      

113

,
      

15


    ],
    [
      

"15/12/2006"

,
      

2.5

,
      

140

,
      

11

,
      

126

,
      

16.1


    ],
    [
      

"16/10/2006"

,
      

2.10

,
      

1610

,
      

12.10

,
      

123

,
      

16.3


    ],
    [
      

"17/12/2006"

,
      

2.10

,
      

1105

,
      

14.2

,
      

126

,
      

15.10


    ],
    [
      

"18/12/2006"

,
      

2.10

,
      

165

,
      

12.10

,
      

120

,
      

15.10


    ],
    [
      

"19/12/2006"

,
      

2.4

,
      

133

,
      

12.10

,
      

1210

,
      

16.10


    ],
    [
      

"20/12/2006"

,
      

3.10

,
      

233

,
      

120.3

,
      

1410

,
      

15.1


    ],
    [
      

"21/12/2006"

,
      

3.10

,
      

242

,
      

12.2

,
      

145

,
      

14.4


    ],
    [
      

"22/12/2006"

,
      

6.6

,
      

412

,
      

32.6

,
      

130

,
      

12.10


    ],
    [
      

"23/12/2006"

,
      

4.4

,
      

333

,
      

20.1

,
      

1410

,
      

12.1


    ],
    [
      

"24/12/2006"

,
      

3.5

,
      

215

,
      

14.3

,
      

1310

,
      

12


    ],
    [
      

"25/12/2006"

,
      

5.4

,
      

3610

,
      

21.10

,
      

134

,
      

10.10


    ],
    [
      

"26/12/2006"

,
      

2.10

,
      

122

,
      

10.6

,
      

123

,
      

10.5


    ],
    [
      

"27/12/2006"

,
      

1.10

,
      

610

,
      

10.4

,
      

1010

,
      

10.1


    ],
    [
      

"28/12/2006"

,
      

1.6

,
      

43

,
      

5.4

,
      

102

,
      

10.10


    ],
    [
      

"29/12/2006"

,
      

1.10

,
      

46

,
      

5.4

,
      

103

,
      

10.10


    ],
    [
      

"30/12/2006"

,
      

5

,
      

56

,
      

6.2

,
      

103

,
      

10


    ],
    [
      

"31/12/2006"

,
      

1

,
      

30

,
      

2.6

,
      

65

,
      

10.3


    ], [
      

"1/1/2007"

,
      

2.8

,
      

145

,
      

10.7

,
      

119

,
      

19.3


    ],
    [
      

"2/1/2007"

,
      

2

,
      

93

,
      

7.5

,
      

104

,
      

21.2


    ],
    [
      

"3/1/2007"

,
      

1.8

,
      

84

,
      

7.5

,
      

102

,
      

21.4


    ],
    [
      

"4/1/2007"

,
      

1.9

,
      

99

,
      

8.2

,
      

107

,
      

21.9


    ],
    [
      

"5/1/2007"

,
      

3

,
      

150

,
      

11.9

,
      

129

,
      

22.2


    ],
    [
      

"6/1/2007"

,
      

2.9

,
      

156

,
      

12

,
      

128

,
      

21.3


    ],
    [
      

"7/1/2007"

,
      

2.5

,
      

122

,
      

12.2

,
      

121

,
      

19.7


    ],
    [
      

"8/1/2007"

,
      

4.6

,
      

262

,
      

20.6

,
      

157

,
      

18.4


    ],
    [
      

"9/1/2007"

,
      

5.9

,
      

341

,
      

23.1

,
      

173

,
      

17.6


    ],
    [
      

"10/1/2007"

,
      

3.4

,
      

214

,
      

14.7

,
      

146

,
      

16.7


    ],
    [
      

"11/1/2007"

,
      

2.1

,
      

100

,
      

9

,
      

121

,
      

16.3


    ],
    [
      

"11/1/2007"

,
      

2.2

,
      

79

,
      

8.8

,
      

119

,
      

14.7


    ],
    [
      

"12/1/2007"

,
      

1.8

,
      

66

,
      

7.4

,
      

99

,
      

14.8


    ],
    [
      

"13/1/2007"

,
      

1.8

,
      

73

,
      

6.9

,
      

93

,
      

14


    ],
    [
      

"14/1/2007"

,
      

1.8

,
      

66

,
      

7

,
      

88

,
      

13.4


    ],
    [
      

"15/1/2007"

,
      

1.1

,
      

44

,
      

4.4

,
      

80

,
      

12.6


    ],
    [
      

"16/1/2007"

,
      

9

,
      

44

,
      

4

,
      

71

,
      

12.3


    ],
    [
      

"17/1/2007"

,
      

1

,
      

39

,
      

3.9

,
      

74

,
      

11.9


    ],
    [
      

"18/1/2007"

,
      

1.4

,
      

51

,
      

6.4

,
      

80

,
      

11.4


    ],
    [
      

"19/1/2007"

,
      

2.2

,
      

107

,
      

9.7

,
      

89

,
      

11.3


    ],
    [
      

"20/1/2007"

,
      

5.5

,
      

336

,
      

25.9

,
      

114

,
      

12.4


    ],
    [      
    

"21/1/2007"

,
      

8.1

,
      

618

,
      

36.7

,
      

149

,
      

14.8


    ],
    [
      

"22/1/2007"

,
       

5.8

,
      

438

,
      

26.6

,
      

157

,
      

17.4


    ],
    [     
      

"23/1/2007"

,
      

4.2

,
      

334

,
      

20.1

,
      

155

,
      

19.8


    ],
    [
    

"24/1/2007"

,
      

3.1

,
      

221

,
      

14.1

,
      

134

,
      

22


    ],
    [
    

"25/1/2007"

,
      

2.9

,
      

207

,
      

14.9

,
      

119

,
      

23.3


    ],
    [
    

"26/1/2007"

,
      

2.9

,
      

191

,
      

15.4

,
      

111

,
      

23.9


    ],
    [
    

"27/1/2007"

,
      

2.5

,
      

185

,
      

12.1

,
      

104

,
      

24.4


    ],
    [

"28/1/2007"

,
      

2.3

,
      

141

,
      

11.5

,
      

99

,
      

24.4


    ],
    [

"29/1/2007"

,
      

2.8

,
      

214

,
      

14.8

,
      

110

,
      

23.8


    ],
    [

"30/1/2007"

,
      

6.1

,
      

471

,
      

32.1

,
      

162

,
      

22.5


    ],
    [

"31/1/2007"

,
      

8

,
      

685

,
      

39.2

,
      

187

,
      

20.4


    ],
    [

"1/2/2007"

,
      

6.5

,
      

538

,
      

31

,
      

165

,
      

18.3


    ],
    [

"2/2/2007"

,
      

4.2

,
      

319

,
      

19.9

,
      

145

,
      

16.7


    ],
    [

"3/2/2007"

,
      

3.2

,
      

224

,
      

15.3

,
      

125

,
      

15.7


    ],
    [

"4/2/2007"

,
      

1.4

,
      

67

,
      

6.9

,
      

101

,
      

15.3


    ],
    [

"5/2/2007"

,
      

2.1

,
      

155

,
      

11.1

,
      

103

,
      

14.1


    ],
    [

"6/2/2007"

,
      

1.2

,
      

49

,
      

5.4

,
      

88

,
      

14.8


    ],
    [

"7/2/2007"

,
      

0.8

,
      

29

,
      

2.8

,
      

61

,
      

14.8


    ],
    [

"8/2/2007"

,
      

0.7

,
      

25

,
      

2.3

,
      

60

,
      

13.6


    ],
    [

"9/2/2007"

,
      

10

,
      

25

,
      

2.6

,
      

59

,
      

12.3


    ],
    [

"10/2/2007"

,
      

0.6

,
      

17

,
      

2

,
      

52

,
      

12.8


    ],
    [

"11/2/2007"

,
      

0.9

,
      

27

,
      

3.5

,
      

64

,
      

11.2


    ],
    [

"12/2/2007"

,
      

1.3

,
      

50

,
      

5.1

,
      

70

,
      

11


    ],
    [

"13/2/2007"

,
      

3.4

,
      

218

,
      

16.2

,
      

97

,
      

11.7


    ],
    [

"14/2/2007"

,
      

3.7

,
      

285

,
      

19.7

,
      

95

,
      

13.6


    ],
    [

"15/2/2007"

,
      

5.3

,
      

437

,
      

25.1

,
      

150

,
      

17.8


    ],
    [

"16/2/2007"

,
      

4.1

,
      

327

,
      

20

,
      

162

,
      

21.4


    ],
    [

"17/2/2007"

,
      

3.3

,
      

283

,
      

18.3

,
      

154

,
      

24.4


    ],
    [

"18/2/2007"

,
      

4

,
      

366

,
      

22.3

,
      

161

,
      

25.3


    ],
    [

"19/2/2007"

,
      

3.8

,
      

318

,
      

20.4

,
      

161

,
      

25.8


    ],
    [

"20/2/2007"

,
      

2.8

,
      

228

,
      

14.6

,
      

128

,
      

27


    ],
    [ 
      

"21/2/2007"

,     
      

2.9

,
      

201

,
      

16.6

,
      

129

,
      

28.2


    ],
    [
      

"22/2/2007"

,
      

2.9

,
      

199

,
      

15.8

,
      

133

,
      

28


    ],
    [
      

"23/2/2007"

,
      

3.4

,
      

237

,
      

17.8

,
      

139

,
      

23.9


    ],
    [
      

"24/2/2007"

,
      

3.9

,
      

261

,
      

19.1

,
      

137

,
      

21.3


    ],
    [
      

"25/2/2007"

,
      

3.2

,
      

230

,
      

15.8

,
      

143

,
      

20.4


    ],
    [
      

"26/2/2007"

,
      

5.1

,
      

349

,
      

24.9

,
      

177

,
      

19


    ],
    [
      

"27/2/2007"

,
      

2.6

,
      

183

,
      

13.5

,
      

138

,
      

17.9


    ],
    [
      

"28/2/2007"

,
      

1.7

,
      

88

,
      

9.1

,
      

117

,
      

16.7


    ],
    [
      

"1/3/2007"

,
      

1.7

,
      

85

,
      

8.6

,
      

107

,
      

15.5


    ],
    [
      

"2/3/2007"

,
      

1.2

,
      

47

,
      

5.4

,
      

90

,
      

15.5


    ],
    [
      

"3/3/2007"

,
      

0.9

,
      

34

,
      

4.1

,
      

79

,
      

14.1


    ],
    [
      

"4/3/2007"

,
      

0.7

,
      

26

,
      

2.6

,
      

74

,
      

13.1


    ],
    [
      

"5/3/2007"

,
      

10

,
      

17

,
      

1.9

,
      

60

,
      

12.7


    ],
    [
      

"6/3/2007"

,
      

0.5

,
      

11

,
      

1.6

,
      

40

,
      

11.8


    ],
    [
      

"7/3/2007"

,
      

0.5

,
      

18

,
      

1.9

,
      

53

,
      

11.9


    ],
    [
      

"8/3/2007"

,
      

1.6

,
      

84

,
      

7.5

,
      

84

,
      

9.9


    ],
    [
      

"9/3/2007"

,
      

4.1

,
      

260

,
      

21.4

,
      

108

,
      

11.1


    ],
    [
      

"10/3/2007"

,
      

6.6

,
      

534

,
      

36.4

,
      

127

,
      

14.1


    ],
    [
      

"11/3/2007"

,
      

4.3

,
      

368

,
      

21.3

,
      

134

,
      

17.7


    ],
    [
      

"12/3/2007"

,
      

2.9

,
      

200

,
      

15.4

,
      

135

,
      

21.1


    ],
    [
      

"13/3/2007"

,
      

2.5

,
      

145

,
      

12.5

,
      

142

,
      

24.3


    ],
    [
      

"14/3/2007"

,
      

2.8

,
      

188

,
      

15.1

,
      

153

,
      

25.6


    ],
    [
      

"15/3/2007"

,
      

2.6

,
      

152

,
      

13.7

,
      

123

,
      

25.9


    ],
    [
      

"16/3/2007"

,
      

2

,
      

103

,
      

10.4

,
      

104

,
      

26.8


    ],
    [
      

"17/3/2007"

,
      

2.9

,
      

193

,
      

15.2

,
      

129

,
      

29.3


    ],
    [
      

"18/3/2007"

,
      

2.5

,
      

134

,
      

12.3

,
      

114

,
      

28.5


    ],
    [
      

"19/3/2007"

,
      

5

,
      

386

,
      

27

,
      

158

,
      

25.9


    ],
    [
      

"20/3/2007"

,
      

7.6

,
      

577

,
      

38.4

,
      

194

,
      

23.1


    ],
    [
      

"21/3/2007"

,
      

6.7

,
      

523

,
      

35.1

,
      

182

,
      

20.5


    ],
    [
      

"22/3/2007"

,
      

5.7

,
      

472

,
      

27.2

,
      

180

,
      

19.1


    ],
    [
      

"23/3/2007"

,
      

2.8

,
      

206

,
      

15

,
      

136

,
      

17.2


    ],
    [
      

"24/3/2007"

,
      

2.6

,
      

216

,
      

15.7

,
      

127

,
      

16


    ],
    [
      

"25/3/2007"

,
      

2.3

,
      

159

,
      

13

,
      

116

,
      

14.8


    ],
    [
      

"26/3/2007"

,
      

1.4

,
      

70

,
      

8.1

,
      

107

,
      

14.3


    ],
    [
      

"27/3/2007"

,
      

1

,
      

44

,
      

5.5

,
      

88

,
      

14.8


    ],
    [
      

"28/3/2007"

,
      

0.7

,
      

42

,
      

3.6

,
      

80

,
      

13.9


    ],
    [
      

"29/3/2007"

,
      

9

,
      

28

,
      

2.9

,
      

78

,
      

11.6


    ],
    [
      

"30/3/2007"

,
      

0.6

,
      

20

,
      

2.5

,
      

57

,
      

12


    ],
    [
      

"31/3/2007"

,
      

0.7

,
      

26

,
      

3

,
      

71

,
      

10.9


    ],
    [
      

"1/4/2007"

,
      

1.5

,
      

78

,
      

7.7

,
      

85

,
      

10.6


    ],
    [
      

"2/4/2007"

,
      

4.7

,
      

319

,
      

23.3

,
      

124

,
      

11.5


    ],
    [
      

"3/4/2007"

,
      

6.6

,
      

506

,
      

35.8

,
      

151

,
      

14.3


    ],
    [
      

"4/4/2007"

,
      

4.5

,
      

167

,
      

21.3

,
      

150

,
      

17.8


    ],
    [
      

"5/4/2007"

,
      

2.8

,
      

175

,
      

14.3

,
      

152

,
      

20.8


    ],
    [
      

"6/4/2007"

,
      

2.2

,
      

54

,
      

12.5

,
      

139

,
      

23.8


    ],
    [
      

"7/4/2007"

,
      

2.2

,
      

439

,
      

12.2

,
      

133

,
      

24.2


    ],
    [
      

"8/4/2007"

,
      

2.3

,
      

163

,
      

13.1

,
      

126

,
      

25.2


    ],
    [
      

"9/4/2007"

,
      

2.2

,
      

240

,
      

14.4

,
      

128

,
      

27


    ],
    [
      

"10/4/2007"

,
      

2.8

,
      

699

,
      

16.8

,
      

169

,
      

27.1


    ],
    [
      

"11/4/2007"

,
      

2.7

,
      

135

,
      

14.5

,
      

149

,
      

25.8


    ],
    [
      

"12/4/2007"

,
      

3.7

,
      

209

,
      

21.5

,
      

156

,
      

23


    ],
    [
      

"13/4/2007"

,
      

5.1

,
      

209

,
      

26.4

,
      

168

,
      

20.7


    ],
    [
      

"14/4/2007"

,
      

5.1

,
      

383

,
      

26

,
      

176

,
      

18.6


    ],
    [
      

"15/4/2007"

,
      

3.2

,
      

123

,
      

14.1

,
      

135

,
      

16


    ],
    [
      

"16/4/2007"

,
      

2.1

,
      

711

,
      

10.3

,
      

121

,
      

14.5


    ],
    [
      

"17/4/2007"

,
      

1.7

,
      

309

,
      

8.3

,
      

99

,
      

13.1


    ],
    [
      

"18/4/2007"

,
      

2

,
      

327

,
      

8.9

,
      

106

,
      

12


    ],
    [
      

"19/4/2007"

,
      

1.6

,
      

285

,
      

6.6

,
      

96

,
      

11.9


    ],
    [
      

"20/4/2007"

,
      

0.9

,
      

641

,
      

3.6

,
      

63

,
      

12.5


    ],
    [
      

"21/4/2007"

,
      

0.7

,
      

353

,
      

2.5

,
      

49

,
      

12.5


    ],
    [
      

"22/4/2007"

,
      

1

,
      

443

,
      

1.8

,
      

32

,
      

12.3


    ],
    [
      

"23/4/2007"

,
      

0.5

,
      

476

,
      

1.3

,
      

28

,
      

12.5


    ],
    [
      

"24/4/2007"

,
      

0.7

,
      

213

,
      

2.3

,
      

61

,
      

12.3


    ],
    [
      

"25/4/2007"

,
      

1.5

,
      

452

,
      

6.7

,
      

99

,
      

12.4


    ],
    [
      

"26/4/2007"

,
      

4.8

,
      

660

,
      

22.8

,
      

157

,
      

13


    ],
    [
      

"27/4/2007"

,
      

6.2

,
      

63

,
      

31.3

,
      

166

,
      

13.6


    ],
    [
      

"28/4/2007"

,
      

4

,
      

447

,
      

19.2

,
      

149

,
      

13.9


    ],
    [
      

"29/4/2007"

,
      

3.3

,
      

188

,
      

16.4

,
      

135

,
      

14.5


    ],
    [
      

"30/4/2007"

,
      

2.8

,
      

302

,
      

14

,
      

127

,
      

15.5


    ],
    [
      

"1/5/2007"

,
      

3

,
      

321

,
      

15.3

,
      

122

,
      

16.1


    ],
    [
      

"2/5/2007"

,
      

3.3

,
      

444

,
      

16.7

,
      

135

,
      

16.3


    ],
    [
      

"3/5/2007"

,
      

3.5

,
      

487

,
      

19

,
      

139

,
      

16.4


    ],
    [
      

"4/5/2007"

,
      

4

,
      

607

,
      

19.4

,
      

147

,
      

16.1


    ],
    [
      

"5/5/2007"

,
      

4.6

,
      

345

,
      

20.9

,
      

158

,
      

16


    ],
    [
      

"6/5/2007"

,
      

4.1

,
      

401

,
      

20.2

,
      

146

,
      

15.8


    ],
    [
      

"7/5/2007"

,
      

4.5

,
      

327

,
      

21.7

,
      

144

,
      

15.5


    ],
    [
      

"8/5/2007"

,
      

3.9

,
      

311

,
      

19.8

,
      

138

,
      

15.4


    ],
    [
      

"9/5/2007"

,
      

4

,
      

637

,
      

16.7

,
      

143

,
      

15.2


    ],
    [
      

"10/5/2007"

,
      

2.2

,
      

613

,
      

9.1

,
      

116

,
      

14.7


    ],
    [
      

"11/5/2007"

,
      

2.1

,
      

675

,
      

8.3

,
      

109

,
      

14.2


    ],
    [
      

"12/5/2007"

,
      

1.7

,
      

133

,
      

5.8

,
      

92

,
      

13.8


    ],
    [
      

"13/5/2007"

,
      

1.6

,
      

635

,
      

5.2

,
      

83

,
      

13.9


    ],
    [
      

"14/5/2007"

,
      

1.3

,
      

364

,
      

4.1

,
      

81

,
      

13.9


    ],
    [
      

"15/5/2007"

,
      

1.3

,
      

531

,
      

3.4

,
      

68

,
      

13.8


    ],
    [
      

"16/5/2007"

,
      

3

,
      

199

,
      

2.9

,
      

55

,
      

13.8


    ],
    [
      

"17/5/2007"

,
      

0.8

,
      

449

,
      

3.1

,
      

53

,
      

13.6


    ],
    [
      

"18/5/2007"

,
      

0.8

,
      

477

,
      

2.5

,
      

67

,
      

13.6


    ],
    [
      

"19/5/2007"

,
      

1.1

,
      

350

,
      

4.3

,
      

91

,
      

13.5


    ],
    [
      

"20/5/2007"

,
      

2.1

,
      

287

,
      

8.9

,
      

113

,
      

13.8


    ],
    [
      

"21/5/2007"

,
      

2.4

,
      

288

,
      

10.5

,
      

102

,
      

14.6


    ],
    [
      

"22/5/2007"

,
      

2.6

,
      

416

,
      

12.5

,
      

107

,
      

15


    ],
    [
      

"23/5/2007"

,
      

2.8

,
      

77

,
      

12.3

,
      

113

,
      

15.4


    ],
    [
      

"24/5/2007"

,
      

2.6

,
      

259

,
      

11.7

,
      

108

,
      

16.3


    ],
    [
      

"25/5/2007"

,
      

2.6

,
      

414

,
      

11.7

,
      

105

,
      

17.1


    ],
    [
      

"26/5/2007"

,
      

2.1

,
      

106

,
      

9.3

,
      

93

,
      

19


    ],
    [
      

"27/5/2007"

,
      

1.7

,
      

677

,
      

7.6

,
      

87

,
      

19.5


    ],
    [
      

"28/5/2007"

,
      

1.6

,
      

644

,
      

6.7

,
      

76

,
      

19.5


    ],
    [
      

"29/5/2007"

,
      

2.1

,
      

617

,
      

9.7

,
      

94

,
      

19.1


    ],
    [
      

"30/5/2007"

,
      

2.3

,
      

687

,
      

12.4

,
      

110

,
      

18.5


    ],
    [
      

"31/5/2007"

,
      

3.5

,
      

728

,
      

16.6

,
      

136

,
      

17.4


    ],
    [
      

"1/6/2007"

,
      

3.9

,
      

379

,
      

16.4

,
      

139

,
      

17.1


    ],
    [
      

"2/6/2007"

,
      

3.3

,
      

226

,
      

13.7

,
      

125

,
      

16.4


    ],
    [
      

"3/6/2007"

,
      

2.3

,
      

290

,
      

9.9

,
      

111

,
      

16.2


    ],
    [
      

"4/6/2007"

,
      

2.1

,
      

648

,
      

8.9

,
      

97

,
      

15.9


    ],
    [
      

"5/6/2007"

,
      

2.8

,
      

59

,
      

10.6

,
      

107

,
      

15.7


    ],
    [
      

"6/6/2007"

,
      

2.1

,
      

691

,
      

7.4

,
      

90

,
      

15.1


    ],
    [
      

"7/6/2007"

,
      

1.6

,
      

458

,
      

6.2

,
      

84

,
      

15.6


    ],
    [
      

"8/6/2007"

,
      

1.6

,
      

429

,
      

6.5

,
      

83

,
      

15.2


    ],
    [
      

"9/6/2007"

,
      

10

,
      

235

,
      

5.8

,
      

87

,
      

15.4


    ],
    [
      

"10/6/2007"

,
      

1.1

,
      

364

,
      

4

,
      

66

,
      

14.9


    ],
    [
      

"11/6/2007"

,
      

0.7

,
      

601

,
      

2.1

,
      

36

,
      

14.5


    ],
    [
      

"12/6/2007"

,
      

0.8

,
      

399

,
      

3.6

,
      

62

,
      

14.2


    ],
    [
      

"13/6/2007"

,
      

1.2

,
      

324

,
      

4.4

,
      

91

,
      

14.5


    ],
    [
      

"14/6/2007"

,
      

1.4

,
      

643

,
      

5.4

,
      

89

,
      

15.3


    ],
    [
      

"15/6/2007"

,
      

1.7

,
      

724

,
      

7.1

,
      

93

,
      

16.3


    ],
    [
      

"16/6/2007"

,
      

1.8

,
      

683

,
      

7.3

,
      

81

,
      

18.9


    ],
    [
      

"17/6/2007"

,
      

1.8

,
      

354

,
      

7.6

,
      

82

,
      

19.4


    ],
    [
      

"18/6/2007"

,
      

1.9

,
      

618

,
      

6.8

,
      

80

,
      

20.8


    ],
    [
      

"19/6/2007"

,
      

1.3

,
      

174

,
      

4.6

,
      

48

,
      

21.4


    ],
    [
      

"20/6/2007"

,
      

1.6

,
      

385

,
      

8.4

,
      

61

,
      

21.2


    ],
    [
      

"21/6/2007"

,
      

1.9

,
      

703

,
      

6.9

,
      

89

,
      

20.3


    ],
    [
      

"22/6/2007"

,
      

2.3

,
      

214

,
      

9

,
      

105

,
      

19.4


    ],
    [
      

"23/6/2007"

,
      

3.8

,
      

151

,
      

15.1

,
      

116

,
      

18.5


    ],
    [
      

"24/6/2007"

,
      

3.5

,
      

133

,
      

12.6

,
      

119

,
      

17.8


    ],
    [
      

"25/6/2007"

,
      

4.3

,
      

541

,
      

15.1

,
      

144

,
      

17.9


    ],
    [
      

"26/6/2007"

,
      

2.8

,
      

633

,
      

9.9

,
      

123

,
      

17.4


    ],
    [
      

"27/6/2007"

,
      

1.9

,
      

590

,
      

8

,
      

105

,
      

17


    ],
    [
      

"28/6/2007"

,
      

1.9

,
      

379

,
      

7.9

,
      

93

,
      

16.4


    ],
    [
      

"29/6/2007"

,
      

1.7

,
      

187

,
      

6.1

,
      

86

,
      

16.1


    ],
    [
      

"30/6/2007"

,
      

1.5

,
      

576

,
      

5.1

,
      

76

,
      

15.8


    ],[
      

"1/7/2007"

,
      

1

,
      

26

,
      

2.6

,
      

53

,
      

8.2


    ],
    [
      

"2/7/2007"

,
      

1.7

,
      

55

,
      

5.9

,
      

97

,
      

8.3


    ],
    [
      

"3/7/2007"

,
      

1.9

,
      

53

,
      

6.4

,
      

70

,
      

7.7


    ],
    [
      

"4/7/2007"

,
      

1.4

,
      

40

,
      

4.1

,
      

91

,
      

7.1


    ],
    [
      

"5/7/2007"

,
      

0.8

,
      

21

,
      

1.9

,
      

70

,
      

7


    ],
    [
      

"6/7/2007"

,
      

5

,
      

10

,
      

1.1

,
      

32

,
      

6.1


    ],
    [
      

"7/7/2007"

,
      

0.6

,
      

7

,
      

1

,
      

44

,
      

6.3


    ],
    [
      

"8/7/2007"

,
      

0.8

,
      

17

,
      

1.8

,
      

71

,
      

6.8


    ],
    [
      

"9/7/2007"

,
      

1.4

,
      

33

,
      

4.4

,
      

104

,
      

6.4


    ],
    [
      

"10/7/2007"

,
      

4.4

,
      

202

,
      

17.9

,
      

141

,
      

7.3


    ],
    [
      

"7/7/2007"

,
      

1

,
      

142

,
      

22.1

,
      

130

,
      

9.2


    ],
    [
      

"12/7/2007"

,
      

3.1

,
      

208

,
      

14

,
      

122

,
      

13.2


    ],
    [
      

"13/7/2007"

,
      

2.7

,
      

166

,
      

7.6

,
      

143

,
      

14.3


    ],
    [
      

"14/7/2007"

,
      

2.1

,
      

74

,
      

10.2

,
      

113

,
      

15


    ],
    [
      

"15/7/2007"

,
      

2.5

,
      

140

,
      

11

,
      

116

,
      

16.1


    ],
    [
      

"16/7/2007"

,
      

2.7

,
      

169

,
      

12.8

,
      

123

,
      

16.3


    ],
    [
      

"17/7/2007"

,
      

2.9

,
      

185

,
      

14.2

,
      

126

,
      

15.8


    ],
    [
      

"18/7/2007"

,
      

2.8

,
      

165

,
      

12.7

,
      

120

,
      

15.9


    ],
    [
      

"19/7/2007"

,
      

2.4

,
      

133

,
      

11.7

,
      

119

,
      

16.9


    ],
    [
      

"20/7/2007"

,
      

3.9

,
      

233

,
      

19.3

,
      

149

,
      

15.1


    ],
    [
      

"21/7/2007"

,
      

3.7

,
      

242

,
      

18.2

,
      

145

,
      

14.4


    ],
    [
      

"22/7/2007"

,
      

6.6

,
      

488

,
      

32.6

,
      

170

,
      

12.9


    ],
    [
      

"23/7/2007"

,
      

4.4

,
      

333

,
      

20.1

,
      

149

,
      

12.1


    ],
    [
      

"24/7/2007"

,
      

3.5

,
      

215

,
      

14.3

,
      

139

,
      

11


    ],
    [
      

"25/7/2007"

,
      

5.4

,
      

367

,
      

21.8

,
      

134

,
      

9.7


    ],
    [
      

"26/7/2007"

,
      

2.7

,
      

122

,
      

9.6

,
      

113

,
      

9.5


    ],
    [
      

"27/7/2007"

,
      

1.9

,
      

67

,
      

7.4

,
      

97

,
      

9.1


    ],
    [
      

"28/7/2007"

,
      

1.6

,
      

43

,
      

5.4

,
      

82

,
      

8.8


    ],
    [
      

"29/7/2007"

,
      

1.7

,
      

46

,
      

5.4

,
      

83

,
      

7.8


    ],
    [
      

"30/7/2007"

,
      

5

,
      

56

,
      

6.2

,
      

83

,
      

7


    ],
    [
      

"31/7/2007"

,
      

1

,
      

30

,
      

2.6

,
      

65

,
      

8.3


    ],[
      

"1/8/2007"

,
      

1

,
      

26

,
      

2.6

,
      

53

,
      

8.2


    ],
    [
      

"2/8/2007"

,
      

1.8

,
      

55

,
      

5.9

,
      

98

,
      

8.3


    ],
    [
      

"3/8/2007"

,
      

1.9

,
      

53

,
      

6.4

,
      

80

,
      

8.8


    ],
    [
      

"4/8/2007"

,
      

1.4

,
      

40

,
      

4.1

,
      

91

,
      

8.1


    ],
    [
      

"5/8/2007"

,
      

0.8

,
      

21

,
      

1.9

,
      

80

,
      

8


    ],
    [
      

"6/8/2007"

,
      

5

,
      

10

,
      

1.1

,
      

32

,
      

6.1


    ],
    [
      

"7/8/2007"

,
      

0.6

,
      

8

,
      

1

,
      

44

,
      

6.3


    ],
    [
      

"8/8/2007"

,
      

0.8

,
      

18

,
      

1.8

,
      

81

,
      

6.8


    ],
    [
      

"9/8/2007"

,
      

1.4

,
      

33

,
      

4.4

,
      

104

,
      

6.4


    ],
    [
      

"10/8/2007"

,
      

4.4

,
      

202

,
      

18.9

,
      

141

,
      

8.3


    ],
    [
      

"8/8/2007"

,
      

1

,
      

142

,
      

22.1

,
      

130

,
      

9.2


    ],
    [
      

"12/8/2007"

,
      

3.1

,
      

208

,
      

14

,
      

122

,
      

13.2


    ],
    [
      

"13/8/2007"

,
      

2.8

,
      

166

,
      

8.6

,
      

143

,
      

14.3


    ],
    [
      

"14/8/2007"

,
      

2.1

,
      

84

,
      

10.2

,
      

113

,
      

15


    ],
    [
      

"15/8/2007"

,
      

2.5

,
      

140

,
      

11

,
      

116

,
      

16.1


    ],
    [
      

"16/8/2007"

,
      

2.8

,
      

169

,
      

12.8

,
      

123

,
      

16.3


    ],
    [
      

"17/8/2007"

,
      

2.9

,
      

185

,
      

14.2

,
      

126

,
      

15.8


    ],
    [
      

"18/8/2007"

,
      

2.8

,
      

165

,
      

12.8

,
      

120

,
      

15.9


    ],
    [
      

"19/8/2007"

,
      

2.4

,
      

133

,
      

11.8

,
      

119

,
      

16.9


    ],
    [
      

"20/8/2007"

,
      

3.9

,
      

233

,
      

19.3

,
      

149

,
      

15.1


    ],
    [
      

"21/8/2007"

,
      

3.8

,
      

242

,
      

18.2

,
      

145

,
      

14.4


    ],
    [
      

"22/8/2007"

,
      

6.6

,
      

488

,
      

32.6

,
      

180

,
      

12.9


    ],
    [
      

"23/8/2007"

,
      

4.4

,
      

333

,
      

20.1

,
      

149

,
      

12.1


    ],
    [
      

"24/8/2007"

,
      

3.5

,
      

215

,
      

14.3

,
      

139

,
      

11


    ],
    [
      

"25/8/2007"

,
      

5.4

,
      

368

,
      

21.8

,
      

134

,
      

9.8


    ],
    [
      

"26/8/2007"

,
      

2.8

,
      

122

,
      

9.6

,
      

113

,
      

9.5


    ],
    [
      

"27/8/2007"

,
      

1.9

,
      

68

,
      

8.4

,
      

98

,
      

9.1


    ],
    [
      

"28/8/2007"

,
      

1.6

,
      

43

,
      

5.4

,
      

82

,
      

8.8


    ],
    [
      

"29/8/2007"

,
      

1.8

,
      

46

,
      

5.4

,
      

83

,
      

8.8


    ],
    [
      

"30/8/2007"

,
      

5

,
      

56

,
      

6.2

,
      

83

,
      

8


    ],
    [
      

"31/8/2007"

,
      

1

,
      

30

,
      

2.6

,
      

65

,
      

8.3


    ],[
      

"1/9/2007"

,
      

1

,
      

26

,
      

2.6

,
      

53

,
      

9.2


    ],
    [
      

"2/9/2007"

,
      

1.9

,
      

55

,
      

5.9

,
      

99

,
      

9.3


    ],
    [
      

"3/9/2007"

,
      

1.9

,
      

53

,
      

6.4

,
      

90

,
      

9.9


    ],
    [
      

"4/9/2007"

,
      

1.4

,
      

40

,
      

4.1

,
      

91

,
      

9.1


    ],
    [
      

"5/9/2007"

,
      

0.9

,
      

21

,
      

1.9

,
      

90

,
      

9


    ],
    [
      

"6/9/2007"

,
      

5

,
      

10

,
      

1.1

,
      

32

,
      

6.1


    ],
    [
      

"7/9/2007"

,
      

0.6

,
      

9

,
      

1

,
      

44

,
      

6.3


    ],
    [
      

"8/9/2007"

,
      

0.9

,
      

19

,
      

1.9

,
      

91

,
      

6.9


    ],
    [
      

"9/9/2007"

,
      

1.4

,
      

33

,
      

4.4

,
      

104

,
      

6.4


    ],
    [
      

"10/9/2007"

,
      

4.4

,
      

202

,
      

19.9

,
      

141

,
      

9.3


    ],
    [
      

"9/9/2007"

,
      

1

,
      

142

,
      

22.1

,
      

130

,
      

9.2


    ],
    [
      

"12/9/2007"

,
      

3.1

,
      

209

,
      

14

,
      

122

,
      

13.2


    ],
    [
      

"13/9/2007"

,
      

2.9

,
      

166

,
      

9.6

,
      

143

,
      

14.3


    ],
    [
      

"14/9/2007"

,
      

2.1

,
      

94

,
      

10.2

,
      

113

,
      

15


    ],
    [
      

"15/9/2007"

,
      

2.5

,
      

140

,
      

11

,
      

116

,
      

16.1


    ],
    [
      

"16/9/2007"

,
      

2.9

,
      

169

,
      

12.9

,
      

123

,
      

16.3


    ],
    [
      

"17/9/2007"

,
      

2.9

,
      

195

,
      

14.2

,
      

126

,
      

15.9


    ],
    [
      

"18/9/2007"

,
      

2.9

,
      

165

,
      

12.9

,
      

120

,
      

15.9


    ],
    [
      

"19/9/2007"

,
      

2.4

,
      

133

,
      

11.9

,
      

119

,
      

16.9


    ],
    [
      

"20/9/2007"

,
      

3.9

,
      

233

,
      

19.3

,
      

149

,
      

15.1


    ],
    [
      

"21/9/2007"

,
      

3.9

,
      

242

,
      

19.2

,
      

145

,
      

14.4


    ],
    [
      

"22/9/2007"

,
      

6.6

,
      

499

,
      

32.6

,
      

190

,
      

12.9


    ],
    [
      

"23/9/2007"

,
      

4.4

,
      

333

,
      

20.1

,
      

149

,
      

12.1


    ],
    [
      

"24/9/2007"

,
      

3.5

,
      

215

,
      

14.3

,
      

139

,
      

11


    ],
    [
      

"25/9/2007"

,
      

5.4

,
      

369

,
      

21.9

,
      

134

,
      

9.9


    ],
    [
      

"26/9/2007"

,
      

2.9

,
      

122

,
      

9.6

,
      

113

,
      

9.5


    ],
    [
      

"27/9/2007"

,
      

1.9

,
      

69

,
      

9.4

,
      

99

,
      

9.1


    ],
    [
      

"28/9/2007"

,
      

1.6

,
      

43

,
      

5.4

,
      

92

,
      

9.9


    ],
    [
      

"29/9/2007"

,
      

1.9

,
      

46

,
      

5.4

,
      

93

,
      

9.9


    ],
    [
      

"30/9/2007"

,
      

5

,
      

56

,
      

6.2

,
      

93

,
      

9


    ],
    [
      

"1/10/2007"

,
      

1

,
      

26

,
      

2.6

,
      

53

,
      

10.2


    ],
    [
      

"2/10/2007"

,
      

1.10

,
      

55

,
      

5.10

,
      

1010

,
      

10.3


    ],
    [
      

"3/10/2007"

,
      

1.10

,
      

53

,
      

6.4

,
      

100

,
      

10.10


    ],
    [
      

"4/10/2007"

,
      

1.4

,
      

40

,
      

4.1

,
      

101

,
      

10.1


    ],
    [
      

"5/10/2007"

,
      

0.10

,
      

21

,
      

1.10

,
      

100

,
      

10


    ],
    [
      

"6/10/2007"

,
      

5

,
      

10

,
      

1.1

,
      

32

,
      

6.1


    ],
    [
      

"7/10/2007"

,
      

0.6

,
      

10

,
      

1

,
      

44

,
      

6.3


    ],
    [
      

"8/10/2007"

,
      

0.10

,
      

110

,
      

1.10

,
      

101

,
      

6.10


    ],
    [
      

"9/10/2007"

,
      

1.4

,
      

33

,
      

4.4

,
      

104

,
      

6.4


    ],
    [
      

"10/10/2007"

,
      

4.4

,
      

202

,
      

110.10

,
      

141

,
      

10.3


    ],
    [
      

"11/10/2007"

,
      

1

,
      

142

,
      

22.1

,
      

130

,
      

10.2


    ],
    [
      

"12/10/2007"

,
      

3.1

,
      

2010

,
      

14

,
      

122

,
      

13.2


    ],
    [
      

"13/10/2007"

,
      

2.10

,
      

166

,
      

10.6

,
      

143

,
      

14.3


    ],
    [
      

"14/10/2007"

,
      

2.1

,
      

104

,
      

10.2

,
      

113

,
      

15


    ],
    [
      

"15/10/2007"

,
      

2.5

,
      

140

,
      

11

,
      

116

,
      

16.1


    ],
    [
      

"16/10/2007"

,
      

2.10

,
      

1610

,
      

12.10

,
      

123

,
      

16.3


    ],
    [
      

"17/10/2007"

,
      

2.10

,
      

1105

,
      

14.2

,
      

126

,
      

15.10


    ],
    [
      

"18/10/2007"

,
      

2.10

,
      

165

,
      

12.10

,
      

120

,
      

15.10


    ],
    [
      

"19/10/2007"

,
      

2.4

,
      

133

,
      

11.10

,
      

1110

,
      

16.10


    ],
    [
      

"20/10/2007"

,
      

3.10

,
      

233

,
      

110.3

,
      

1410

,
      

15.1


    ],
    [
      

"21/10/2007"

,
      

3.10

,
      

242

,
      

110.2

,
      

145

,
      

14.4


    ],
    [
      

"22/10/2007"

,
      

6.6

,
      

41010

,
      

32.6

,
      

1100

,
      

12.10


    ],
    [
      

"23/10/2007"

,
      

4.4

,
      

333

,
      

20.1

,
      

1410

,
      

12.1


    ],
    [
      

"24/10/2007"

,
      

3.5

,
      

215

,
      

14.3

,
      

1310

,
      

11


    ],
    [
      

"25/10/2007"

,
      

5.4

,
      

3610

,
      

21.10

,
      

134

,
      

10.10


    ],
    [
      

"26/10/2007"

,
      

2.10

,
      

122

,
      

10.6

,
      

113

,
      

10.5


    ],
    [
      

"27/10/2007"

,
      

1.10

,
      

610

,
      

10.4

,
      

1010

,
      

10.1


    ],
    [
      

"28/10/2007"

,
      

1.6

,
      

43

,
      

5.4

,
      

102

,
      

10.10


    ],
    [
      

"29/10/2007"

,
      

1.10

,
      

46

,
      

5.4

,
      

103

,
      

10.10


    ],
    [
      

"30/10/2007"

,
      

5

,
      

56

,
      

6.2

,
      

103

,
      

10


    ],
    [
      

"31/10/2007"

,
      

1

,
      

30

,
      

2.6

,
      

65

,
      

10.3


    ],[
      

"1/11/2007"

,
      

1

,
      

26

,
      

2.6

,
      

53

,
      

11.2


    ],
    [
      

"2/11/2007"

,
      

1.11

,
      

55

,
      

5.11

,
      

99

,
      

10.3


    ],
    [
      

"3/11/2007"

,
      

1.10

,
      

53

,
      

6.4

,
      

100

,
      

10.10


    ],
    [
      

"4/11/2007"

,
      

1.4

,
      

40

,
      

4.1

,
      

101

,
      

10.1


    ],
    [
      

"5/11/2007"

,
      

0.10

,
      

21

,
      

1.10

,
      

100

,
      

10


    ],
    [
      

"6/11/2007"

,
      

5

,
      

10

,
      

1.1

,
      

32

,
      

6.1


    ],
    [
      

"7/11/2007"

,
      

0.6

,
      

10

,
      

1

,
      

44

,
      

6.3


    ],
    [
      

"8/11/2007"

,
      

0.10

,
      

110

,
      

1.10

,
      

101

,
      

6.10


    ],
    [
      

"9/11/2007"

,
      

1.4

,
      

33

,
      

4.4

,
      

104

,
      

6.4


    ],
    [
      

"10/11/2007"

,
      

4.4

,
      

202

,
      

110.10

,
      

141

,
      

10.3


    ],
    [
      

"11/11/2007"

,
      

1

,
      

142

,
      

22.1

,
      

130

,
      

10.2


    ],
    [
      

"12/11/2007"

,
      

3.1

,
      

2010

,
      

14

,
      

122

,
      

13.2


    ],
    [
      

"13/11/2007"

,
      

2.10

,
      

166

,
      

10.6

,
      

143

,
      

14.3


    ],
    [
      

"14/11/2007"

,
      

2.1

,
      

104

,
      

10.2

,
      

113

,
      

15


    ],
    [
      

"15/11/2007"

,
      

2.5

,
      

140

,
      

11

,
      

116

,
      

16.1


    ],
    [
      

"16/10/2007"

,
      

2.10

,
      

1610

,
      

12.10

,
      

123

,
      

16.3


    ],
    [
      

"17/11/2007"

,
      

2.10

,
      

1105

,
      

14.2

,
      

126

,
      

15.10


    ],
    [
      

"18/11/2007"

,
      

2.10

,
      

165

,
      

12.10

,
      

120

,
      

15.10


    ],
    [
      

"19/11/2007"

,
      

2.4

,
      

133

,
      

11.10

,
      

1110

,
      

16.10


    ],
    [
      

"20/11/2007"

,
      

3.10

,
      

233

,
      

110.3

,
      

1410

,
      

15.1


    ],
    [
      

"21/11/2007"

,
      

3.10

,
      

242

,
      

12.2

,
      

145

,
      

14.4


    ],
    [
      

"22/11/2007"

,
      

6.6

,
      

412

,
      

32.6

,
      

130

,
      

12.10


    ],
    [
      

"23/11/2007"

,
      

4.4

,
      

333

,
      

20.1

,
      

1410

,
      

12.1


    ],
    [
      

"24/11/2007"

,
      

3.5

,
      

215

,
      

14.3

,
      

1310

,
      

11


    ],
    [
      

"25/11/2007"

,
      

5.4

,
      

3610

,
      

21.10

,
      

134

,
      

10.10


    ],
    [
      

"26/11/2007"

,
      

2.10

,
      

122

,
      

10.6

,
      

113

,
      

10.5


    ],
    [
      

"27/11/2007"

,
      

1.10

,
      

610

,
      

10.4

,
      

1010

,
      

10.1


    ],
    [
      

"28/11/2007"

,
      

1.6

,
      

43

,
      

5.4

,
      

102

,
      

10.10


    ],
    [
      

"29/11/2007"

,
      

1.10

,
      

46

,
      

5.4

,
      

103

,
      

10.10


    ],
    [
      

"30/11/2007"

,
      

5

,
      

56

,
      

6.2

,
      

103

,
      

10


    ],
    [
      

"1/12/2007"

,
      

1

,
      

26

,
      

2.6

,
      

53

,
      

12.2


    ],
    [
      

"2/12/2007"

,
      

1.12

,
      

55

,
      

5.12

,
      

99

,
      

10.3


    ],
    [
      

"3/12/2007"

,
      

1.10

,
      

53

,
      

6.4

,
      

100

,
      

10.10


    ],
    [
      

"4/12/2007"

,
      

1.4

,
      

40

,
      

4.1

,
      

101

,
      

10.1


    ],
    [
      

"5/12/2007"

,
      

0.10

,
      

21

,
      

1.10

,
      

100

,
      

10


    ],
    [
      

"6/12/2007"

,
      

5

,
      

10

,
      

1.1

,
      

32

,
      

6.1


    ],
    [
      

"7/12/2007"

,
      

0.6

,
      

10

,
      

1

,
      

44

,
      

6.3


    ],
    [
      

"8/12/2007"

,
      

0.10

,
      

110

,
      

1.10

,
      

101

,
      

6.10


    ],
    [
      

"9/12/2007"

,
      

1.4

,
      

33

,
      

4.4

,
      

104

,
      

6.4


    ],
    [
      

"10/12/2007"

,
      

4.4

,
      

202

,
      

110.10

,
      

141

,
      

10.3


    ],
    [
      

"11/12/2007"

,
      

1

,
      

142

,
      

22.1

,
      

130

,
      

10.2


    ],
    [
      

"12/12/2007"

,
      

3.1

,
      

2010

,
      

14

,
      

122

,
      

13.2


    ],
    [
      

"13/12/2007"

,
      

2.10

,
      

166

,
      

10.6

,
      

143

,
      

14.3


    ],
    [
      

"14/12/2007"

,
      

2.1

,
      

104

,
      

10.2

,
      

113

,
      

15


    ],
    [
      

"15/12/2007"

,
      

2.5

,
      

140

,
      

11

,
      

126

,
      

16.1


    ],
    [
      

"16/10/2007"

,
      

2.10

,
      

1610

,
      

12.10

,
      

123

,
      

16.3


    ],
    [
      

"17/12/2007"

,
      

2.10

,
      

1105

,
      

14.2

,
      

126

,
      

15.10


    ],
    [
      

"18/12/2007"

,
      

2.10

,
      

165

,
      

12.10

,
      

120

,
      

15.10


    ],
    [
      

"19/12/2007"

,
      

2.4

,
      

133

,
      

12.10

,
      

1210

,
      

16.10


    ],
    [
      

"20/12/2007"

,
      

3.10

,
      

233

,
      

120.3

,
      

1410

,
      

15.1


    ],
    [
      

"21/12/2007"

,
      

3.10

,
      

242

,
      

12.2

,
      

145

,
      

14.4


    ],
    [
      

"22/12/2007"

,
      

6.6

,
      

412

,
      

32.6

,
      

130

,
      

12.10


    ],
    [
      

"23/12/2007"

,
      

4.4

,
      

333

,
      

20.1

,
      

1410

,
      

12.1


    ],
    [
      

"24/12/2007"

,
      

3.5

,
      

215

,
      

14.3

,
      

1310

,
      

12


    ],
    [
      

"25/12/2007"

,
      

5.4

,
      

3610

,
      

21.10

,
      

134

,
      

10.10


    ],
    [
      

"26/12/2007"

,
      

2.10

,
      

122

,
      

10.6

,
      

123

,
      

10.5


    ],
    [
      

"27/12/2007"

,
      

1.10

,
      

610

,
      

10.4

,
      

1010

,
      

10.1


    ],
    [
      

"28/12/2007"

,
      

1.6

,
      

43

,
      

5.4

,
      

102

,
      

10.10


    ],
    [
      

"29/12/2007"

,
      

1.10

,
      

46

,
      

5.4

,
      

103

,
      

10.10


    ],
    [
      

"30/12/2007"

,
      

5

,
      

56

,
      

6.2

,
      

103

,
      

10


    ],
    [
      

"31/12/2007"

,
      

1

,
      

30

,
      

2.6

,
      

65

,
      

10.3


    ], [
      

"1/1/2008"

,
      

2.8

,
      

145

,
      

10.7

,
      

119

,
      

19.3


    ],
    [
      

"2/1/2008"

,
      

2

,
      

93

,
      

7.5

,
      

104

,
      

21.2


    ],
    [
      

"3/1/2008"

,
      

1.8

,
      

84

,
      

7.5

,
      

102

,
      

21.4


    ],
    [
      

"4/1/2008"

,
      

1.9

,
      

99

,
      

8.2

,
      

107

,
      

21.9


    ],
    [
      

"5/1/2008"

,
      

3

,
      

150

,
      

11.9

,
      

129

,
      

22.2


    ],
    [
      

"6/1/2008"

,
      

2.9

,
      

156

,
      

12

,
      

128

,
      

21.3


    ],
    [
      

"7/1/2008"

,
      

2.5

,
      

122

,
      

12.2

,
      

121

,
      

19.7


    ],
    [
      

"8/1/2008"

,
      

4.6

,
      

262

,
      

20.6

,
      

157

,
      

18.4


    ],
    [
      

"9/1/2008"

,
      

5.9

,
      

341

,
      

23.1

,
      

173

,
      

17.6


    ],
    [
      

"10/1/2008"

,
      

3.4

,
      

214

,
      

14.7

,
      

146

,
      

16.7


    ],
    [
      

"11/1/2008"

,
      

2.1

,
      

100

,
      

9

,
      

121

,
      

16.3


    ],
    [
      

"11/1/2008"

,
      

2.2

,
      

79

,
      

8.8

,
      

119

,
      

14.7


    ],
    [
      

"12/1/2008"

,
      

1.8

,
      

66

,
      

7.4

,
      

99

,
      

14.8


    ],
    [
      

"13/1/2008"

,
      

1.8

,
      

73

,
      

6.9

,
      

93

,
      

14


    ],
    [
      

"14/1/2008"

,
      

1.8

,
      

66

,
      

7

,
      

88

,
      

13.4


    ],
    [
      

"15/1/2008"

,
      

1.1

,
      

44

,
      

4.4

,
      

80

,
      

12.6


    ],
    [
      

"16/1/2008"

,
      

9

,
      

44

,
      

4

,
      

71

,
      

12.3


    ],
    [
      

"17/1/2008"

,
      

1

,
      

39

,
      

3.9

,
      

74

,
      

11.9


    ],
    [
      

"18/1/2008"

,
      

1.4

,
      

51

,
      

6.4

,
      

80

,
      

11.4


    ],
    [
      

"19/1/2008"

,
      

2.2

,
      

107

,
      

9.7

,
      

89

,
      

11.3


    ],
    [
      

"20/1/2008"

,
      

5.5

,
      

336

,
      

25.9

,
      

114

,
      

12.4


    ],
    [      
    

"21/1/2008"

,
      

8.1

,
      

618

,
      

36.7

,
      

149

,
      

14.8


    ],
    [
      

"22/1/2008"

,
       

5.8

,
      

438

,
      

26.6

,
      

157

,
      

17.4


    ],
    [     
      

"23/1/2008"

,
      

4.2

,
      

334

,
      

20.1

,
      

155

,
      

19.8


    ],
    [
    

"24/1/2008"

,
      

3.1

,
      

221

,
      

14.1

,
      

134

,
      

22


    ],
    [
    

"25/1/2008"

,
      

2.9

,
      

207

,
      

14.9

,
      

119

,
      

23.3


    ],
    [
    

"26/1/2008"

,
      

2.9

,
      

191

,
      

15.4

,
      

111

,
      

23.9


    ],
    [
    

"27/1/2008"

,
      

2.5

,
      

185

,
      

12.1

,
      

104

,
      

24.4


    ],
    [

"28/1/2008"

,
      

2.3

,
      

141

,
      

11.5

,
      

99

,
      

24.4


    ],
    [

"29/1/2008"

,
      

2.8

,
      

214

,
      

14.8

,
      

110

,
      

23.8


    ],
    [

"30/1/2008"

,
      

6.1

,
      

471

,
      

32.1

,
      

162

,
      

22.5


    ],
    [

"31/1/2008"

,
      

8

,
      

685

,
      

39.2

,
      

187

,
      

20.4


    ],
    [

"1/2/2008"

,
      

6.5

,
      

538

,
      

31

,
      

165

,
      

18.3


    ],
    [

"2/2/2008"

,
      

4.2

,
      

319

,
      

19.9

,
      

145

,
      

16.7


    ],
    [

"3/2/2008"

,
      

3.2

,
      

224

,
      

15.3

,
      

125

,
      

15.7


    ],
    [

"4/2/2008"

,
      

1.4

,
      

67

,
      

6.9

,
      

101

,
      

15.3


    ],
    [

"5/2/2008"

,
      

2.1

,
      

155

,
      

11.1

,
      

103

,
      

14.1


    ],
    [

"6/2/2008"

,
      

1.2

,
      

49

,
      

5.4

,
      

88

,
      

14.8


    ],
    [

"7/2/2008"

,
      

0.8

,
      

29

,
      

2.8

,
      

61

,
      

14.8


    ],
    [

"8/2/2008"

,
      

0.7

,
      

25

,
      

2.3

,
      

60

,
      

13.6


    ],
    [

"9/2/2008"

,
      

10

,
      

25

,
      

2.6

,
      

59

,
      

12.3


    ],
    [

"10/2/2008"

,
      

0.6

,
      

17

,
      

2

,
      

52

,
      

12.8


    ],
    [

"11/2/2008"

,
      

0.9

,
      

27

,
      

3.5

,
      

64

,
      

11.2


    ],
    [

"12/2/2008"

,
      

1.3

,
      

50

,
      

5.1

,
      

70

,
      

11


    ],
    [

"13/2/2008"

,
      

3.4

,
      

218

,
      

16.2

,
      

97

,
      

11.7


    ],
    [

"14/2/2008"

,
      

3.7

,
      

285

,
      

19.7

,
      

95

,
      

13.6


    ],
    [

"15/2/2008"

,
      

5.3

,
      

437

,
      

25.1

,
      

150

,
      

17.8


    ],
    [

"16/2/2008"

,
      

4.1

,
      

327

,
      

20

,
      

162

,
      

21.4


    ],
    [

"17/2/2008"

,
      

3.3

,
      

283

,
      

18.3

,
      

154

,
      

24.4


    ],
    [

"18/2/2008"

,
      

4

,
      

366

,
      

22.3

,
      

161

,
      

25.3


    ],
    [

"19/2/2008"

,
      

3.8

,
      

318

,
      

20.4

,
      

161

,
      

25.8


    ],
    [

"20/2/2008"

,
      

2.8

,
      

228

,
      

14.6

,
      

128

,
      

27


    ],
    [ 
      

"21/2/2008"

,     
      

2.9

,
      

201

,
      

16.6

,
      

129

,
      

28.2


    ],
    [
      

"22/2/2008"

,
      

2.9

,
      

199

,
      

15.8

,
      

133

,
      

28


    ],
    [
      

"23/2/2008"

,
      

3.4

,
      

237

,
      

17.8

,
      

139

,
      

23.9


    ],
    [
      

"24/2/2008"

,
      

3.9

,
      

261

,
      

19.1

,
      

137

,
      

21.3


    ],
    [
      

"25/2/2008"

,
      

3.2

,
      

230

,
      

15.8

,
      

143

,
      

20.4


    ],
    [
      

"26/2/2008"

,
      

5.1

,
      

349

,
      

24.9

,
      

177

,
      

19


    ],
    [
      

"27/2/2008"

,
      

2.6

,
      

183

,
      

13.5

,
      

138

,
      

17.9


    ],
    [
      

"28/2/2008"

,
      

1.7

,
      

88

,
      

9.1

,
      

117

,
      

16.7


    ],
    [
      

"1/3/2008"

,
      

1.7

,
      

85

,
      

8.6

,
      

107

,
      

15.5


    ],
    [
      

"2/3/2008"

,
      

1.2

,
      

47

,
      

5.4

,
      

90

,
      

15.5


    ],
    [
      

"3/3/2008"

,
      

0.9

,
      

34

,
      

4.1

,
      

79

,
      

14.1


    ],
    [
      

"4/3/2008"

,
      

0.7

,
      

26

,
      

2.6

,
      

74

,
      

13.1


    ],
    [
      

"5/3/2008"

,
      

10

,
      

17

,
      

1.9

,
      

60

,
      

12.7


    ],
    [
      

"6/3/2008"

,
      

0.5

,
      

11

,
      

1.6

,
      

40

,
      

11.8


    ],
    [
      

"7/3/2008"

,
      

0.5

,
      

18

,
      

1.9

,
      

53

,
      

11.9


    ],
    [
      

"8/3/2008"

,
      

1.6

,
      

84

,
      

7.5

,
      

84

,
      

9.9


    ],
    [
      

"9/3/2008"

,
      

4.1

,
      

260

,
      

21.4

,
      

108

,
      

11.1


    ],
    [
      

"10/3/2008"

,
      

6.6

,
      

534

,
      

36.4

,
      

127

,
      

14.1


    ],
    [
      

"11/3/2008"

,
      

4.3

,
      

368

,
      

21.3

,
      

134

,
      

17.7


    ],
    [
      

"12/3/2008"

,
      

2.9

,
      

200

,
      

15.4

,
      

135

,
      

21.1


    ],
    [
      

"13/3/2008"

,
      

2.5

,
      

145

,
      

12.5

,
      

142

,
      

24.3


    ],
    [
      

"14/3/2008"

,
      

2.8

,
      

188

,
      

15.1

,
      

153

,
      

25.6


    ],
    [
      

"15/3/2008"

,
      

2.6

,
      

152

,
      

13.7

,
      

123

,
      

25.9


    ],
    [
      

"16/3/2008"

,
      

2

,
      

103

,
      

10.4

,
      

104

,
      

26.8


    ],
    [
      

"17/3/2008"

,
      

2.9

,
      

193

,
      

15.2

,
      

129

,
      

29.3


    ],
    [
      

"18/3/2008"

,
      

2.5

,
      

134

,
      

12.3

,
      

114

,
      

28.5


    ],
    [
      

"19/3/2008"

,
      

5

,
      

386

,
      

27

,
      

158

,
      

25.9


    ],
    [
      

"20/3/2008"

,
      

7.6

,
      

577

,
      

38.4

,
      

194

,
      

23.1


    ],
    [
      

"21/3/2008"

,
      

6.7

,
      

523

,
      

35.1

,
      

182

,
      

20.5


    ],
    [
      

"22/3/2008"

,
      

5.7

,
      

472

,
      

27.2

,
      

180

,
      

19.1


    ],
    [
      

"23/3/2008"

,
      

2.8

,
      

206

,
      

15

,
      

136

,
      

17.2


    ],
    [
      

"24/3/2008"

,
      

2.6

,
      

216

,
      

15.7

,
      

127

,
      

16


    ],
    [
      

"25/3/2008"

,
      

2.3

,
      

159

,
      

13

,
      

116

,
      

14.8


    ],
    [
      

"26/3/2008"

,
      

1.4

,
      

70

,
      

8.1

,
      

107

,
      

14.3


    ],
    [
      

"27/3/2008"

,
      

1

,
      

44

,
      

5.5

,
      

88

,
      

14.8


    ],
    [
      

"28/3/2008"

,
      

0.7

,
      

42

,
      

3.6

,
      

80

,
      

13.9


    ],
    [
      

"29/3/2008"

,
      

9

,
      

28

,
      

2.9

,
      

78

,
      

11.6


    ],
    [
      

"30/3/2008"

,
      

0.6

,
      

20

,
      

2.5

,
      

57

,
      

12


    ],
    [
      

"31/3/2008"

,
      

0.7

,
      

26

,
      

3

,
      

71

,
      

10.9


    ],
    [
      

"1/4/2008"

,
      

1.5

,
      

78

,
      

7.7

,
      

85

,
      

10.6


    ],
    [
      

"2/4/2008"

,
      

4.7

,
      

319

,
      

23.3

,
      

124

,
      

11.5


    ],
    [
      

"3/4/2008"

,
      

6.6

,
      

506

,
      

35.8

,
      

151

,
      

14.3


    ],
    [
      

"4/4/2008"

,
      

4.5

,
      

167

,
      

21.3

,
      

150

,
      

17.8


    ],
    [
      

"5/4/2008"

,
      

2.8

,
      

175

,
      

14.3

,
      

152

,
      

20.8


    ],
    [
      

"6/4/2008"

,
      

2.2

,
      

54

,
      

12.5

,
      

139

,
      

23.8


    ],
    [
      

"7/4/2008"

,
      

2.2

,
      

439

,
      

12.2

,
      

133

,
      

24.2


    ],
    [
      

"8/4/2008"

,
      

2.3

,
      

163

,
      

13.1

,
      

126

,
      

25.2


    ],
    [
      

"9/4/2008"

,
      

2.2

,
      

240

,
      

14.4

,
      

128

,
      

27


    ],
    [
      

"10/4/2008"

,
      

2.8

,
      

699

,
      

16.8

,
      

169

,
      

27.1


    ],
    [
      

"11/4/2008"

,
      

2.7

,
      

135

,
      

14.5

,
      

149

,
      

25.8


    ],
    [
      

"12/4/2008"

,
      

3.7

,
      

209

,
      

21.5

,
      

156

,
      

23


    ],
    [
      

"13/4/2008"

,
      

5.1

,
      

209

,
      

26.4

,
      

168

,
      

20.7


    ],
    [
      

"14/4/2008"

,
      

5.1

,
      

383

,
      

26

,
      

176

,
      

18.6


    ],
    [
      

"15/4/2008"

,
      

3.2

,
      

123

,
      

14.1

,
      

135

,
      

16


    ],
    [
      

"16/4/2008"

,
      

2.1

,
      

711

,
      

10.3

,
      

121

,
      

14.5


    ],
    [
      

"17/4/2008"

,
      

1.7

,
      

309

,
      

8.3

,
      

99

,
      

13.1


    ],
    [
      

"18/4/2008"

,
      

2

,
      

327

,
      

8.9

,
      

106

,
      

12


    ],
    [
      

"19/4/2008"

,
      

1.6

,
      

285

,
      

6.6

,
      

96

,
      

11.9


    ],
    [
      

"20/4/2008"

,
      

0.9

,
      

641

,
      

3.6

,
      

63

,
      

12.5


    ],
    [
      

"21/4/2008"

,
      

0.7

,
      

353

,
      

2.5

,
      

49

,
      

12.5


    ],
    [
      

"22/4/2008"

,
      

1

,
      

443

,
      

1.8

,
      

32

,
      

12.3


    ],
    [
      

"23/4/2008"

,
      

0.5

,
      

476

,
      

1.3

,
      

28

,
      

12.5


    ],
    [
      

"24/4/2008"

,
      

0.7

,
      

213

,
      

2.3

,
      

61

,
      

12.3


    ],
    [
      

"25/4/2008"

,
      

1.5

,
      

452

,
      

6.7

,
      

99

,
      

12.4


    ],
    [
      

"26/4/2008"

,
      

4.8

,
      

660

,
      

22.8

,
      

157

,
      

13


    ],
    [
      

"27/4/2008"

,
      

6.2

,
      

63

,
      

31.3

,
      

166

,
      

13.6


    ],
    [
      

"28/4/2008"

,
      

4

,
      

447

,
      

19.2

,
      

149

,
      

13.9


    ],
    [
      

"29/4/2008"

,
      

3.3

,
      

188

,
      

16.4

,
      

135

,
      

14.5


    ],
    [
      

"30/4/2008"

,
      

2.8

,
      

302

,
      

14

,
      

127

,
      

15.5


    ],
    [
      

"1/5/2008"

,
      

3

,
      

321

,
      

15.3

,
      

122

,
      

16.1


    ],
    [
      

"2/5/2008"

,
      

3.3

,
      

444

,
      

16.7

,
      

135

,
      

16.3


    ],
    [
      

"3/5/2008"

,
      

3.5

,
      

487

,
      

19

,
      

139

,
      

16.4


    ],
    [
      

"4/5/2008"

,
      

4

,
      

607

,
      

19.4

,
      

147

,
      

16.1


    ],
    [
      

"5/5/2008"

,
      

4.6

,
      

345

,
      

20.9

,
      

158

,
      

16


    ],
    [
      

"6/5/2008"

,
      

4.1

,
      

401

,
      

20.2

,
      

146

,
      

15.8


    ],
    [
      

"7/5/2008"

,
      

4.5

,
      

327

,
      

21.7

,
      

144

,
      

15.5


    ],
    [
      

"8/5/2008"

,
      

3.9

,
      

311

,
      

19.8

,
      

138

,
      

15.4


    ],
    [
      

"9/5/2008"

,
      

4

,
      

637

,
      

16.7

,
      

143

,
      

15.2


    ],
    [
      

"10/5/2008"

,
      

2.2

,
      

613

,
      

9.1

,
      

116

,
      

14.7


    ],
    [
      

"11/5/2008"

,
      

2.1

,
      

675

,
      

8.3

,
      

109

,
      

14.2


    ],
    [
      

"12/5/2008"

,
      

1.7

,
      

133

,
      

5.8

,
      

92

,
      

13.8


    ],
    [
      

"13/5/2008"

,
      

1.6

,
      

635

,
      

5.2

,
      

83

,
      

13.9


    ],
    [
      

"14/5/2008"

,
      

1.3

,
      

364

,
      

4.1

,
      

81

,
      

13.9


    ],
    [
      

"15/5/2008"

,
      

1.3

,
      

531

,
      

3.4

,
      

68

,
      

13.8


    ],
    [
      

"16/5/2008"

,
      

3

,
      

199

,
      

2.9

,
      

55

,
      

13.8


    ],
    [
      

"17/5/2008"

,
      

0.8

,
      

449

,
      

3.1

,
      

53

,
      

13.6


    ],
    [
      

"18/5/2008"

,
      

0.8

,
      

477

,
      

2.5

,
      

67

,
      

13.6


    ],
    [
      

"19/5/2008"

,
      

1.1

,
      

350

,
      

4.3

,
      

91

,
      

13.5


    ],
    [
      

"20/5/2008"

,
      

2.1

,
      

287

,
      

8.9

,
      

113

,
      

13.8


    ],
    [
      

"21/5/2008"

,
      

2.4

,
      

288

,
      

10.5

,
      

102

,
      

14.6


    ],
    [
      

"22/5/2008"

,
      

2.6

,
      

416

,
      

12.5

,
      

107

,
      

15


    ],
    [
      

"23/5/2008"

,
      

2.8

,
      

77

,
      

12.3

,
      

113

,
      

15.4


    ],
    [
      

"24/5/2008"

,
      

2.6

,
      

259

,
      

11.7

,
      

108

,
      

16.3


    ],
    [
      

"25/5/2008"

,
      

2.6

,
      

414

,
      

11.7

,
      

105

,
      

17.1


    ],
    [
      

"26/5/2008"

,
      

2.1

,
      

106

,
      

9.3

,
      

93

,
      

19


    ],
    [
      

"27/5/2008"

,
      

1.7

,
      

677

,
      

7.6

,
      

87

,
      

19.5


    ],
    [
      

"28/5/2008"

,
      

1.6

,
      

644

,
      

6.7

,
      

76

,
      

19.5


    ],
    [
      

"29/5/2008"

,
      

2.1

,
      

617

,
      

9.7

,
      

94

,
      

19.1


    ],
    [
      

"30/5/2008"

,
      

2.3

,
      

687

,
      

12.4

,
      

110

,
      

18.5


    ],
    [
      

"31/5/2008"

,
      

3.5

,
      

728

,
      

16.6

,
      

136

,
      

17.4


    ],
    [
      

"1/6/2008"

,
      

3.9

,
      

379

,
      

16.4

,
      

139

,
      

17.1


    ],
    [
      

"2/6/2008"

,
      

3.3

,
      

226

,
      

13.7

,
      

125

,
      

16.4


    ],
    [
      

"3/6/2008"

,
      

2.3

,
      

290

,
      

9.9

,
      

111

,
      

16.2


    ],
    [
      

"4/6/2008"

,
      

2.1

,
      

648

,
      

8.9

,
      

97

,
      

15.9


    ],
    [
      

"5/6/2008"

,
      

2.8

,
      

59

,
      

10.6

,
      

107

,
      

15.7


    ],
    [
      

"6/6/2008"

,
      

2.1

,
      

691

,
      

7.4

,
      

90

,
      

15.1


    ],
    [
      

"7/6/2008"

,
      

1.6

,
      

458

,
      

6.2

,
      

84

,
      

15.6


    ],
    [
      

"8/6/2008"

,
      

1.6

,
      

429

,
      

6.5

,
      

83

,
      

15.2


    ],
    [
      

"9/6/2008"

,
      

10

,
      

235

,
      

5.8

,
      

87

,
      

15.4


    ],
    [
      

"10/6/2008"

,
      

1.1

,
      

364

,
      

4

,
      

66

,
      

14.9


    ],
    [
      

"11/6/2008"

,
      

0.7

,
      

601

,
      

2.1

,
      

36

,
      

14.5


    ],
    [
      

"12/6/2008"

,
      

0.8

,
      

399

,
      

3.6

,
      

62

,
      

14.2


    ],
    [
      

"13/6/2008"

,
      

1.2

,
      

324

,
      

4.4

,
      

91

,
      

14.5


    ],
    [
      

"14/6/2008"

,
      

1.4

,
      

643

,
      

5.4

,
      

89

,
      

15.3


    ],
    [
      

"15/6/2008"

,
      

1.7

,
      

724

,
      

7.1

,
      

93

,
      

16.3


    ],
    [
      

"16/6/2008"

,
      

1.8

,
      

683

,
      

7.3

,
      

81

,
      

18.9


    ],
    [
      

"17/6/2008"

,
      

1.8

,
      

354

,
      

7.6

,
      

82

,
      

19.4


    ],
    [
      

"18/6/2008"

,
      

1.9

,
      

618

,
      

6.8

,
      

80

,
      

20.8


    ],
    [
      

"19/6/2008"

,
      

1.3

,
      

174

,
      

4.6

,
      

48

,
      

21.4


    ],
    [
      

"20/6/2008"

,
      

1.6

,
      

385

,
      

8.4

,
      

61

,
      

21.2


    ],
    [
      

"21/6/2008"

,
      

1.9

,
      

703

,
      

6.9

,
      

89

,
      

20.3


    ],
    [
      

"22/6/2008"

,
      

2.3

,
      

214

,
      

9

,
      

105

,
      

19.4


    ],
    [
      

"23/6/2008"

,
      

3.8

,
      

151

,
      

15.1

,
      

116

,
      

18.5


    ],
    [
      

"24/6/2008"

,
      

3.5

,
      

133

,
      

12.6

,
      

119

,
      

17.8


    ],
    [
      

"25/6/2008"

,
      

4.3

,
      

541

,
      

15.1

,
      

144

,
      

17.9


    ],
    [
      

"26/6/2008"

,
      

2.8

,
      

633

,
      

9.9

,
      

123

,
      

17.4


    ],
    [
      

"27/6/2008"

,
      

1.9

,
      

590

,
      

8

,
      

105

,
      

17


    ],
    [
      

"28/6/2008"

,
      

1.9

,
      

379

,
      

7.9

,
      

93

,
      

16.4


    ],
    [
      

"29/6/2008"

,
      

1.7

,
      

187

,
      

6.1

,
      

86

,
      

16.1


    ],
    [
      

"30/6/2008"

,
      

1.5

,
      

576

,
      

5.1

,
      

76

,
      

15.8


    ],[
      

"1/7/2008"

,
      

1

,
      

26

,
      

2.6

,
      

53

,
      

8.2


    ],
    [
      

"2/7/2008"

,
      

1.7

,
      

55

,
      

5.9

,
      

97

,
      

8.3


    ],
    [
      

"3/7/2008"

,
      

1.9

,
      

53

,
      

6.4

,
      

70

,
      

7.7


    ],
    [
      

"4/7/2008"

,
      

1.4

,
      

40

,
      

4.1

,
      

91

,
      

7.1


    ],
    [
      

"5/7/2008"

,
      

0.8

,
      

21

,
      

1.9

,
      

70

,
      

7


    ],
    [
      

"6/7/2008"

,
      

5

,
      

10

,
      

1.1

,
      

32

,
      

6.1


    ],
    [
      

"7/7/2008"

,
      

0.6

,
      

7

,
      

1

,
      

44

,
      

6.3


    ],
    [
      

"8/7/2008"

,
      

0.8

,
      

17

,
      

1.8

,
      

71

,
      

6.8


    ],
    [
      

"9/7/2008"

,
      

1.4

,
      

33

,
      

4.4

,
      

104

,
      

6.4


    ],
    [
      

"10/7/2008"

,
      

4.4

,
      

202

,
      

17.9

,
      

141

,
      

7.3


    ],
    [
      

"7/7/2008"

,
      

1

,
      

142

,
      

22.1

,
      

130

,
      

9.2


    ],
    [
      

"12/7/2008"

,
      

3.1

,
      

208

,
      

14

,
      

122

,
      

13.2


    ],
    [
      

"13/7/2008"

,
      

2.7

,
      

166

,
      

7.6

,
      

143

,
      

14.3


    ],
    [
      

"14/7/2008"

,
      

2.1

,
      

74

,
      

10.2

,
      

113

,
      

15


    ],
    [
      

"15/7/2008"

,
      

2.5

,
      

140

,
      

11

,
      

116

,
      

16.1


    ],
    [
      

"16/7/2008"

,
      

2.7

,
      

169

,
      

12.8

,
      

123

,
      

16.3


    ],
    [
      

"17/7/2008"

,
      

2.9

,
      

185

,
      

14.2

,
      

126

,
      

15.8


    ],
    [
      

"18/7/2008"

,
      

2.8

,
      

165

,
      

12.7

,
      

120

,
      

15.9


    ],
    [
      

"19/7/2008"

,
      

2.4

,
      

133

,
      

11.7

,
      

119

,
      

16.9


    ],
    [
      

"20/7/2008"

,
      

3.9

,
      

233

,
      

19.3

,
      

149

,
      

15.1


    ],
    [
      

"21/7/2008"

,
      

3.7

,
      

242

,
      

18.2

,
      

145

,
      

14.4


    ],
    [
      

"22/7/2008"

,
      

6.6

,
      

488

,
      

32.6

,
      

170

,
      

12.9


    ],
    [
      

"23/7/2008"

,
      

4.4

,
      

333

,
      

20.1

,
      

149

,
      

12.1


    ],
    [
      

"24/7/2008"

,
      

3.5

,
      

215

,
      

14.3

,
      

139

,
      

11


    ],
    [
      

"25/7/2008"

,
      

5.4

,
      

367

,
      

21.8

,
      

134

,
      

9.7


    ],
    [
      

"26/7/2008"

,
      

2.7

,
      

122

,
      

9.6

,
      

113

,
      

9.5


    ],
    [
      

"27/7/2008"

,
      

1.9

,
      

67

,
      

7.4

,
      

97

,
      

9.1


    ],
    [
      

"28/7/2008"

,
      

1.6

,
      

43

,
      

5.4

,
      

82

,
      

8.8


    ],
    [
      

"29/7/2008"

,
      

1.7

,
      

46

,
      

5.4

,
      

83

,
      

7.8


    ],
    [
      

"30/7/2008"

,
      

5

,
      

56

,
      

6.2

,
      

83

,
      

7


    ],
    [
      

"31/7/2008"

,
      

1

,
      

30

,
      

2.6

,
      

65

,
      

8.3


    ],[
      

"1/8/2008"

,
      

1

,
      

26

,
      

2.6

,
      

53

,
      

8.2


    ],
    [
      

"2/8/2008"

,
      

1.8

,
      

55

,
      

5.9

,
      

98

,
      

8.3


    ],
    [
      

"3/8/2008"

,
      

1.9

,
      

53

,
      

6.4

,
      

80

,
      

8.8


    ],
    [
      

"4/8/2008"

,
      

1.4

,
      

40

,
      

4.1

,
      

91

,
      

8.1


    ],
    [
      

"5/8/2008"

,
      

0.8

,
      

21

,
      

1.9

,
      

80

,
      

8


    ],
    [
      

"6/8/2008"

,
      

5

,
      

10

,
      

1.1

,
      

32

,
      

6.1


    ],
    [
      

"7/8/2008"

,
      

0.6

,
      

8

,
      

1

,
      

44

,
      

6.3


    ],
    [
      

"8/8/2008"

,
      

0.8

,
      

18

,
      

1.8

,
      

81

,
      

6.8


    ],
    [
      

"9/8/2008"

,
      

1.4

,
      

33

,
      

4.4

,
      

104

,
      

6.4


    ],
    [
      

"10/8/2008"

,
      

4.4

,
      

202

,
      

18.9

,
      

141

,
      

8.3


    ],
    [
      

"8/8/2008"

,
      

1

,
      

142

,
      

22.1

,
      

130

,
      

9.2


    ],
    [
      

"12/8/2008"

,
      

3.1

,
      

208

,
      

14

,
      

122

,
      

13.2


    ],
    [
      

"13/8/2008"

,
      

2.8

,
      

166

,
      

8.6

,
      

143

,
      

14.3


    ],
    [
      

"14/8/2008"

,
      

2.1

,
      

84

,
      

10.2

,
      

113

,
      

15


    ],
    [
      

"15/8/2008"

,
      

2.5

,
      

140

,
      

11

,
      

116

,
      

16.1


    ],
    [
      

"16/8/2008"

,
      

2.8

,
      

169

,
      

12.8

,
      

123

,
      

16.3


    ],
    [
      

"17/8/2008"

,
      

2.9

,
      

185

,
      

14.2

,
      

126

,
      

15.8


    ],
    [
      

"18/8/2008"

,
      

2.8

,
      

165

,
      

12.8

,
      

120

,
      

15.9


    ],
    [
      

"19/8/2008"

,
      

2.4

,
      

133

,
      

11.8

,
      

119

,
      

16.9


    ],
    [
      

"20/8/2008"

,
      

3.9

,
      

233

,
      

19.3

,
      

149

,
      

15.1


    ],
    [
      

"21/8/2008"

,
      

3.8

,
      

242

,
      

18.2

,
      

145

,
      

14.4


    ],
    [
      

"22/8/2008"

,
      

6.6

,
      

488

,
      

32.6

,
      

180

,
      

12.9


    ],
    [
      

"23/8/2008"

,
      

4.4

,
      

333

,
      

20.1

,
      

149

,
      

12.1


    ],
    [
      

"24/8/2008"

,
      

3.5

,
      

215

,
      

14.3

,
      

139

,
      

11


    ],
    [
      

"25/8/2008"

,
      

5.4

,
      

368

,
      

21.8

,
      

134

,
      

9.8


    ],
    [
      

"26/8/2008"

,
      

2.8

,
      

122

,
      

9.6

,
      

113

,
      

9.5


    ],
    [
      

"27/8/2008"

,
      

1.9

,
      

68

,
      

8.4

,
      

98

,
      

9.1


    ],
    [
      

"28/8/2008"

,
      

1.6

,
      

43

,
      

5.4

,
      

82

,
      

8.8


    ],
    [
      

"29/8/2008"

,
      

1.8

,
      

46

,
      

5.4

,
      

83

,
      

8.8


    ],
    [
      

"30/8/2008"

,
      

5

,
      

56

,
      

6.2

,
      

83

,
      

8


    ],
    [
      

"31/8/2008"

,
      

1

,
      

30

,
      

2.6

,
      

65

,
      

8.3


    ],[
      

"1/9/2008"

,
      

1

,
      

26

,
      

2.6

,
      

53

,
      

9.2


    ],
    [
      

"2/9/2008"

,
      

1.9

,
      

55

,
      

5.9

,
      

99

,
      

9.3


    ],
    [
      

"3/9/2008"

,
      

1.9

,
      

53

,
      

6.4

,
      

90

,
      

9.9


    ],
    [
      

"4/9/2008"

,
      

1.4

,
      

40

,
      

4.1

,
      

91

,
      

9.1


    ],
    [
      

"5/9/2008"

,
      

0.9

,
      

21

,
      

1.9

,
      

90

,
      

9


    ],
    [
      

"6/9/2008"

,
      

5

,
      

10

,
      

1.1

,
      

32

,
      

6.1


    ],
    [
      

"7/9/2008"

,
      

0.6

,
      

9

,
      

1

,
      

44

,
      

6.3


    ],
    [
      

"8/9/2008"

,
      

0.9

,
      

19

,
      

1.9

,
      

91

,
      

6.9


    ],
    [
      

"9/9/2008"

,
      

1.4

,
      

33

,
      

4.4

,
      

104

,
      

6.4


    ],
    [
      

"10/9/2008"

,
      

4.4

,
      

202

,
      

19.9

,
      

141

,
      

9.3


    ],
    [
      

"9/9/2008"

,
      

1

,
      

142

,
      

22.1

,
      

130

,
      

9.2


    ],
    [
      

"12/9/2008"

,
      

3.1

,
      

209

,
      

14

,
      

122

,
      

13.2


    ],
    [
      

"13/9/2008"

,
      

2.9

,
      

166

,
      

9.6

,
      

143

,
      

14.3


    ],
    [
      

"14/9/2008"

,
      

2.1

,
      

94

,
      

10.2

,
      

113

,
      

15


    ],
    [
      

"15/9/2008"

,
      

2.5

,
      

140

,
      

11

,
      

116

,
      

16.1


    ],
    [
      

"16/9/2008"

,
      

2.9

,
      

169

,
      

12.9

,
      

123

,
      

16.3


    ],
    [
      

"17/9/2008"

,
      

2.9

,
      

195

,
      

14.2

,
      

126

,
      

15.9


    ],
    [
      

"18/9/2008"

,
      

2.9

,
      

165

,
      

12.9

,
      

120

,
      

15.9


    ],
    [
      

"19/9/2008"

,
      

2.4

,
      

133

,
      

11.9

,
      

119

,
      

16.9


    ],
    [
      

"20/9/2008"

,
      

3.9

,
      

233

,
      

19.3

,
      

149

,
      

15.1


    ],
    [
      

"21/9/2008"

,
      

3.9

,
      

242

,
      

19.2

,
      

145

,
      

14.4


    ],
    [
      

"22/9/2008"

,
      

6.6

,
      

499

,
      

32.6

,
      

190

,
      

12.9


    ],
    [
      

"23/9/2008"

,
      

4.4

,
      

333

,
      

20.1

,
      

149

,
      

12.1


    ],
    [
      

"24/9/2008"

,
      

3.5

,
      

215

,
      

14.3

,
      

139

,
      

11


    ],
    [
      

"25/9/2008"

,
      

5.4

,
      

369

,
      

21.9

,
      

134

,
      

9.9


    ],
    [
      

"26/9/2008"

,
      

2.9

,
      

122

,
      

9.6

,
      

113

,
      

9.5


    ],
    [
      

"27/9/2008"

,
      

1.9

,
      

69

,
      

9.4

,
      

99

,
      

9.1


    ],
    [
      

"28/9/2008"

,
      

1.6

,
      

43

,
      

5.4

,
      

92

,
      

9.9


    ],
    [
      

"29/9/2008"

,
      

1.9

,
      

46

,
      

5.4

,
      

93

,
      

9.9


    ],
    [
      

"30/9/2008"

,
      

5

,
      

56

,
      

6.2

,
      

93

,
      

9


    ],
    [
      

"1/10/2008"

,
      

1

,
      

26

,
      

2.6

,
      

53

,
      

10.2


    ],
    [
      

"2/10/2008"

,
      

1.10

,
      

55

,
      

5.10

,
      

1010

,
      

10.3


    ],
    [
      

"3/10/2008"

,
      

1.10

,
      

53

,
      

6.4

,
      

100

,
      

10.10


    ],
    [
      

"4/10/2008"

,
      

1.4

,
      

40

,
      

4.1

,
      

101

,
      

10.1


    ],
    [
      

"5/10/2008"

,
      

0.10

,
      

21

,
      

1.10

,
      

100

,
      

10


    ],
    [
      

"6/10/2008"

,
      

5

,
      

10

,
      

1.1

,
      

32

,
      

6.1


    ],
    [
      

"7/10/2008"

,
      

0.6

,
      

10

,
      

1

,
      

44

,
      

6.3


    ],
    [
      

"8/10/2008"

,
      

0.10

,
      

110

,
      

1.10

,
      

101

,
      

6.10


    ],
    [
      

"9/10/2008"

,
      

1.4

,
      

33

,
      

4.4

,
      

104

,
      

6.4


    ],
    [
      

"10/10/2008"

,
      

4.4

,
      

202

,
      

110.10

,
      

141

,
      

10.3


    ],
    [
      

"11/10/2008"

,
      

1

,
      

142

,
      

22.1

,
      

130

,
      

10.2


    ],
    [
      

"12/10/2008"

,
      

3.1

,
      

2010

,
      

14

,
      

122

,
      

13.2


    ],
    [
      

"13/10/2008"

,
      

2.10

,
      

166

,
      

10.6

,
      

143

,
      

14.3


    ],
    [
      

"14/10/2008"

,
      

2.1

,
      

104

,
      

10.2

,
      

113

,
      

15


    ],
    [
      

"15/10/2008"

,
      

2.5

,
      

140

,
      

11

,
      

116

,
      

16.1


    ],
    [
      

"16/10/2008"

,
      

2.10

,
      

1610

,
      

12.10

,
      

123

,
      

16.3


    ],
    [
      

"17/10/2008"

,
      

2.10

,
      

1105

,
      

14.2

,
      

126

,
      

15.10


    ],
    [
      

"18/10/2008"

,
      

2.10

,
      

165

,
      

12.10

,
      

120

,
      

15.10


    ],
    [
      

"19/10/2008"

,
      

2.4

,
      

133

,
      

11.10

,
      

1110

,
      

16.10


    ],
    [
      

"20/10/2008"

,
      

3.10

,
      

233

,
      

110.3

,
      

1410

,
      

15.1


    ],
    [
      

"21/10/2008"

,
      

3.10

,
      

242

,
      

110.2

,
      

145

,
      

14.4


    ],
    [
      

"22/10/2008"

,
      

6.6

,
      

41010

,
      

32.6

,
      

1100

,
      

12.10


    ],
    [
      

"23/10/2008"

,
      

4.4

,
      

333

,
      

20.1

,
      

1410

,
      

12.1


    ],
    [
      

"24/10/2008"

,
      

3.5

,
      

215

,
      

14.3

,
      

1310

,
      

11


    ],
    [
      

"25/10/2008"

,
      

5.4

,
      

3610

,
      

21.10

,
      

134

,
      

10.10


    ],
    [
      

"26/10/2008"

,
      

2.10

,
      

122

,
      

10.6

,
      

113

,
      

10.5


    ],
    [
      

"27/10/2008"

,
      

1.10

,
      

610

,
      

10.4

,
      

1010

,
      

10.1


    ],
    [
      

"28/10/2008"

,
      

1.6

,
      

43

,
      

5.4

,
      

102

,
      

10.10


    ],
    [
      

"29/10/2008"

,
      

1.10

,
      

46

,
      

5.4

,
      

103

,
      

10.10


    ],
    [
      

"30/10/2008"

,
      

5

,
      

56

,
      

6.2

,
      

103

,
      

10


    ],
    [
      

"31/10/2008"

,
      

1

,
      

30

,
      

2.6

,
      

65

,
      

10.3


    ],[
      

"1/11/2008"

,
      

1

,
      

26

,
      

2.6

,
      

53

,
      

11.2


    ],
    [
      

"2/11/2008"

,
      

1.11

,
      

55

,
      

5.11

,
      

99

,
      

10.3


    ],
    [
      

"3/11/2008"

,
      

1.10

,
      

53

,
      

6.4

,
      

100

,
      

10.10


    ],
    [
      

"4/11/2008"

,
      

1.4

,
      

40

,
      

4.1

,
      

101

,
      

10.1


    ],
    [
      

"5/11/2008"

,
      

0.10

,
      

21

,
      

1.10

,
      

100

,
      

10


    ],
    [
      

"6/11/2008"

,
      

5

,
      

10

,
      

1.1

,
      

32

,
      

6.1


    ],
    [
      

"7/11/2008"

,
      

0.6

,
      

10

,
      

1

,
      

44

,
      

6.3


    ],
    [
      

"8/11/2008"

,
      

0.10

,
      

110

,
      

1.10

,
      

101

,
      

6.10


    ],
    [
      

"9/11/2008"

,
      

1.4

,
      

33

,
      

4.4

,
      

104

,
      

6.4


    ],
    [
      

"10/11/2008"

,
      

4.4

,
      

202

,
      

110.10

,
      

141

,
      

10.3


    ],
    [
      

"11/11/2008"

,
      

1

,
      

142

,
      

22.1

,
      

130

,
      

10.2


    ],
    [
      

"12/11/2008"

,
      

3.1

,
      

2010

,
      

14

,
      

122

,
      

13.2


    ],
    [
      

"13/11/2008"

,
      

2.10

,
      

166

,
      

10.6

,
      

143

,
      

14.3


    ],
    [
      

"14/11/2008"

,
      

2.1

,
      

104

,
      

10.2

,
      

113

,
      

15


    ],
    [
      

"15/11/2008"

,
      

2.5

,
      

140

,
      

11

,
      

116

,
      

16.1


    ],
    [
      

"16/10/2008"

,
      

2.10

,
      

1610

,
      

12.10

,
      

123

,
      

16.3


    ],
    [
      

"17/11/2008"

,
      

2.10

,
      

1105

,
      

14.2

,
      

126

,
      

15.10


    ],
    [
      

"18/11/2008"

,
      

2.10

,
      

165

,
      

12.10

,
      

120

,
      

15.10


    ],
    [
      

"19/11/2008"

,
      

2.4

,
      

133

,
      

11.10

,
      

1110

,
      

16.10


    ],
    [
      

"20/11/2008"

,
      

3.10

,
      

233

,
      

110.3

,
      

1410

,
      

15.1


    ],
    [
      

"21/11/2008"

,
      

3.10

,
      

242

,
      

12.2

,
      

145

,
      

14.4


    ],
    [
      

"22/11/2008"

,
      

6.6

,
      

412

,
      

32.6

,
      

130

,
      

12.10


    ],
    [
      

"23/11/2008"

,
      

4.4

,
      

333

,
      

20.1

,
      

1410

,
      

12.1


    ],
    [
      

"24/11/2008"

,
      

3.5

,
      

215

,
      

14.3

,
      

1310

,
      

11


    ],
    [
      

"25/11/2008"

,
      

5.4

,
      

3610

,
      

21.10

,
      

134

,
      

10.10


    ],
    [
      

"26/11/2008"

,
      

2.10

,
      

122

,
      

10.6

,
      

113

,
      

10.5


    ],
    [
      

"27/11/2008"

,
      

1.10

,
      

610

,
      

10.4

,
      

1010

,
      

10.1


    ],
    [
      

"28/11/2008"

,
      

1.6

,
      

43

,
      

5.4

,
      

102

,
      

10.10


    ],
    [
      

"29/11/2008"

,
      

1.10

,
      

46

,
      

5.4

,
      

103

,
      

10.10


    ],
    [
      

"30/11/2008"

,
      

5

,
      

56

,
      

6.2

,
      

103

,
      

10


    ],
    [
      

"1/12/2008"

,
      

1

,
      

26

,
      

2.6

,
      

53

,
      

12.2


    ],
    [
      

"2/12/2008"

,
      

1.12

,
      

55

,
      

5.12

,
      

99

,
      

10.3


    ],
    [
      

"3/12/2008"

,
      

1.10

,
      

53

,
      

6.4

,
      

100

,
      

10.10


    ],
    [
      

"4/12/2008"

,
      

1.4

,
      

40

,
      

4.1

,
      

101

,
      

10.1


    ],
    [
      

"5/12/2008"

,
      

0.10

,
      

21

,
      

1.10

,
      

100

,
      

10


    ],
    [
      

"6/12/2008"

,
      

5

,
      

10

,
      

1.1

,
      

32

,
      

6.1


    ],
    [
      

"7/12/2008"

,
      

0.6

,
      

10

,
      

1

,
      

44

,
      

6.3


    ],
    [
      

"8/12/2008"

,
      

0.10

,
      

110

,
      

1.10

,
      

101

,
      

6.10


    ],
    [
      

"9/12/2008"

,
      

1.4

,
      

33

,
      

4.4

,
      

104

,
      

6.4


    ],
    [
      

"10/12/2008"

,
      

4.4

,
      

202

,
      

110.10

,
      

141

,
      

10.3


    ],
    [
      

"11/12/2008"

,
      

1

,
      

142

,
      

22.1

,
      

130

,
      

10.2


    ],
    [
      

"12/12/2008"

,
      

3.1

,
      

2010

,
      

14

,
      

122

,
      

13.2


    ],
    [
      

"13/12/2008"

,
      

2.10

,
      

166

,
      

10.6

,
      

143

,
      

14.3


    ],
    [
      

"14/12/2008"

,
      

2.1

,
      

104

,
      

10.2

,
      

113

,
      

15


    ],
    [
      

"15/12/2008"

,
      

2.5

,
      

140

,
      

11

,
      

126

,
      

16.1


    ],
    [
      

"16/10/2008"

,
      

2.10

,
      

1610

,
      

12.10

,
      

123

,
      

16.3


    ],
    [
      

"17/12/2008"

,
      

2.10

,
      

1105

,
      

14.2

,
      

126

,
      

15.10


    ],
    [
      

"18/12/2008"

,
      

2.10

,
      

165

,
      

12.10

,
      

120

,
      

15.10


    ],
    [
      

"19/12/2008"

,
      

2.4

,
      

133

,
      

12.10

,
      

1210

,
      

16.10


    ],
    [
      

"20/12/2008"

,
      

3.10

,
      

233

,
      

120.3

,
      

1410

,
      

15.1


    ],
    [
      

"21/12/2008"

,
      

3.10

,
      

242

,
      

12.2

,
      

145

,
      

14.4


    ],
    [
      

"22/12/2008"

,
      

6.6

,
      

412

,
      

32.6

,
      

130

,
      

12.10


    ],
    [
      

"23/12/2008"

,
      

4.4

,
      

333

,
      

20.1

,
      

1410

,
      

12.1


    ],
    [
      

"24/12/2008"

,
      

3.5

,
      

215

,
      

14.3

,
      

1310

,
      

12


    ],
    [
      

"25/12/2008"

,
      

5.4

,
      

3610

,
      

21.10

,
      

134

,
      

10.10


    ],
    [
      

"26/12/2008"

,
      

2.10

,
      

122

,
      

10.6

,
      

123

,
      

10.5


    ],
    [
      

"27/12/2008"

,
      

1.10

,
      

610

,
      

10.4

,
      

1010

,
      

10.1


    ],
    [
      

"28/12/2008"

,
      

1.6

,
      

43

,
      

5.4

,
      

102

,
      

10.10


    ],
    [
      

"29/12/2008"

,
      

1.10

,
      

46

,
      

5.4

,
      

103

,
      

10.10


    ],
    [
      

"30/12/2008"

,
      

5

,
      

56

,
      

6.2

,
      

103

,
      

10


    ],
    [
      

"31/12/2008"

,
      

1

,
      

30

,
      

2.6

,
      

65

,
      

10.3


    ],    
   
  ];
    

var

 schema = [{
        

"name"

: 

"Time"

,
        

"type"

: 

"date"

,
        

"format"

: 

"%-d/%-m/%Y"


    }, {
        

"name"

: 

"Carbon mono-oxide (mg/m^3)"

,
        

"type"

: 

"number"


    }, {
        

"name"

: 

"Non methane hydrocarbons (microg/m^3)"

,
        

"type"

: 

"number"


    }, {
        

"name"

: 

"Benzene"

,
        

"type"

: 

"number"


    }, {
        

"name"

: 

"Nitrogen dioxide"

,
        

"type"

: 

"number"


    }, {
        

"name"

: 

"Temperature"

,
        

"type"

: 

"number"


    }]

    FroalaCharts.ready(

function

 () {
		
    

var

 dataStore = 

new

 FroalaCharts.DataStore();
   

    

new

 FroalaCharts({
      type: 

'timeseries'

,
      renderAt: 

'container'

,
      width: 

800

,
      height: 

600

,
      creditLabel:

true

,
      dataSource: {
        

"chart"

: {
          

"paletteColors"

: 

"#228B22	, #00ff00, #0000ff"

,
          

"animation"

: 

"0"

,
          

"multicanvas"

: 

0


        },
        

"caption"

: {
          

"text"

: 

"Temperature readings of an Italian Town"


        },
        

"yAxis"

: [{
          

"plot"

: 

"Temperature"

,
          

"title"

: 

"Temperature"

,
          

"plotType"

: 

"line"

,
          

"format"

: {
            

"suffix"

: 

"°C"

,
            

"label"

: 

"Controlled Temperature"

,
            

"value"

: 

"10"


          }
        }],
        

"xAxis"

: {
          

"binning"

: {
            

"year"

:[

1

],
            

"month"

: [

1

],
            

"day"

: [

1

],
            

//"hour": []


            }
        },
        datamarker: [{
                    time: 

"18/4/2006"

,
                    type: 

"flag"

,
                    identifier: 

"A"

,
                    timeformat: 

"%-d/%-m/%Y"

,
                    tooltext: 

"Data marker"


                }],
                
        data: dataStore.createDataTable(data, schema)
      }
      
    }).render();
   
    });
  </

script

>
</

body

>

</

html

>