Today marks the release of Froala Editor v3.2, the latest and greatest milestone update for our market-leading WYSIWYG editor.  
Version 3.2—Continuing to Put Customers First
The feedback loop that you maintain with our team allows us to turn around quality releases with an emphasis on your needs. To that end, we've focused all of our efforts this release towards bringing our customer's top-requested features to life. 
Between the all new advanced image uploading capabilities, new and seamless integrations, and updated Editor SDKs, there's a lot to unpack with this release—read on to see the amazing things you can do with Froala Editor 3.2!

Advanced Image Manager

Far and away the most highly requested feature our customers had for us was an improved file upload system—in this new version we've equipped users with a completely overhauled file upload manager, capable of handling multiple images, video uploads, folders, and more.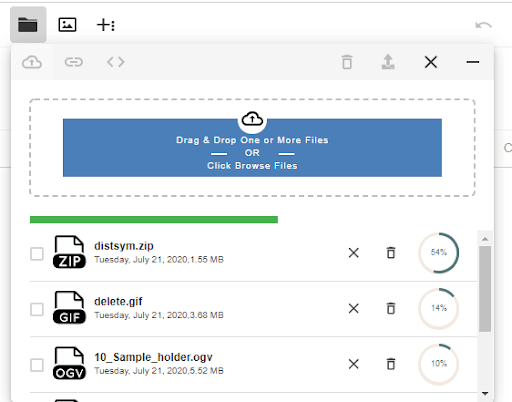 While building this new image manager, we put special care toward ensuring that the UI was intuitive with seamlessly incorporated drag and drop, browse, and multi-upload functionality, allowing your users to upload and manipulate their files of most popular formats all in one place.
Gone are the days of uploading the same file multiple times in different locations of the editor—with these new image uploading capabilities, your users can easily work with multiple image and video files inside a single editor, providing highly-requested improvements to workflow.
What Else Has Been Improved?
The new file & image manager may be the main event, but it's just the tip of the iceberg—version 3.2 of our WYSIWYG editor has plenty more in store including:
New Image Uploading Capabilities: You can now easily work with multiple files inside the editor, providing a much improved workflow.

The key new image upload features added in 3.2 include:
Uploading multiple images and videos at once thus saving a lot of time from doing repeat tasks

Manage all files (images and videos) in one place

Ability to perform the following actions under a single window before inserting them to the editor.

Browse and Upload Files 

View Files 

Edit Files 
Enhancements to the editor, with a strong focus on image upload capabilities

Editor SDKs updated for 3.2 to ensure that Froala works with the latest versions of the following development environments:

Rails SDK

Node JS SDK

Python SDK

Java SDK

.Net SDK

PHP SDK

Seamless integrations have been implemented and improved for:

Ext JS

Symphony

Cake PHP

Knockout

Ember

Django

Meteor

Yii

Vue

Angular

React JS

Rails
3.2 is Available Now
Enough talking, it's time to dive on in.
Once you're done reading the full extent of features and enhancements brought by 3.2 in our changelog, you can jump straight in by heading over to our download page.
As always, we value and appreciate your feedback—let us know what other features you would like to see introduced or enhanced in future releases, and we'll be sure to keep them in mind.
We can't wait to show you what's next for Froala—in the meantime, we hope you enjoy v3.2!