The Advanced Guide to A Rich Text Editor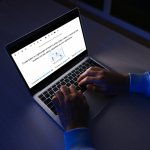 A rich text editor, also known as a WYSIWYG HTML editor, is a handy tool for web developers. They show you exactly how your web page will look in a web browser. With a rich text editor, you can develop beautifully designed websites more quickly. You can also easily add components like images, videos, and tables.
Although there are so many WYSIWYG Editors available on the market, Froala is ahead of the pack with its beautiful design, powerful and advanced features, and impressive rich text editing capabilities.
Let's take a closer look at Froala and what its Rich Text Editor can offer, as well as its features and much more.
What is Froala Rich Text Editor?
The Froala rich text editor is an advanced WYSIWYG editor that makes website content creation simple and easy. The rich text editor neatly puts all the components of your web page together and lets you create beautiful websites without the need to write any HTML code. That's not to say, however, that it doesn't let you write and edit HTML too. Its versatility makes it a perfect rich text editor for both beginners and experts.
The Froala JavaScript WYSIWYG HTML Editor has a beautiful design and an intuitive interface. It comes with tons of advanced yet easy-to-use features such as custom themes, style and toolbar, sticky toolbar, full-screen option, table resizing, file upload, video edit, and a lot more.
Froala also has cross-platform and cross-browser support.
Another thing about Froala that makes it the best rich text editor is its blazing fast speed. The editor initializes in just under 40 milliseconds.
How Does Froala Rich Text Editor Work?
The Froala WYSIWYG HTML editor consists of two side-by-side windows. One window is in WYSIWYG mode, which allows users to write and edit rich text documents and see how they will appear in a web browser. The second window displays the corresponding HTML. When you update content in the first window, it automatically updates the HTML in the second window and vice versa.
Below you can see the Froala online HTML editor's two windows:

WYSIWYG mode is perfect for beginners who don't know much about HTML. Developers and designers also often use the WYSIWYG mode when dealing with complex web pages. The HTML window is perfect for expert developers who have advanced knowledge of HTML.
What Features Does Froala Rich Text Editor Offer?
Froala rich text editor is packed with over 100+ modern features for all types of use cases. This makes it the first choice of developers and website designers for creating quick yet beautiful websites.
Some of the most popular features of Froala include:
Text Formatting
The Froala HTML editor gives you all the basic styling features, such as bold and italic, colors for changing the text or background colors, etc.  Advanced styling options are also available through plugins, such as font family, font size, etc.
Custom Themes
The Froala WYSIWYG editor is designed to fit on any website. It comes with two themes, default and dark theme. It also lets you create your own theme that goes better with the overall color theme of your website. You can create custom themes by simply using the LESS theme file.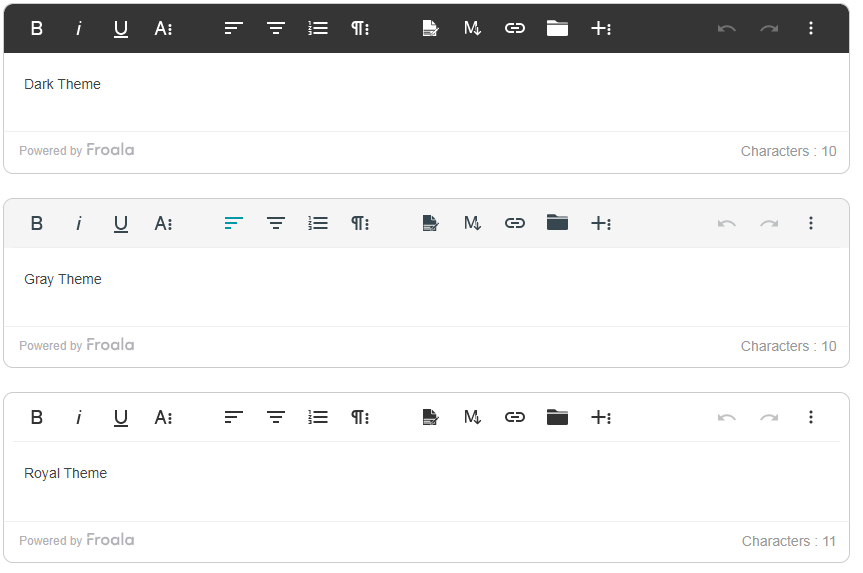 Customizable Toolbar
Froala is all about making things easy for users. The rich text editor lets you customize the toolbar any way you want. You can add tools you use frequently and remove the ones you use rarely. To make things easier, it even lets you change the order of the tools. With Froala, you get complete control over the functionality of the toolbar on any screen size.
To further ease the editing process, Froala has fixed the toolbar at the top so that it doesn't move as you scroll down. But, you also have the option to fix the toolbar at the bottom or set an offset so that it doesn't overlap with your web page's header.
Custom Style
The Froala rich text editor comes with a one-of-a-kind customizer tool that lets you change the look and style of the editor. You can pick from five editor styles (classic, document ready and Inline, edit in popup, and full-page) designed for different use cases.
Image and Video Editing
Froala is the first WYSIWYG HTML editor that gives you image, and video resize options. The best part is that these features also work on mobile. In addition, you can also reposition images, change their alignment, replace or delete them or convert them to links. You can also change the alignment of videos, remove them and even preview them directly from the editor's interface.
Table Editing
The Froala rich text editor allows you to easily add tables and perform different operations (basic and advanced) on cells, rows, and columns. You can also edit the entire table or even resize it for a neat look.
How can I Extend the Functionality of Froala Text Editor?
Froala comes with more than 30 advanced plugins. This is another great feature that makes it the leading rich text editor. These plugins allow you to extend the basic functionality of the editor. From emoticons and special characters to spell check and track changes, all types of plugins are available. That's not all – you can even create custom plugins.
Can I Integrate Froala Rich Text Editor into my Apps?
Froala has powerful APIs for developers that allow you to integrate Froala's rich text editing capabilities into your apps. The APIs are easy to use and easy to integrate with apps built with any of the popular frameworks, including Angular, React JS, Javascript, Django, and more.
The APIs come with extensive documentation and have tons of examples for API events, methods, and options to further ease the integration process.
Where is Froala Rich Text Editor Ranked on G2.com?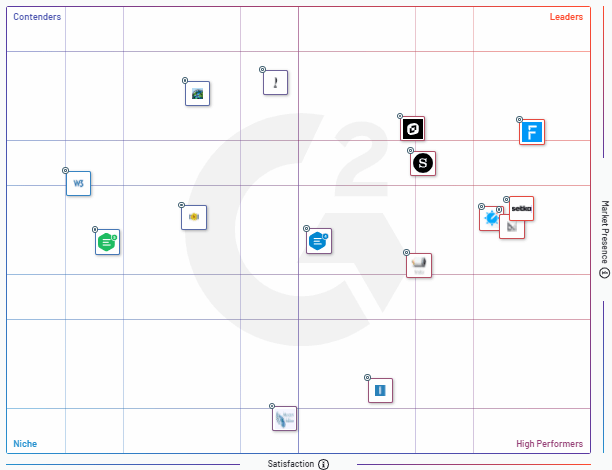 Froala is the leading WYSIWYG rich text editor on G2. G2 is a reputed and trusted website that ranks apps and software based on unbiased reviews by users, market presence, and customer satisfaction. G2 helps people pick the right software for their needs. People trust G2 because it only allows reviews by real users and doesn't allow paid placements.
The top position of Froala on G2 shows that it has all the features that users want in a rich text editor and that it's the first choice of developers and website designers. From Samsung and eBay to Intel and IBM, several tech giants and multinationals use Froala HTML editor.
Want to try out the best rich text editor? Head over to Froala today and start your free trial or buy a plan that fits your needs.
Posted on January 6, 2022
Sidra
Sidraa former writer for Froala, showcased exceptional talent and dedication during their tenure with the company.