When you choose a rich text, WYSIWYG, JavaScript editor there are a number of issues you need to take into consideration. These include features, support, scalability, plugins and of course, cost. With many options on the market, here we compare two of the most popular — Ckeditor and Froala Editor. Froala is a streamlined software editor for resourceful JS developers who want to get more done with drag and drop code blocks. This rich text editor helps you build intuitive web apps for your users. It comes with a free, lightweight demo to customize at your leisure. Read on to see how it stacks up against Ckeditor.
What are the key benefits of the Froala Editor?
On the surface, many other vendors appear to offer all-in-one rich text editor packages. This is true to a point, however, they often overlook an important issue for consumers. In essence, they lack scalability in their plans for non-enterprise clients. These include clients with less demanding workloads to replicate on fewer servers.
This is where Froala differs from the other offerings.
Froala's core principles are founded on creating manageable and affordable software. This means we don't overwhelm our users with overly advanced toolsets that require confusing tutorials to implement. Despite its ease of use, Froala also offers its users all kinds of powerful features. These features include but aren't limited to:
Hosting on our servers for unlimited active users

Full access to all Froala editing tools regardless of the plan you choose

Free updates for up to 1 year with fixed annual pricing

24/7 live support whenever you encounter technical issues
How does Froala annual pricing compare against Ckeditor ?
Cost Matrix — Pricing Overview

Save on annual costs with Froala
Froala's annual pricing is certainly less expensive than Ckeditor.  Although it depends on your use case, most users save 200% – 600%  by choosing Froala over similar tools. More importantly, Froala delivers more value than you would expect. It delivers an efficient and feature-rich workspace where you can edit all types of content for your blog, mobile platform, SaaS needs or business cloud.
What are the main features of the Froala Editor?
Aside from having almost no learning curve, Froala tools handle tiny details with greater precision than other editors. Essentially, what Froala offers is a way to easily set up and use the latest built-in rich text extensions available today.  Another unique feature of Froala is real-time collaborative editing you won't find on Ckeditor. Our API also has a greater variety of fonts for styling your ideas without making the toolbar intrusive.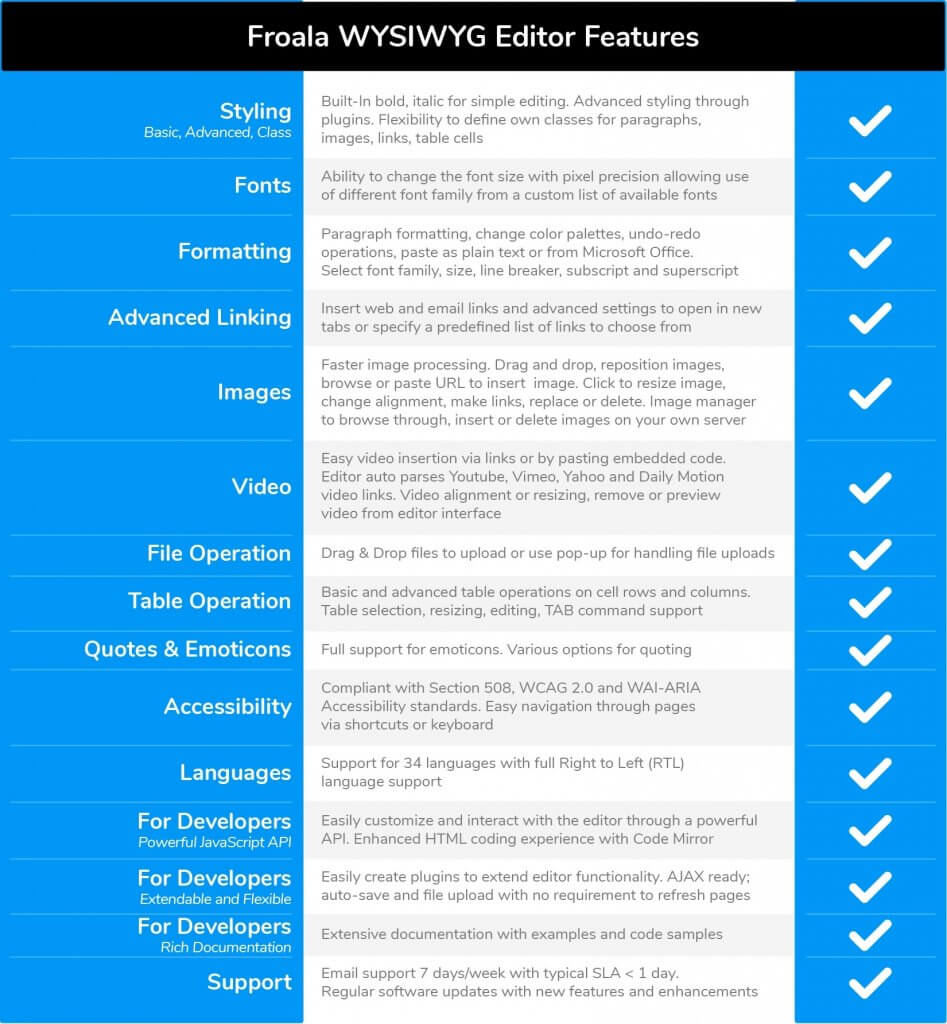 In addition, Froala creates a robust environment for co-authoring or writing whenever you need to peer-review and track past revisions of your digital content. Another huge benefit of Froala is having your documents in sync among all team members — you know exactly what went on with each custom block. 
Froala Editor vs. Ckeditor Features
At first glance, Froala and CKeditor are quite similar. CKEditor, like Froala,  is a WYSIWYG text editor for writing JS content on web pages and in digital apps. 
This CKSource platform has an advanced Drupal module for cross-integration with other editors. It also provides many widgets, including image captions, code snippets, and math formulas, that allow users to paste content straight from Word or filter content searches. 
Although the CKEditor has over 100 extensions managed by the team, this comes with a downside. That downside is a much heavier dependence on plugins and a DLL build to operate. The result is that upgrading to  Ckeditor Premium is much more expensive than Froala. This is especially inconvenient if you only require more basic features like running a simple read/write from a file or computing data table formulas.
According to customer reviews, Froala Editor is currently rated at 4.4/5 stars. 
Here is a side-by-side comparison of the Froala editor's performance against Ckeditor on customization, content, and functionality. 
Are you ready to install the Froala WYSIWYG HTML Editor?
Don't take our word for it, test the Froala Editor yourself by downloading the free trial. Or better yet, let us walk you through  our rich text editing and premium options. 
Thinking of making the change to Froala Editor? Here's how to migrate onto our next-gen WYSIWYG Editor from CKEditor.