The Best WYSIWYG HTML Editor For Me? Froala Vs. Setka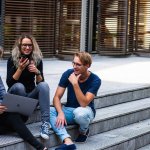 WYSIWYG editors, or What You See is What You Get editors, are an incredibly popular way for content creators to generate text and media. This is because they allow you to create text or even forms on the fly that appear exactly as they will appear after you publish or print them. Also, because they enable any user to create rich web content without using code for formatting, WYSIWYG editors are used in content management systems, app development, website creation, and much more.
Another attractive feature of WYSIWIG editors is that expert users working on presentations or web development can view the final content in the editor, while also being able to view the HTML code if they want to. This makes them ideal for both designers with no coding knowledge and coders who want a quick way to look at the end result as they work.
When it comes to WYSIWYG editors, there are plenty of options. Among these are Froala and Setka.  If you are having trouble deciding between the two, check out G2.com. Customers' remarkable reviews, testimonials, and tweets have proven that Froala's HTML editor is the Best WYSIWYG HTML Editor when it comes to HTML Editors. In Addition to that, Froala has a total of 154 reviews, compared to Setka with only 33 reviews.
The grid below shows that Froala is clearly the more popular editor 0n G2: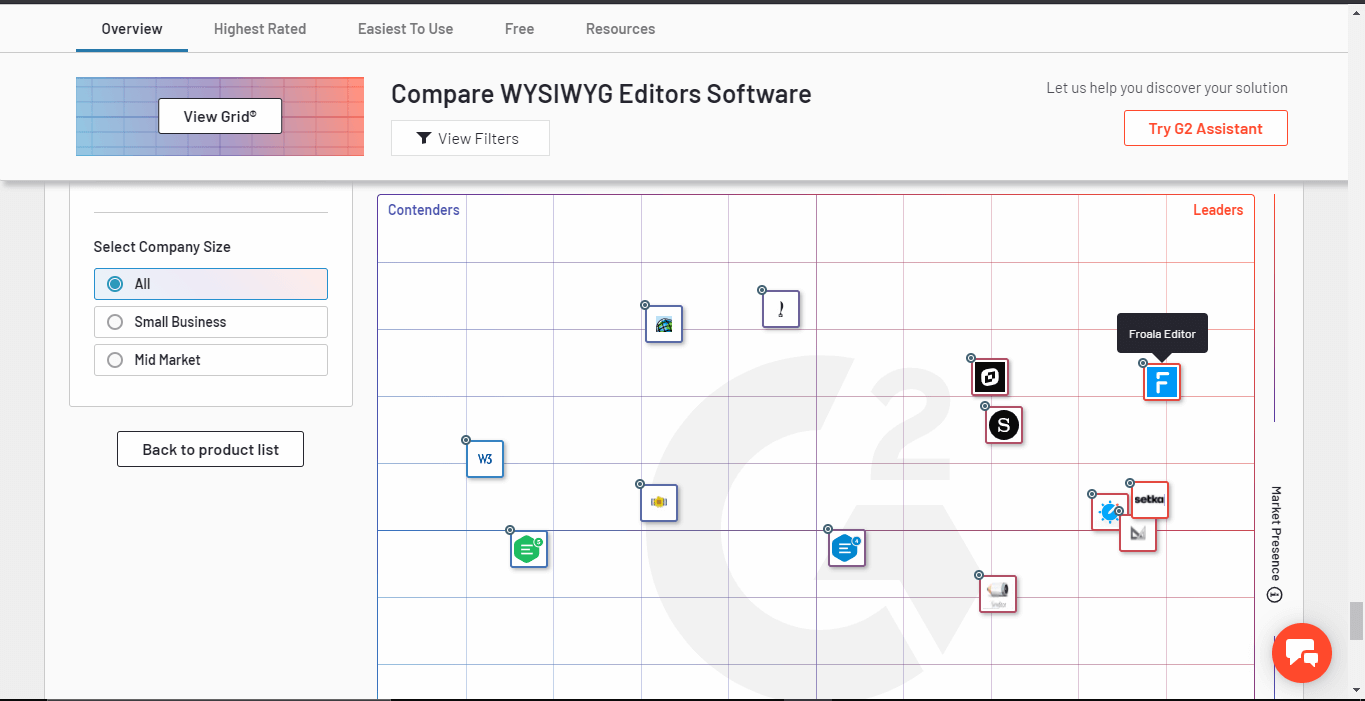 In this post, we'll compare two WYSIWYG editors, i.e., Froala and Setka shown in the grid above.
What are the
WYSIWYG Editor Plans and Prices?
The table below shows various plans and prices for both Froala and Setka:
Froala

Setka

Plans
$ per year
Perpetual license

per product

Plans
$ per month

Free trial

0

Free trial

0

Basic

199

499

Starter

150

Pro

899

1,299

Pro

500

Enterprise

1,999

2,999

Enterprise

Custom

Enterprise +

Custom

Custom

Agency

Custom
You can see a world of difference in prices. Froala has annual and perpetual license options. The basic package is only $199 per year or $499 for a perpetual license. Compare that to Setka's starter package at $150 per month. In comparison t0 Froala, the Setka editor seems incredibly over-priced – almost 10 times more expensive annually.
This is how we rate the two editors in terms of prices:
| | | |
| --- | --- | --- |
| Feature | Froala | Setka |
| Plans and prices | | |
How Do the Plans Compare In Terms Of Number Of Users And Domains
Different subscription plans allow different numbers of users and domains. Here is how Froala and Setka compare:
| | | | | | |
| --- | --- | --- | --- | --- | --- |
| Froala | | | Setka | | |
| Plans | Users | Domains | Plans | Users | Domains |
| Basic | Unlimited | 3 | Starter | 1 | 1 |
| Pro | Unlimited | Unlimited | Pro | 10 | 1 |
| Enterprise | Unlimited | Unlimited | Enterprise | Unlimited | 1 |
| Enterprise + | Unlimited | Unlimited | Agency | Unlimited | Unlimited |
We can see that Froala has an unlimited user allowance on its basic plan, whereas Setka only allows one user on its starter package. Froala also has an edge over Setka when it comes to the number of domains allowed in its basic and pro packages. It gives you unlimited domains where Setka does not. Taking all this into account, here is our overall rating in terms of number of users and domains:
Feature
Froala
Setka

Number of users

plus domains
How Do The Editor's Features Compare?
Any WYSIWYG editor is expected to have a certain set of features that users like. Below we list some of these features for both Froala and Setka. Note, this list is not an exhaustive list, but it is an excellent comparison of core editor features.
Feature

Froala

Setka

Basic text editing (bold, italic, superscript subscript, etc.)

✔

✔

Alignment and indents

✔

✔

Tables

(* Pro and higher plans only)

✔

✔ *

Embed media

(images + videos)

✔

✔

Markdown support

✔

x

Integrate 3rd party plugins in the editor

(font awesome, spell or grammar check, math editor, etc.)

✔

x

Drag and drop

✔

✔
This is how we rate the two editors in terms of editor features:
| | | |
| --- | --- | --- |
| Feature | Froala | Setka |
| Editor features | | |
How Do The Editors Compare In Terms of Functionality
When we talk about an editor's functionality, we usually mean the platforms and browsers it supports, as well as how usable it is in a collaborative setting. With this in mind, here is our list of features related to functionality. Both Froala and Setka compare equally in terms of functionality.
Feature
Froala
Setka

Cross-platform support

✔

✔

Cross-browser support

✔

✔

Collaborative editing

✔

✔

(Pro and higher plans only)
This is our overall rating for the two editors. As you can see, they come out nearly equal:
| | | |
| --- | --- | --- |
| Feature | Froala | Setka |
| Functionality | | |
How Do The Features For Developers Compare?
While WYSIWYG editors make page and document creation easy for non-technical users, the mark of true quality is how well the editor handles expert or technical users.  A good WYSIWYG editor should be accessible to developers and should be easily incorporated into any app running on different platforms. Here is how we compare the features for developers:
Feature
Froala
Setka

Documentation

Good

Good

APIs support for integrating the editor in an app

✔

✔

APIs for custom component creation in editor

✔

Enterprise plan only

Free online HTML editor

✔

x

Online demos and examples

✔

x

(upon request only)
We rank Froala very highly when it comes to API support and ease of use. All the features can be tried online on their demos and examples page.
Our overall rating in terms of features for developers is:
| | | |
| --- | --- | --- |
| Feature | Froala | Setka |
| Features for developers | | |
Why Choose Froala?
Why choose Froala? Well, if you go through various features offered by Froala, you'll see that it comes out ahead in almost every category. It is more budget-friendly, offers more users and domains across all plans, has a larger feature set, and offers greater development opportunities.  Here is a summary of our ratings.
Feature
Froala
Setka
Plans and prices
Number of users

Plus domains

Editor features
Functionality
Features for

developers
Froala WYSIWYG editor is the confirmed market G2 leader. It has awesome features that include rich text editing capabilities. Froala comes with lots of cost-effective subscription plans and packages with easy-to-call APIs, a customizable interface, a lightweight package, and a secure platform. It is suited for individual users as well as small and large-scale businesses.
Don't wait and sign up today for your free trial of the leading WYSIWYG HTML Editor!
Mehreen Saeed
Mehreen Saeeda former writer for Froala, showcased exceptional talent and dedication during their tenure with the company.