Froala Pages, the easy to use design and editing tool for building beautiful websites and web apps just got even better! We are now offering Froala Pages as a FREE tool to our Froala community. Same great functionality, same capabilities, and at no cost to you! How cool is that! 😍
Froala Pages provides a fast and modular approach to creating and editing standard or customized web content. Whip up a simple website or start creating beautiful web interfaces with the open source Froala Design Blocks and our award winning & enterprise-trusted WYSIWYG Editor — all through the free Page Builder tool. 

Froala Editor and the open source Froala Design Blocks closely work together to provide a wonderful web page building experience through Froala Pages. As a result, licensed users of Froala WYSIWYG Editor will be able to unlock the fullest editing capabilities with Froala Pages.
Here are a few examples of enhanced text, image, and form editing options that licensed Froala Editor users will have access to.
Text Editing
:
Use the text editing toolbar with enhanced functionality so your webpage text looks the way you want.
Change the text line-height

Create ordered/unordered lists

Insert Video

Add a table

Use Font Awesome

And more!
Image Editing
:
The in-image toolbar provides advanced capabilities to edit, add text, and customize the images on your webpage.
Align, Resize Images

Add custom class

Add alternate text to the image

Inline the image or break text

Plus many more!
And the same advanced editing capabilities are available in the Forms template in Froala Pages.
Not a licensed Froala Editor user? You can continue to use the built-in rich editing capabilities or take a moment to try out the advanced capabilities of the Editor right from within the Froala Page builder tool. Unlocking the extra Editor capabilities in Pages is as easy as clicking on the "Upgrade to Pro" option and provides a 7-day trial of the extra Editor powered capabilities in Froala Pages.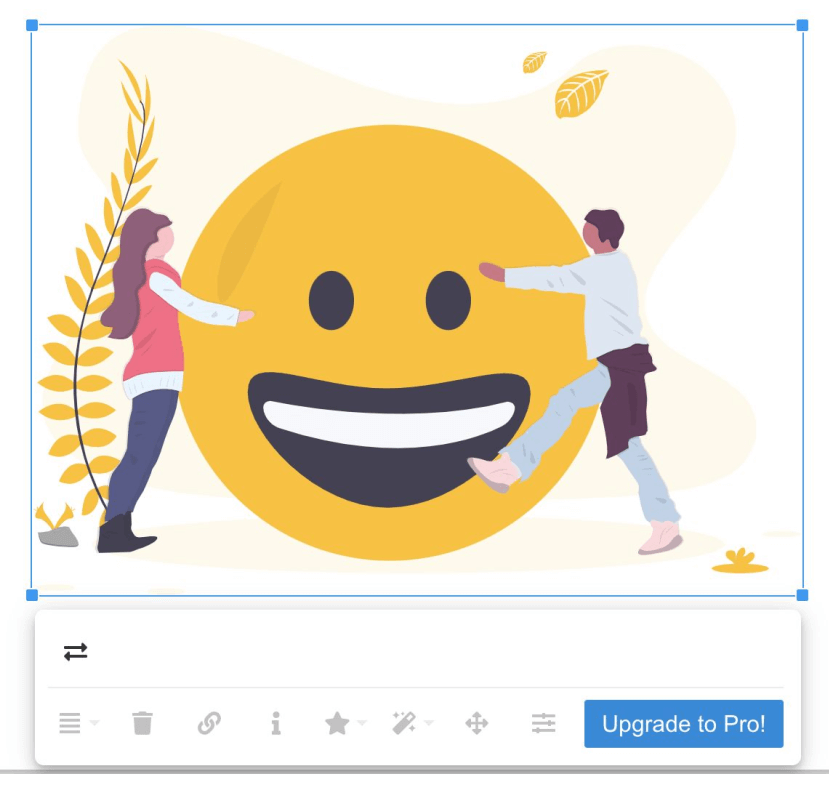 If you aren't already using Froala Pages, here's why this Page Builder tool would be the perfect choice for your website or app development:
✔ Plug-and-Play — Extremely intuitive, so getting started with and creating your web page is a breeze.
✔ Easy to Extend — Page builder is designed to be adaptive, use custom design blocks or custom features.
✔ Fully Customizable — Choose from thousands of design block templates and customize the pages to suit your brand.
✔ Advanced Editing — Unlock additional editing capabilities with a Froala Editor license.
✔ Excellent Documentation — Easy reference to API docs, methods and guides.
✔ Completely Free — Enterprise-grade tool completely for free. Can't get better than that!
Want to check out a demo of Froala Pages?
Start from a blank canvas. Click or drag and drop one or more design blocks, edit the content using the rich HTML Froala Editor, and have a fully functional and professional looking web page within minutes! Users love Pages for its simplicity and intuitiveness, not to mention its easy interface that combines the best of design blocks and the powerful Editor. 
Download Froala Pages
Froala Pages is available for download via 3 flexible options. Choose Zip format, npm or download directly from CDN.
Download Froala Pages for FREE
Check out the Other Free Froala Tools
Have more questions? Check out our FAQ Section where we address many frequently asked Froala Pages questions.
We hope you enjoy using this free offering of Froala Pages. If you have any questions, reach out to us.