Our brand new data visualization product, Froala Charts, has arrived and we couldn't be more excited to get this out to our Froala community! 😍
Froala Charts is a comprehensive library of JavaScript charts to create beautiful, responsive reports and interactive dashboards for web and mobile applications. Incorporating data visualization capabilities via interactive charts has been a growing need for enterprise app developers that are also using Froala Editor. Froala Charts bridges the gap!
Draw quick insights from your data using the wide variety of visualizations from basic charts, widgets, to domain-specific charts and more. Choose from basic column charts, line charts, pie charts, combo charts, to powerful widgets such as gauges, KPIs, funnels, or advanced domain-specific charts such as timeseries, radar, chord, sankey, heat maps and more!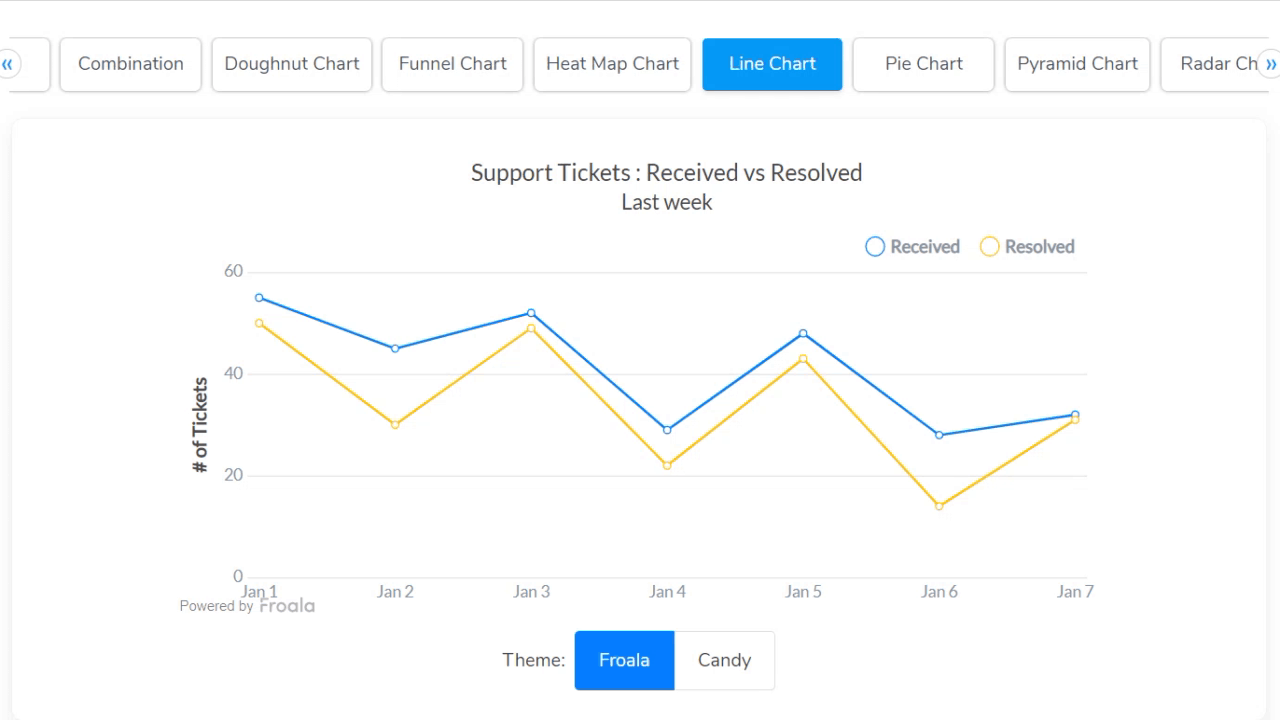 Here's why Froala Charts is the go-to-solution for your data viz needs:
✔ Highly Customizable and Easy To Use — Just like our other Froala products, Froala Charts needs no learning curve. Easy to use APIs, numerous config options to customize charts to your specific needs, great looking themes as well as smart defaults to auto-detect the best charts for your data, you can fully control the look-and-feel of the charts.
✔ Easy front-end integrations — Written in plain JavaScript, Froala Charts allows integration into popular JS Frameworks such as React, Angular, Vue, Svelte, and Ember.
✔ Modern Charting Features — Drill down capabilities, customizations on specific events, several number formatting options, tooltips to convey quick info, and more!
✔ Extensive Documentation & Examples — Detailed docs and plenty of library specific examples with source code so you can hit the ground running.
✔ Cross-browser & platform compatibility — From everything from IE8 to Chrome and across platforms, Froala Charts works seamlessly.
✔ Outstanding Support — We pride ourselves on the best in class support for all Froala products, and this one is no exception!
✔ Flexible Licensing — Plans customized for different team sizes and usage. Check out the different licensing options.
Learn more about the many other charting capabilities on the Froala Charts product page.
See Froala Charts in Action
Check out these interactive examples with source code!
Can I try Froala Charts?
Absolutely! The fully-featured FREE 7 day trial provides access to the full suite of interactive charts, documentation, demo examples, and technical support.
Get Started with Froala Charts for Free
What resources do I have?
Check out the documentation center to learn how to Get Started, API options, Guides to configure your charts, Framework integrations, and lots more!

Dive Right in!
Take a product tour and let us know how we can help answer any questions.
We hope you absolutely enjoy using Froala Charts! 😊 📊📈
---